Franco sprints to IronPigs' second cycle
Phillies prospect caps feat with second homer of doubleheader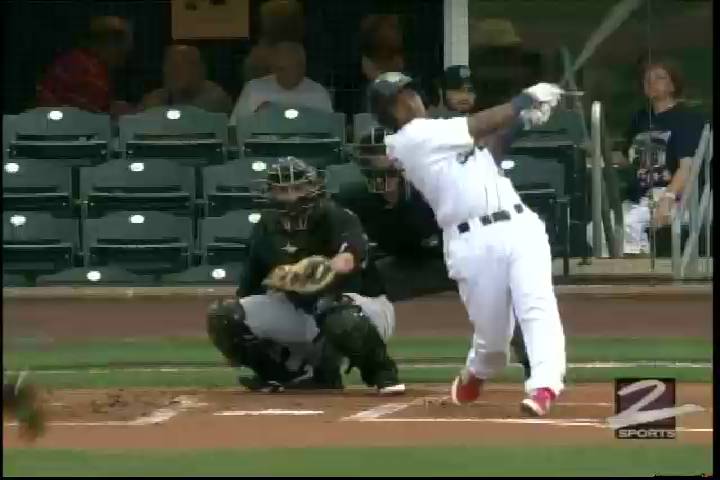 By Kelsie Heneghan / MiLB.com | August 24, 2014 12:48 AM ET
Maikel Franco needed only six innings, two hours and four at-bats to make history on Saturday night.
With a solo homer in the bottom of the sixth, the Phillies' third-ranked prospect completed the second cycle in team history and put the finishing touches on Triple-A Lehigh Valley's 7-1 win over Syracuse in Game 2 of a doubleheader.
The feat unfolded so fast that IronPigs hitting coach Sal Rende didn't realize what Franco had done until it was announced at Coca-Cola Park. And he didn't think those in the Lehigh Valley dugout were aware, either.
But Franco was.
"I was just thinking, 'I got three hits: triple, double, single.' I wanted to try," he told lehighvalleylive.com. "[Syracuse reliever Matt Grace] threw me a changeup right there in the middle and I hit the ball. When the ball flew out, I was so surprised and happy."
And because baseball is a game of inches, Franco was a couple inches away from a simply fantastic night at the plate rather than a historic one.
After doubling in the first inning, the 21-year-old third baseman smacked an 0-2 pitch high off the left-field fence in the third. Franco raced around the bases, losing his footing slightly at second, and made it safely to third for his fourth triple of the season.
"Once he gets moving, he moves all right," IronPigs manager Dave Brundage told the website. "It's not like he was just stopping at second base like some guys. He's getting the most out of what he's got. For a guy that doesn't run great, to have four triples, it's saying something."
Having plated Cesar Hernandez with the triple, MLB.com's No. 57 overall prospect found himself in another RBI situation in the fourth when Tyler Henson led off with a double and Hernandez walked one out later.
This time, Franco hit a soft line drive for an RBI single, putting himself one swing away from a cycle.
"He's had an up and down year, got up off to a slow start, [but] since the beginning of June, he's been really, really solid," Rende said. "When he gets ready and trusts himself and gets in a good count to hit, he gets pretty lethal."
In his fourth and final at-bat, the native of the Dominican Republic smacked his 14th homer of the season over the center-field fence to become the second player in IronPigs history to cycle. Michael Taylor was the first on Aug. 12, 2009..
"It feels so great," Franco told the website. "I'll never forget this night."
The IronPigs' night began with a 3-2 loss, although Franco hit a solo homer in the bottom of the first.
"Just a great night for Maikel," Rende said. "He's got the ability [to cycle], there's no doubt he has the ability to do that. He's got great hands, loves to play the game. When he's gets comfortable in the box, he's tough to pitch to. And he looked comfortable [Saturday]."
Kelsie Heneghan is a contributor to MiLB.com. Follow her on Twitter @Kelsie_Heneghan. This story was not subject to the approval of the National Association of Professional Baseball Leagues or its clubs.
View More