Frazier homers twice on career night
Indians' No. 2 prospect goes 5-for-5, scores four runs for Captains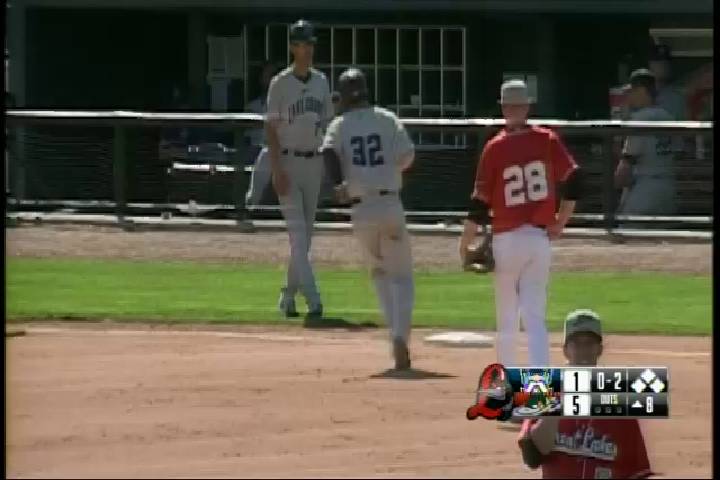 By Kelsie Heneghan / MiLB.com | July 11, 2014 11:34 PM ET
Clint Frazier was feeling pretty good heading into Friday's game. And that positive feeling only grew as the night went on.
The Indians' No. 2 prospect went 5-for-5 with a pair of homers, three RBIs and four runs scored to lead Class A Lake County to a 14-3 romp over Great Lakes at Classic Park.
"I felt really good going into the game. Obviously, my first at-bat set the tone to how the game was going to go. I just tried to take it at-bat by at-bat," the 19-year-old outfielder said. "I'm just trying to stick within myself and swing at good pitches."
Frazier singled in the first inning, then belted a solo shot in the second. In his next at-bat, the right-handed hitter went the other way with a two-run dinger for his first career multi-homer game.
"I worked a full count, I just got a good pitch to hit and it went over the center-field fence," Frazier said of the first long ball. "For my second, he threw me two curveballs for strikes and when he threw a third, I tried to make him pay."
The night wasn't over for MLB.com's No. 40 overall prospect, who singled in the sixth for another milestone: his first four-hit game. Frazier swiped second as part of a double-steal with Ivan Castillo, who opened the inning with a single, and came around on Nellie Rodriguez's 16th homer of the season.
The Georgia native capped his five-hit night with another single in the seventh.
"I wasn't expecting [another hit], I was just trying to do what I could do and get a good pitch. He threw me a curveball and I knocked it over the shortstop's head," Frazier said, referring to Loons reliever Mark Pope. "It was just a very good game for me and for my team."
With a performance like Friday's, it's easy to forget that the fifth overall pick in last year's Draft got off to a slow start in his first full season. After a Spring Training hamstring injury sidelined him through April 17, Frazier hit .249 with two homers in his first 43 games. He's batting .374 with eight homers in his last 32 games.
"I just try to maximize my overall ability at the plate by using all fields and just try to be a threat. ... I've been feeling very comfortable the last few weeks," Frazier said. "I got rid of my leg kick and went back to my toe step from high school, and that seems to help."
Rodriguez finished with five RBIs and leads the team with 52.
Captains starter Dace Kime (5-10) was the beneficiary of the 16-hit attack. Cleveland's 13th-ranked prospect was perfect for three innings and ended up allowing three runs -- two earned -- on five hits over six frames to pick up his first career win in the month of July.
Kelsie Heneghan is a contributor to MiLB.com. Follow her on Twitter @Kelsie_Heneghan. This story was not subject to the approval of the National Association of Professional Baseball Leagues or its clubs.
View More