FSL notes: Wade finding way to fast track
Twins prospect continues to impress since promotion to Fort Myers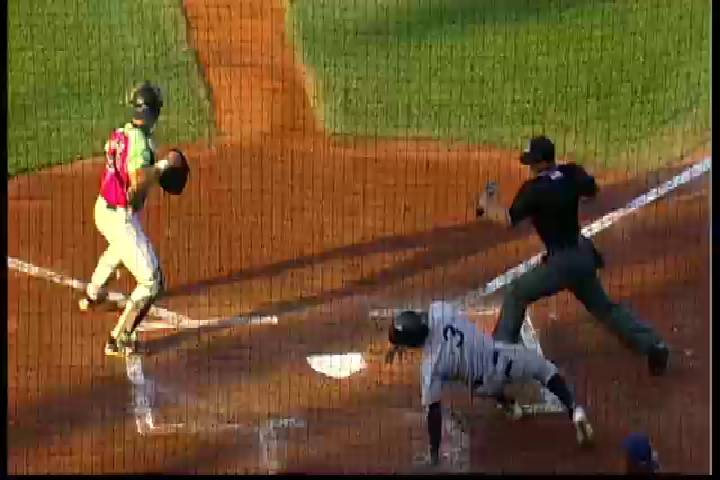 By Guy Curtright / Special to MiLB.com | August 10, 2016 10:00 AM
Fort Myers outfielder LaMonte Wade did little his first two seasons at the University of Maryland to indicate he was a true Major League prospect.
"It was eye-opening," he said. "I came in from high school thinking I would have success in college and I really didn't have that much at first."
When Wade followed up a .247 season as a sophomore with the Terrapins by batting .145 in the Cape Cod League, things were looking a little bleak.
The Baltimore native's baseball future certainly isn't now, though.
Wade had a breakout junior season at Maryland despite missing six weeks with a broken hamate bone, was taken in the ninth round of the 2015 Draft by Minnesota and is ranked as the Twins' No. 29 prospect.
It's been quite a two-year turnaround.
"I made some adjustments in my swing, got stronger and put in a lot of work," Wade said of his transformation at the plate. "Everything started to fall into place."
The left-handed hitter and thrower was third in the Appalachian League with a .934 OPS last year before being promoted from the Rookie level to the Class A Midwest League at the end of the season.
In 2016 Wade has picked up right were he left off a year ago, earning a promotion to the Class A Advanced Florida State League after playing in the Midwest League All-Star Game.
He hasn't missed a beat despite the tougher competition.
Wade hit .318 with 13 extra-base hits and 24 RBIs in his first 32 games with Fort Myers, posting a .386 on-base percentage and .518 slugging mark before going on the seven-day disabled list Tuesday to rest a bruised left hand.
"Every level you move up, the pitching is better," the 22-year-old said. "You have to make in-game adjustments and really study what the pitchers are trying to do."
Wade hit nine homers last year in 64 games for Elizabethton and has four in his short time in the hitter-unfriendly Florida State League.
But it is Wade's plate discipline that really stands out. He had 47 walks to 36 strikeouts last year and has drawn 54 free passes while fanning 44 times this season.
"I try to wait for my pitch and then not miss it," he said.
Wade twice came within one victory of reaching the College World Series while at Maryland, falling to Virginia in the deciding game of a Super Regional both times.
A first baseman as a sophomore after doing a little pitching as a freshman, Wade didn't play a starring role in Maryland's 2014 upset victory at the South Carolina Regional, but that wasn't the case last year against UCLA.
The Terrapins, first-year members of the Big Ten, stunned the nationally top-ranked Bruins and Wade played a big part at the plate and in center field. Wade, who had a .335 batting average for the season, made a leaping catch to take away a home run in a game against Ole Miss and then threw out a UCLA runner at the plate in an even more pivotal play. He also hit two homers and was named the Most Outstanding Player of the Regional.
Dear LaMonte Wade,

You are amazing.

Sincerely,#RoadToOmaha http://t.co/NS7kBUOlcd

- NCAA Baseball (@NCAACWS) June 2, 2015
"Some fans and players mention that they've seen the video," he said. "It was really an exciting time at UCLA. I just wish we could have kept it going a little longer and made it to the College World Series."
Host Virginia beat Maryland in a deciding Game 3 of the Super Regional and went on to claim the College World Series title, beating Vanderbilt.
Wade also fell short of a Minor League title a few months later as Cedar Rapids lost to West Michigan in the deciding Game 5 of the Midwest League Championship Series.
Wade stayed close to his home in Owings Mills to play at Maryland, where his father had attended, and younger brother Jamal joined him as freshman teammate last year.
Veteran Twins scout John Wilson spent a lot of time following Maryland last year, and Minnesota took Terrapins reliever Alex Robinson in the fifth round.
Wade went four rounds later.
"I wasn't surprised where I was taken, I was just surprised it was the Twins," he said. "I knew the scout had been there, but I hadn't had a lot of contact."
The selection appears to have worked out well for the Twins and Wade. He's gone from the off track to the fast track in just over a year.
In brief
No chance at history: Any remote chance that Christin Stewart had of threatening the Florida State League home run record ended when the Lakeland outfielder was promoted to Double-A Erie on Aug. 8. The Detroit Tigers' No. 3 prospect had 23 homers -- 10 short of the record last accomplished in 1971. Stewart, 23, had 16 homers in the first half, but his pace slowed after the All-Star break. The first-round pick in the 2015 Draft left Lakeland leading the league in slugging (.524) and OPS (.925) and was second in on-base percentage (.401). Stewart was also on top with 67 RBIs.
About turn: Jupiter right-hander Luis Castillo allowed four hits and a run over five innings in a no-decision against Palm Beach on Aug. 7 in his first start back with the Hammerheads. His part of the trade between Miami and San Francisco was reversed when Colin Rea ended up needing Tommy John surgery after one start for the Marlins. Castillo, Miami's No. 5 prospect, never made an appearance in the Giants organization. The 23-year-old from the Dominican Republic is 7-3 with a 2.23 ERA for Jupiter and has 86 strikeouts to 16 walks in 105 innings. Castillo's WHIP of 0.97 was third in the league.
Back in action: Charlotte catcher Nick Ciuffo returned to the Stone Crabs on Aug. 5 after breaking his left pinky at the beginning of June. Tampa Bay's No. 25 prospect had a three-hit game just before the injury, which knocked him out of the Florida State League All-Star Game. Ciuffo, who had lifted his average to .289 prior to getting hurt, was 1-for-7 in his first three games back with the Stone Crabs after a rehab stint in the Gulf Coast League. The strong-armed first-round pick in the 2013 Draft had caught 21 runners in 33 steal attempts over 36 games behind the plate with Charlotte.
Guy Curtright is a contributor to MiLB.com. This story was not subject to the approval of the National Association of Professional Baseball Leagues or its clubs.
View More