FSL notes: Wagner won't waste his pitches
Manatees starter focuses on working quickly, forcing early contact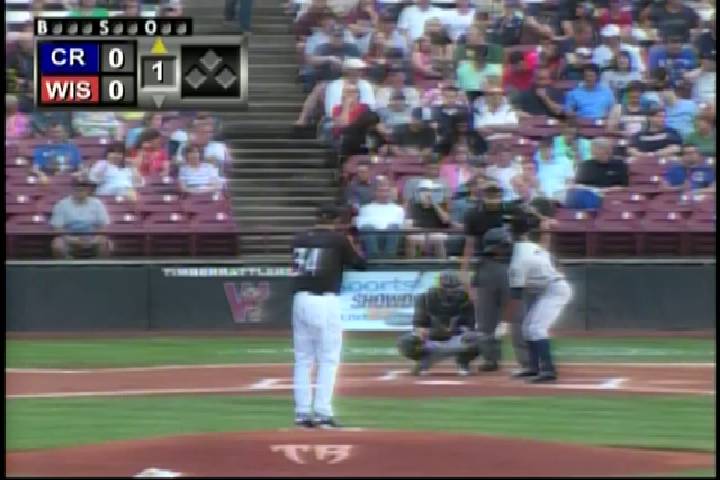 By Guy Curtright / Special to MiLB.com | August 20, 2014 10:00 AM ET
When Tyler Wagner takes the mound, any complaints about the lagging pace of baseball quickly disappear.
The Milwaukee Brewers' No. 14 prospect doesn't linger between pitches and goes right after hitters when he throws. It all comes from what the Brevard County ace learned as a high school shortstop and college closer.
There are no real advantages to wasting time or pitches, and when you don't your defense plays a lot better behind you.
Wagner (13-5) leads the Florida State League in victories and is second in ERA (1.60) and WHIP (1.09). The 6-foot-3 right-hander has a modest 111 strikeouts over a league-high 141 innings but has walked only 44 and limited opponents to a .219 average.
"I try to force contact, not shy away from it," he said. "I want to get outs as fast as I can."
That happens with regularity as the 23-year-old's low-90s sinking fastball generates a lot of ground balls.
Infielders are ready for them, too. Wagner's fast pace makes sure no one is back on his heels.
"When I played shortstop, I wanted action to come quickly," he said. "I think having a good tempo helps a pitcher and makes everyone behind him play better as well."
Spoken like a veteran pitcher, but Wagner is hardly that.
The Las Vegas native was the shortstop on a Nevada state high school champion and nationally ranked Bishop Gorman team, earning a scholarship to the University of Utah as an infielder.
"I only started maybe two or three games in high school," Wagner said of his time on the mound.
Utah, though, was intrigued by his strong arm and gave him a look on the mound as a freshman. By the next season, he was the team's closer and set a school record with 12 saves.
Milwaukee took Wagner in the fourth round of the 2012 Draft after his junior year and gave him a new role again. Put in the rotation, he struggled at rookie-level Helena in the Pioneer League, going 1-4 with a 7.77 ERA.
"It took me a while to get used to starting," Wagner said. "But I understood that it was important for me to pitch as much as possible."
By last season, Wagner was comfortable. With an effective changeup added to his hard slider and sinking fastball, he was 10-9 with a 3.21 ERA for Wisconsin in the Class A Midwest League.
This year, though, has been the real breakthrough.
Wagner went two months from early June to early August without a loss, going 7-0 and allowing just three earned runs over 52 1/3 innings in eight starts. The streak was broken by a loss at Tampa, but he then won his next two stars with scoreless outings of six and seven innings.
In brief
Getting settled: The Fort Myers Miracle went just 4-4 in their first homestand at JetBlue Park, but two of the victories came in walk-off fashion. A bases-loaded walk by third baseman Travis Harrison in the ninth inning brought a 9-8 victory over St. Lucie on Aug. 14, then outfielder Adam Brett Walker had the game-ending single in the 11th for a 6-5 victory over Palm Beach on Aug. 17. Walker leads the Florida State League with 24 homers and 92 RBIs in 120 games. The Miracle, who had a league-best 41-19 home record before the move, switched to JetBlue Park on Aug. 12 because of construction at Hammond Stadium.
Moving up: The Florida State League lost one of its top run producers when Jupiter first baseman Viosergy Rosa was promoted by the Miami Marlins to Double-A Jacksonville. He was second in the league with 78 RBIs and was hitting .291 with 25 doubles and 13 home runs in 116 games. Rosa, 24, had a .355 on-base percent and .439 slugging mark. He had four hits in one of his last games with the Hammerheads.
Still rolling: Brevard County right-hander Taylor Williams, Milwaukee's No. 13 prospect, struck out nine over seven innings against Dunedin on Aug. 17 to improve to 1-1 with a 1.80 ERA in three starts since a promotion from Class A Wisconsin. The fourth-round pick in the 2013 Draft out of Kent State was 8-1 with 2.36 ERA and four saves in the Midwest League, recording 112 strikeouts to 23 walks in 107 innings while piggybacking starts. Williams, 23, allowed six hits and one earned run against Dunedin, walking none.
Guy Curtright is a contributor to MiLB.com. This story was not subject to the approval of the National Association of Professional Baseball Leagues or its clubs.
View More