Garcia, Hammerheads hurl one-hitter
Marlins' No. 6 prospect strikes out six, continues stellar start to '15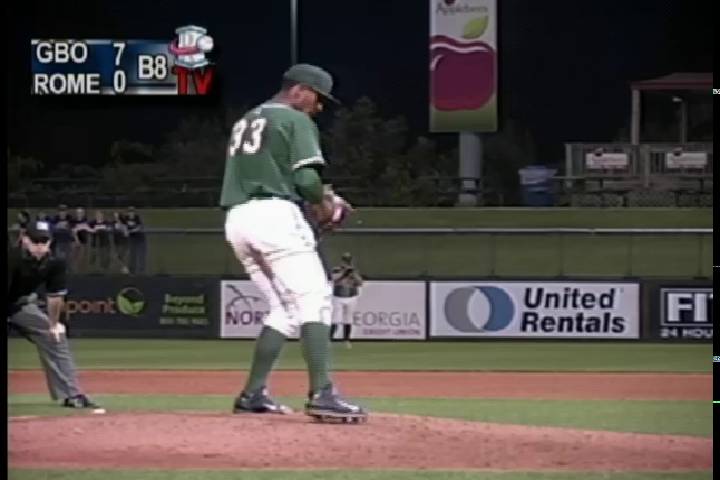 By Danny Wild / MiLB.com | April 21, 2015 11:04 PM
Jarlin Garcia hasn't made many mistakes this season, but one of them cost him a chance at perfection Tuesday.
"The organization has high hopes for him," Hammerheads manager Brian Schneider said. "But he's still got to learn how to pitch."
The Marlins' No. 6 prospect took a perfect game into the sixth inning and combined with Juancito Martinez on a one-hitter as Class A Advanced Jupiter edged St. Lucie, 3-1, in the first game of Tuesday's doubleheader.
Garcia allowed the Mets' one hit, a solo homer to left fielder Maikis De La Cruz in the fifth inning, while striking out six. Martinez (1-0) came on in the seventh and struck out a pair over two innings to pick up the win in relief.
"He attacked hitters right away and didn't fall behind," said Schneider. "All three pitches were working for him tonight. Usually we get two, but he had a three -- a fastball, slider and changeup -- and he left a changeup up for the home run. That was the only hit he gave up. Very dominant."
The Marlins left-hander has been just that to start his fifth Minor League season. In three starts, the Dominican Republic native has struck out 14 while allowing two earned runs on 10 hits over 16 innings. He's holding batters to a .179 average and sports a 1.13 ERA.
"He has a good arm, he was getting up to 95 tonight. He's really learning how to pitch," said Schneider. "We find these guys and they're young and raw. We have high expectations for him, and hopefully he gives us a chance to win every ballgame."
Garcia struck out the side in the first and was perfect into the fifth before De La Cruz's leadoff blast. He retired the next six batters exiting the contest. Jupiter got its starter off the hook in the seventh when Cameron Flynn singled home J.T. Riddle to tie the game off rehabbing Mets reliever Bobby Parnell. The Marlins affiliate took a lead in the eighth on Brian Anderson's home run, and Avery Romero knocked home Riddle again for a two-run cushion later in the frame.
Flynn's RBI made it an easy decision for Schneider to lift Garcia, and he said the young southpaw took it in stride.
"I wasn't thinking about it too much. Right now, it's still early in the year, we're still limited in how many innings we can get them out there," he said. "He only had 40 pitches through four or something, so at that point, it's only a seven-inning game, you're hoping he can get there. All the pitch counts are so low, so I was hoping he had a chance."
Schneider said it would have been more difficult to pull his starter had he still had the no-hitter intact. Getting him off the hook for a loss changed the strategy.
"He's a great kid. He realized at that point, he hadn't pitched over six innings year this year, we tied the game, so he knew someone else would get the ball," Schneider said. "He was OK with it. He wanted to stay in, but he gave me a big smile. I told him 'Good job,' and he said 'Thank you.' If it was a no-hitter, I would imagine he'd be pretty upset, but at that point it would have just been a chance for a complete game. We tied it up and won the game, we salvaged a no-decision."
Garcia, 22, signed with the Marlins as a 17-year old in 2010 and but didn't pitch for a full-season affiliate until 2014, when he posted the lowest walk rate in the Class A South Atlantic League with Greensboro. Schneider said the starter needs to work on being consistent on the mound this summer, which he knows will be a warm one in South Florida.
"Next outing, hopefully he can repeat it," he said. "He's been good so far, but it's a tough league, it's a hot league. Hopefully, he can stay strong and not get too tired from pitching in this league. People don't realize how hot this league is. So hopefully he can push it to the next level."
Miller Diaz matched Garcia for much of the afternoon, allowing three hits and a walk over six innings. The Mets right-hander struck out six. Parnell, who took the blown save, has allowed three runs on six hits and three walks in 2 2/3 innings at St. Lucie this month.
Danny Wild is an editor for MiLB.com. Follow his MLBlog column, Minoring in Twitter. This story was not subject to the approval of the National Association of Professional Baseball Leagues or its clubs.
View More