Grizzlies' Kickham matches career-long day
No. 17 Giants prospect allows just two hits while pitching into ninth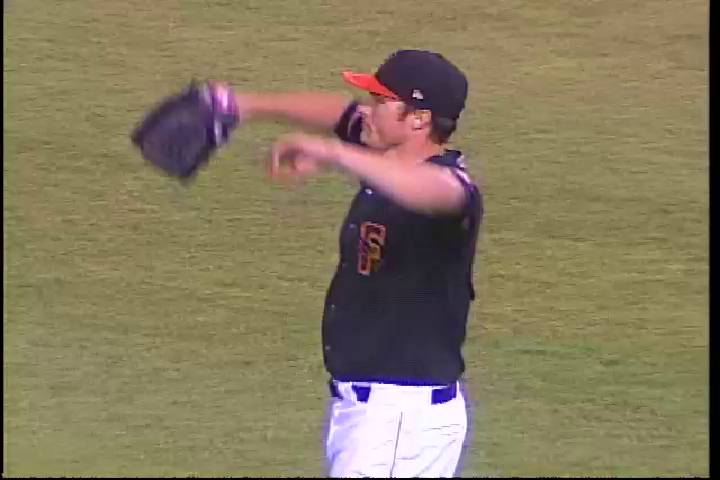 By Tyler Maun / MiLB.com | June 27, 2014 4:02 AM ET
Three starts ago, Mike Kickham turned in his shortest outing of the year without feeling particularly upset about the way he threw the ball. Having stayed the course, his performances are reflecting his confidence.
The Giants' No. 17 prospect allowed just two hits while tying a career high with 8 1/3 innings pitched as Triple-A Fresno blanked Salt Lake, 8-0.
On June 15, Kickham didn't make it through the second inning, lifted after five outs and charged with six runs -- three earned -- on five hits but didn't factor into the decision against Omaha, a day that has sparked a turnaround.
"I could talk ad nauseum about that start against Omaha," Kickham said. "You look in the box score, and it's ugly, but honestly I didn't throw the ball that horrible. One, maybe two balls left the infield. There were a bunch of high choppers that they beat out. From a confidence standpoint, I just thought it was one of those days. It's not like I got hit around or smashed. I felt fine about that start. You want to put up good numbers, though, so after that start, I wanted to get that bad taste out of my mouth."
Kickham (6-5) followed that performance with six innings of two-run ball six days ago and continued his upswing Thursday. Salt Lake registered just one hit through the game's first eight innings, and Kickham faced the minimum in five frames. At one point, the left-hander retired 13 straight Bees.
"You've always got to be confident in your stuff," Kickham said. "I didn't particularly feel all that great. There have been games where I've felt better and have had not as good of results. Tonight, I just showed myself that even when I might not be feeling that great or my location on a certain pitch isn't what it usually is, I can go out and get good results."
The Grizzlies gave their southpaw a big cushion with a five-run first inning highlighted by Chris Dominguez's two-RBI single. Fresno added two more runs in the second on a wild pitch and an RBI groundout off the bat of Mark Minicozzi.
The margin was more than enough for Kickham, who has allowed three or fewer earned runs in seven of his last eight outings to drop his ERA to 3.68.
"To put a few together here, that's always the goal," Kickham said. "When you get a couple good ones back-to-back like that, you want to start a streak, and it's all about the team winning. I just want to go out there and do the best I can and give us a chance to win."
Kickham fanned nine while walking three. An elevated pitch count caught up with him in the ninth, when having crossed over 100 pitches for just the second time this season, he was lifted after allowing a one-out double to J.B. Shuck in the ninth.
"I understand," he said. "I can see the big picture. A complete-game shutout in Triple-A is great. It's a wonderful achievement, but the ultimate goal is to do that in the big leagues. I've got great confidence in our bullpen to close it out there. Of course, I want to finish it as a competitor, but I'm also going to be smart about it. I can understand taking me out there."
Fresno's Erik Cordier retired the only two men he faced in the ninth.
The Grizzlies victimized rehabbing Angels starter Tyler Skaggs (0-1). The southpaw was charged with seven runs -- just two earned -- on five hits over three innings. He walked five and struck out two in his first appearance coming back from a hamstring injury.
Tyler Maun is a contributor to MiLB.com. Follow him on Twitter @TylerMaun. This story was not subject to the approval of the National Association of Professional Baseball Leagues or its clubs.
View More