Gwinnett's Ruiz records season-high five RBIs
Atlanta's No. 22 prospect goes yard; No. 1 Albies adds three hits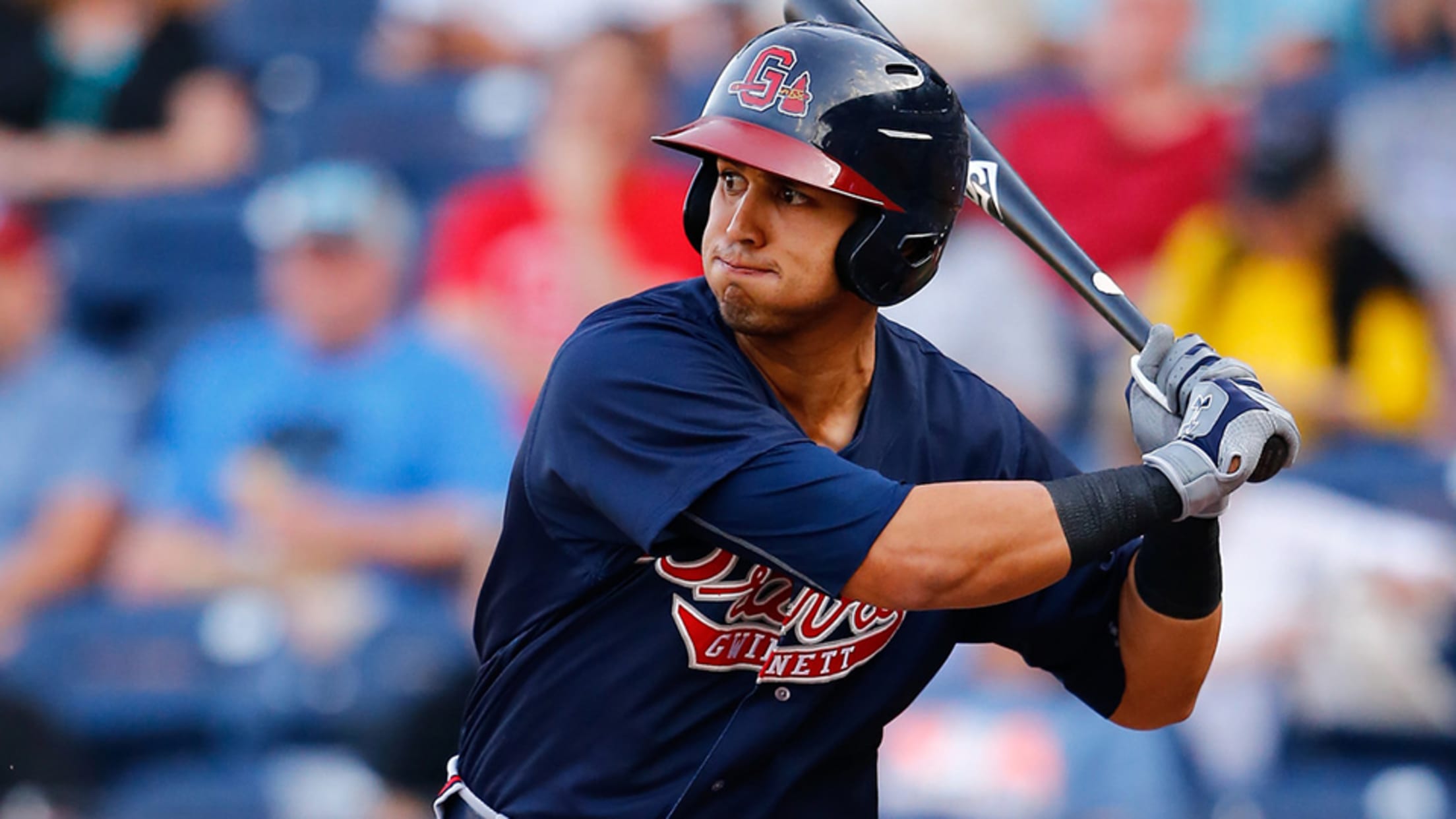 Rio Ruiz is batting .276/.327/.474 through 50 games with Gwinnett in 2017. (Chris Robertson/MiLB.com)
Rio Ruiz recently returned to the Minors after spending over a month in Atlanta, and although he struggled in the Majors, he left with a valuable lesson in hand."If anything, I was just trying to do too much when I had the opportunity up there," the Braves No. 22 prospect
Rio Ruiz recently returned to the Minors after spending over a month in Atlanta, and although he struggled in the Majors, he left with a valuable lesson in hand.
"If anything, I was just trying to do too much when I had the opportunity up there," the Braves No. 22 prospect said. "When you try to do too much, you're not yourself and you get bigger, longer and things get out of whack. I had a good conversation with [Braves] hitting coach [Kevin Seitzer] when I was optioned and got back to being free and easy, staying ready and getting good pitches to hit."
Ruiz set a season high with five RBIs and recorded his fourth three-hit game of the season as Triple-A Gwinnett topped Norfolk, 10-3. The 23-year-old belted his seventh homer of the season, three shy of his 2016 total and five shy of his career high.
Gameday box score
After a first-inning walk against Orioles No. 6 prospectChris Lee, Ruiz came up with men on first and third in the third. Xavier Avery scored on a double steal to give the Braves a 2-0 lead, and the third baseman ran the count full before singling to center field to score Jace Peterson.
Ruiz batted once more against Lee, and after seeing 12 pitches combined in his first two plate appearances, he took the Tides left-hander's second offering to left for a single, scoring Avery and David Freitas for a 6-0 advantage.
"I was just being patient. He threw some good pitches that I usually would've swung at if I wasn't really confident," Ruiz said. "But right now I'm feeling OK at the plate, and I was thankful to put those balls in play that he put close enough to the zone."
The Covina, California native grounded out to first to lead off the sixth before coming to bat with two outs and top Braves prospect Ozzie Albies on base in the eighth. After taking two balls from right-hander Steve Johnson, Ruiz drove the third pitch he saw 374 feet to right to put the Braves up, 10-3.
"I was just trying to hit something hard, as I do every single at-bat," he said. "If you keep it simple up there, the ball's going to find the holes. As long as you just try to barrel the ball and put a good swing on something, hopefully it lands somewhere for the hit."
Ruiz struggled to a .175/.264/.288 slash line with two homers and nine RBIs in 31 games with Atlanta, but he's tallied multiple hits in five of 13 games -- including two three-hit performances -- since returning to Gwinnett. He's teed off three times while driving in 13 runs, bringing his season totals to seven long balls and 29 RBIs.
Albies stayed hot for Gwinnett as well, going 3-for-4 with an RBI and a run scored out of the leadoff spot. The three-hit game was his fifth in his past 10 outings, raising his batting line from .272/.323/.424 to .294/.339/.450.
"The kid's a stud, plain and simple," Ruiz said. "There's nothing more to it. I'm a firm believer that age is just a number, and if you're ready to play at a certain level, then you should be able to do that. He fits that perfectly. He's 19 years old, doing things that not a lot of people can say they do, getting two to three hits a game. It's special and it gets all of us going as well."
No. 17 Atlanta prospect Dustin Peterson went 2-for-4 with two runs scored. Avery reached base three times, scored twice and drove in two.
Kris Medlen (1-2) allowed two runs on eight hits and struck out five over six innings, lowering his Gwinnett ERA from 7.01 to 6.25 in the process.