Hendricks fans 11 in eight shutout frames
Righty matches career high in K's during three-hit outing for I-Cubs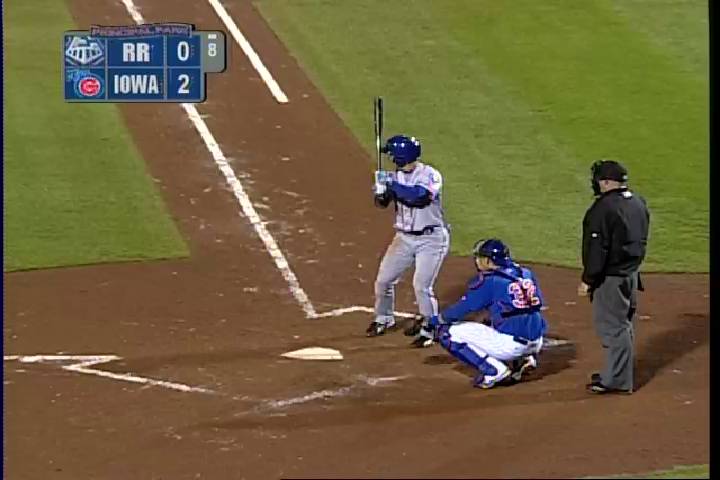 By Josh Jackson / MiLB.com | May 16, 2014 12:47 AM ET
Rain delayed Kyle Hendricks' start for over an hour Thursday night, but opposing hitters could be forgiven for wishing it'd been washed out.
"It's tough sometimes to stay focused when you're delayed, but we knew were going to play," Hendricks said. "Once they told us a start time, I just stayed in the clubhouse and tried to relax with the rest of the guys."
The Cubs' No. 15 prospect matched a career high with 11 strikeouts while allowing three hits over eight innings in Triple-A Iowa's 2-0 win over Round Rock. Hendricks improved to 4-3 with a 3.06 ERA in the Pacific Coast League.
He did not walk a batter, had only one three-ball count and threw 71 of 100 pitches for strikes. Eighteen of the 27 batters he faced got a first-pitch strike.
"Honestly, it was just that my fastball command was on. That was key," Hendricks said. "Everything felt really good mechanically, and the guys got a couple early runs, so I could start attacking hitters."
The 24-year-old righty previously whiffed 11 with the Class A Advanced Myrtle Beach Pelicans on May 20, 2012, two months and 11 days before the Texas Rangers traded him to Chicago along with Christian Villanueva for Rick Dempster.
He wasn't particularly proud of the strikeout total.
"The strikeouts isn't that big. The no walks is big. That's something I focus on, not giving away free bases," said the Dartmouth product. "The strikeouts is just about hitting spots and some guys swung through pitches. That's just lucky.
"I've been working real hard on command with Bruce [Walton], the pitching coach, in bullpens in between starts. My command has been OK [in previous starts], but not really where I wanted it -- actually, not where I needed it. All the work started paying off tonight."
One of the three hits Hendricks permitted came against Adam Rosales, the second batter of the game.
"That hit, it was a good pitch," Hendricks said. "It was a cutter on the corner, and it was a broken-bat hit actually. You're going to give up hits like that. Luckily, I was able to get the next few guys."
In fact, Hendricks was able to get the next 16 guys, as he did not allow another baserunner until there were two outs in the sixth. He credited Iowa catcher Eli Whiteside with keeping him locked in.
"I was definitely in a groove. A lot of that was Whitey. Whitey called a [heck] of a game. I didn't really have to think out there," Hendricks said. "It felt great. It was just in and out. I was trying to get the team back into the dugout and give them a chance to score runs."
The Express' Jared Hoying opened the seventh with a single, but Hendricks sandwiched a groundout with two strikeouts to avoid trouble.
Sixth-ranked Cubs prospect Arismendy Alcantara tripled, doubled, walked and scored a run in the win.
Blake Parker pitched a perfect ninth to earn his seventh PCL save in seven chances.
Josh Jackson is a contributor to MiLB.com. This story was not subject to the approval of the National Association of Professional Baseball Leagues or its clubs.
View More