Heston goes all the way in Grizzlies' shutout
Giants prospect hurls four-hitter, notches fifth career complete game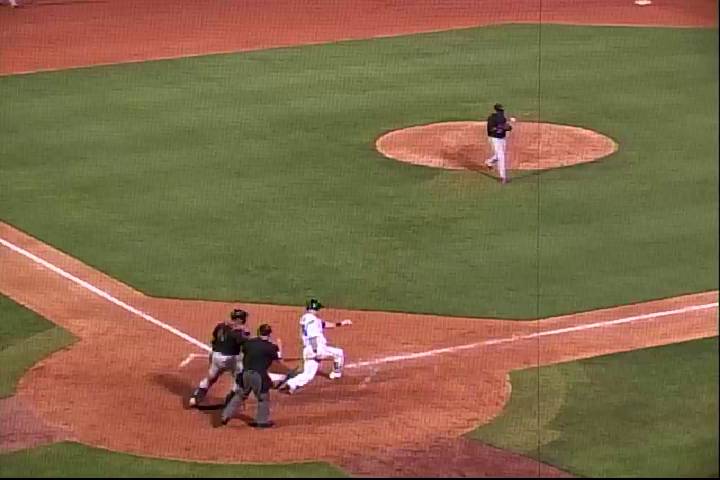 By Josh Jackson / MiLB.com | August 23, 2014 1:16 AM ET
Without meaning to, Chris Heston has put together a tradition. Once a season, for each of the last four seasons, he's pitched a complete game. He made it five in a row on Friday night, throwing in his second professional shutout.
"Anytime you're out there, you want to go as long as possible," the Giants prospect said. "That's my motto. I want to go as long and as hard as I can, and I hope it works out. Sometimes it does and sometimes it doesn't."
Heston went the distance at Nashville, tossing a four-hitter and striking out four in Triple-A Fresno's 3-0 silencing of the Sounds. He hit two batters and walked another but improved to 11-8 and lowered his ERA to 3.30, which ranks fourth in the Pacific Coast League.
"Austin [Fleet] just did it, less than five days ago for us, so it's awesome to get the opportunity to do it again," the 26-year-old right-hander said.
"The defense played great and it all kind of clicked. I think the park had a lot to do with it. My outfielders ran a lot of balls down out there, so I was getting ahead and knowing I could let them hit it to somebody."
Heston had a perfect opening frame and retired eight in a row from the bottom of the second into the fifth, when Matt Clark hit a one-out single. Sean Halton followed with a walk, giving Nashville two baserunners in an inning for the only time all night.
"Anytime you have baserunnners on, you're always in a little trouble," he said. "I was just trying to get back in it, get a ground ball and let the infielders do their job."
The East Carolina product got Pete Orr to hit into a forceout that put runners on the corners, then struck out Matt Pagnozzi to end the inning.
As he moved into the late innings, Heston was hardly aware of the shutout.
"Honestly, you don't realize it while you're out there," he said. "I was lucky to be able to keep my pitch count down early, because in the end it got up there a little. My coaches gave me the opportunity to do it, and I'm thankful for that."
The 2009 12th-round Draft pick admitted to being "a little bit" surprised that manager Bob Mariano and pitching coach Dwight Bernard allowed him to take the mound in the ninth. He was further surprised when he didn't get the hook after allowing a leadoff single to Caleb Gindl.
"I figured once the guy got on, they might pull the string," said Heston, who rewarded the coaching staff's faith in him by getting Jason Rogers to hit into a double play.
"That's always fun, to get two outs with one pitch. It makes it a lot easier for you," he said. "My pitch count was probably up there, so that saved me and gave me the opportunity to get the third out."
Heston put an exclamation mark on his outing by fanning Clark to end it.
The Florida native did not pitch with a lead until the sixth, when Jarrett Parker and Tony Abreu hit back-to-back RBI singles. Chris Dominguez provided some insurance an inning later with another run-scoring single.
Nashville starter Jay Jackson (0-3) allowed a run on three hits and three walks over five-plus innings, striking out six.
Josh Jackson is a contributor to MiLB.com. This story was not subject to the approval of the National Association of Professional Baseball Leagues or its clubs.
View More