Hillcats' Roberts started new life in baseball
Lynchburg general manager left behind troubles for career in Minors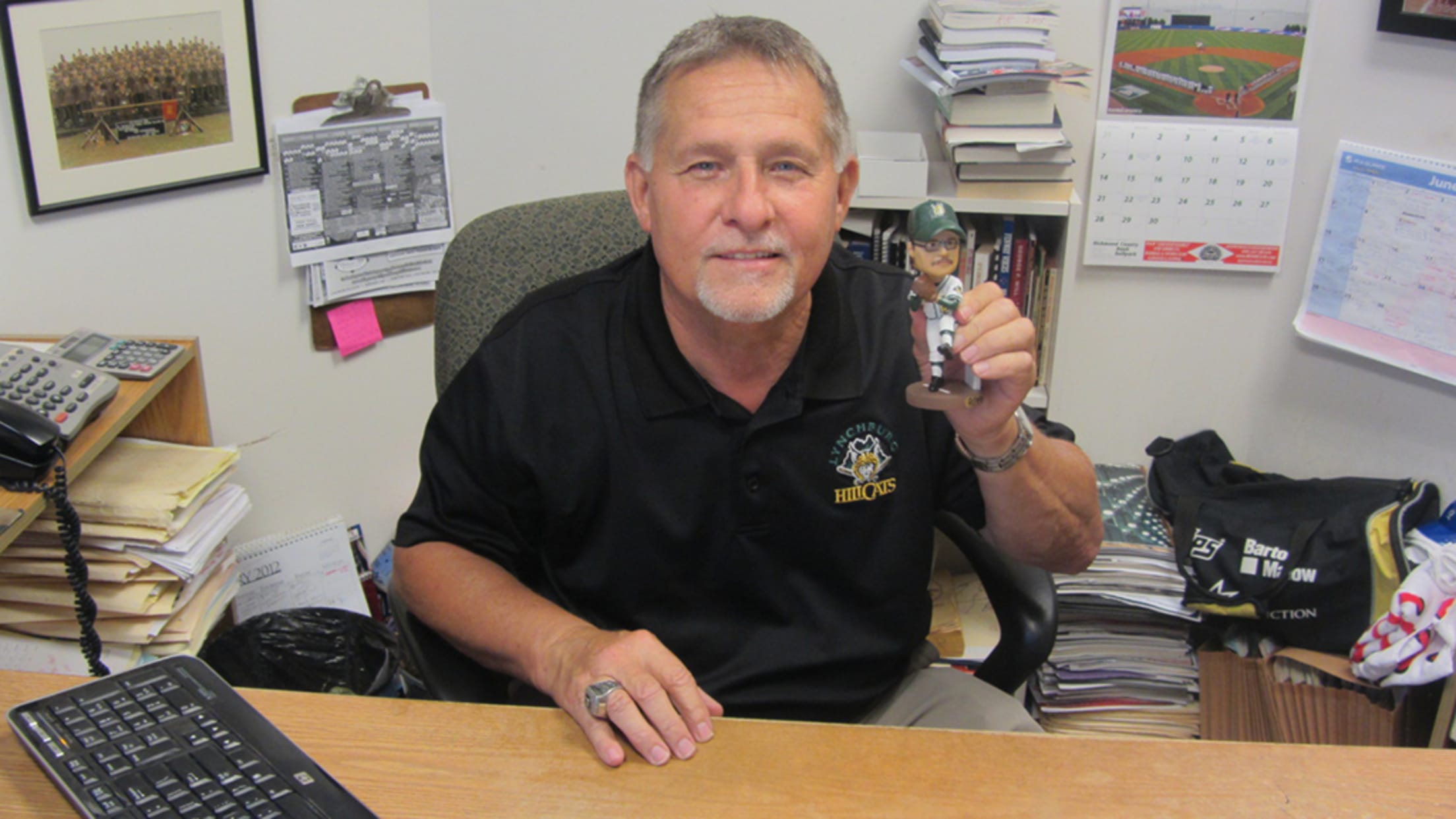 Ask Ronnie Roberts about his first season in Minor League Baseball, and he'll tell you about an experience that is typical within the industry. He was far from home, earned just $1,000 a month, worked long hours and lived in a basement apartment.But Roberts' story is far from typical, because

Ask Ronnie Roberts about his first season in Minor League Baseball, and he'll tell you about an experience that is typical within the industry. He was far from home, earned just $1,000 a month, worked long hours and lived in a basement apartment.
But Roberts' story is far from typical, because when he had that experience, he wasn't some fresh-faced kid just out of college with a sports management degree. Rather, he was a 41-year-old divorcee, down on his luck and looking for a fresh start. He found it with the Lynchburg Red Sox, who provided him with his first job in baseball back in 1991.
Nearly a quarter century later, Roberts is still employed by Lynchburg's Carolina League team, now a Cleveland Indians affiliate called the Hillcats. These days, he's the general manager.
I spoke with Roberts prior to June 27's Hillcats game at Calvin Falwell Field, the conversation taking place in a stadium office stuffed to the gills with baseball memorabilia and personal mementos. Within this comfortable, if cramped, environment, Roberts reflected on his long and somewhat improbable Minor League Baseball career.
<jsp:include page="/milb/include/farms_almanac_14.html">
"From an early age, I fell in love with baseball. I don't know why," said Roberts, a native of Bahama, North Carolina. "My earliest memory is of watching the Dodgers and Yankees in the World Series in 1955 on a black and white TV. It just captured me."
Roberts played baseball throughout his childhood and well into his adult years. He played collegiately at Methodist College in Fayetteville, North Carolina, and continued to compete in a men's semi-pro league after marrying and settling down to raise a family in Roxboro, North Carolina.
"I did that for quite a few years," he said. "Then in 1990 I was 41 years old, been divorced a couple years, and made a trip to Wichita, Kansas, to play in an adult men's baseball tournament called the NBC World Series. It was played in Lawrence Dumont Stadium out there in Wichita."
He continued, "On the way out there we stopped [at the Minor League stadium] in Little Rock, we stopped in Memphis, we stopped in Tulsa. I said, 'Man, it'd be nice to have a job in baseball.' The summer league I was playing for, I helped run the league and I maintained the field, and it kind of got me away from going through the divorce. I was working for an insurance company at the time, and really wasn't happy. So on that trip out there to Wichita, I started asking people, 'How do you get into baseball?'"
• Read more about Ben's visit to Lynchburg on the Biz Blog »
When Roberts returned from his trip to Wichita, in the summer of 1990, it was with a new determination to get a job in the sport that had always captured his attention.
"My wife and I, we owned a farm, so we sold that and split the money. I was financially able to make the move," he said. "But I was living in Roxboro. I was in the chamber of commerce, the city clubs, a suit and coat guy. All my buddies said, 'You just gonna pack up and move to wherever?' I said, 'Yep. I can.'"
But first there was the matter of finding a job. Roberts sent out scores of letters -- hand-written on a yellow legal pad -- that simply explained, as he puts it, "I want to get into baseball. What does it take?" The only person to respond was Lynchburg general manager Paul Sunwall, who now holds the title of team president. Sunwall explained to Roberts that the team was taking over field maintenance from the city of Lynchburg, and that he'd be willing to interview Roberts for a head groundskeeper position.
"So I drove up [to Lynchburg] in mid-February of 1991," said Roberts. "[Sunwall] said 'You got any sales experience?' I said, 'Yeah, I've sold insurance for eight or nine years and was the branch manager of a bank before that. I can talk to people and I can sell.' He said 'So you're going to work here as a groundskeeper and give all that up?' I said, 'My passion is baseball, so yeah I think so.'"
Sunwall, who still has the letter that Roberts sent him, remembers the interview well.
"I thought, 'Hey, he had experience,'" he said. "He was an older guy with a good work ethic, who wanted a fresh outlook."
A new chapter of Roberts' life began on March 4, 1991, when he moved to Lynchburg to begin work as a groundskeeper. He said that, right away, he was "basically living at the ballpark." He proved himself sufficiently, as Sunwall then offered him an offseason sales position. Prior to the 1992 season, Darren Johnson, a student at Lynchburg's Liberty University, was brought on staff as Roberts' groundskeeping assistant. When Roberts was promoted to assistant general manager in 1993, Johnson assumed the head groundskeeper position.
"Paul has been here 35 years, Darren 24 years, and this is my 25th year," Roberts told me. "What's unique, I think, is that Lynchburg is the only team we have worked for. That's 84 years of combined continuous service, all with one organization. Could be some sort of record."
Roberts, now in his first season with the general manager title, was honored with his own bobblehead on June 26 (the Major League-referencing Ronnie "Wild Thing" Roberts bobblehead, to be exact). Next season, he plans to get married at the ballpark to Renee Biache, a FedEx driver whom Roberts got to know because she regularly delivered packages to the Hillcats' offices. All things considered, there couldn't have been a much better result to his early '90s mid-life crisis.
"Looking back, it's a lot of things. It's fate. Everything happens for a reason, I guess," he said. "I worked on that baseball field in Roxboro, North Carolina, just for fun so that the summer league had a place to play. If I hadn't had that experience, I would have had no idea what to do. [Sunwall] would have said, 'We can't use you.'
"My heart, soul and roots are here now. I don't know what I'll do if I retire. I'll stay here as long as they'll have me."
<jsp:include page="/milb/include/roadtrip15_3_full.html">