I-Cubs' Villanueva homers in fourth straight
No. 21 Chicago prospect has tallied 25 total bases since start of June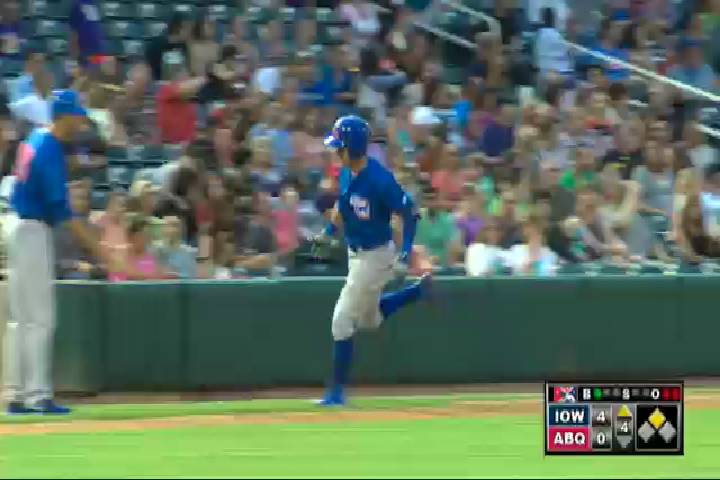 By Josh Jackson / MiLB.com | June 5, 2015 2:17 AM
Christian Villanueva is sold on the Land of Enchantment.
"It seems like New Mexico is treating me right," the Cubs' No. 21 prospect said after hitting home runs on four consecutive nights in the state and on its border.
Villanueva's latest came during a 2-for-4 performance in which he doubled, walked, drove in three runs and crossed the plate three times in Triple-A Iowa's 8-2 win over Albuquerque on Thursday.
After going yard Monday and Tuesday in the last two games of a series at El Paso the 23-year-old corner infielder has victimized the Isotopes in the first two outings of a three-game set. Before June, Villanueva had hit just four home runs all season -- with one of them coming during a six-game stint with Double-A Tennessee at the start of the year. He's plated 12 runs since the tear started.
"Oh man, I can't even explain it," he said of the recent outburst. "I haven't done it before. It's something different for me."
However, I-Cubs hitting coach Brian Harper hasn't been surprised to see Villanueva start to get some impressive results.
"He's really actually been doing it the whole time he's been here, even when he wasn't getting a lot of hits. He was having good at-bats and hitting the ball hard," Harper said.
"Even when he wasn't [hitting a lot of home runs], he had these great swings that made you go, 'Wow! That was right there!' He'd just pulled a home run foul, or a couple times it would go out but the wind was blowing in hard, but I was watching him have really good at-bats all year. Early on, he was hitting a lot of real hard outs. He looked really good, and I told him, 'Hey, just stay where you're at.'"
The native of Guadalajara, Mexico smacked Thursday's two-run dinger with two outs in the fourth against Albuquerque starter Boone Whiting. He knew as soon as he made contact that he'd gone yard again.
"I got a good pitch and I got up the barrel on it," Villanueva said. "I'm trying not to get too excited. I'm just trying to put the ball in play and not think about it too much."
He admitted that it gets harder and harder to do as the homer streak rolls on.
"I just try to calm myself down at the plate and be more patient," the young slugger said.
Harper isn't concerned, because he's already seen Villanueva make huge strides in that department since last summer, when he batted .211 over 64 games in his first crack at the Pacific Coast League.
"That's been his whole key. The only thing I've been preaching to him is, 'Get a good pitch to hit.' He's done a way better job of that his year than he did when he was here last season, when he was swinging out of the zone a lot," Harper said. "He's being a little more patient, taking walks -- but more than taking walks, getting a good pitch to hit and squaring up.
"He made a lot of really good adjustments when he was sent down to Double-A, and they've transferred here. He's shortened everything up, lessened his leg kick, shortened his swing to the ball. He's doing a great job of making adjustments to succeed at this level. He struggled a little bit here last year. He's really a different hitter."
Eric Jokisch, ranked 23rd in the Chicago system, improved to 3-2 with a 3.66 ERA after holding Albuquerque to two runs on six hits and three walks while striking out two over five innings. The 25-year-old hurler also belted his first professional homer, a two-run shot.
"Actually, he's a pretty good hitter. He takes pride, as a lot of our pitchers do, in his hitting, and we give him as much opportunity as we can to swing the bat," Harper said. "He does a good job in batting practice. He got a good pitch to hit there, and he squared up."
Rockies infielder Charlie Culberson, rehabbing from a bulging disk in his lower back, lofted a two-run homer for the Isotopes.
Josh Jackson is a contributor to MiLB.com. This story was not subject to the approval of the National Association of Professional Baseball Leagues or its clubs.
View More