IL notes: Marrero eyeing last step up
Slumping Red Sox infield prospect working on offensive game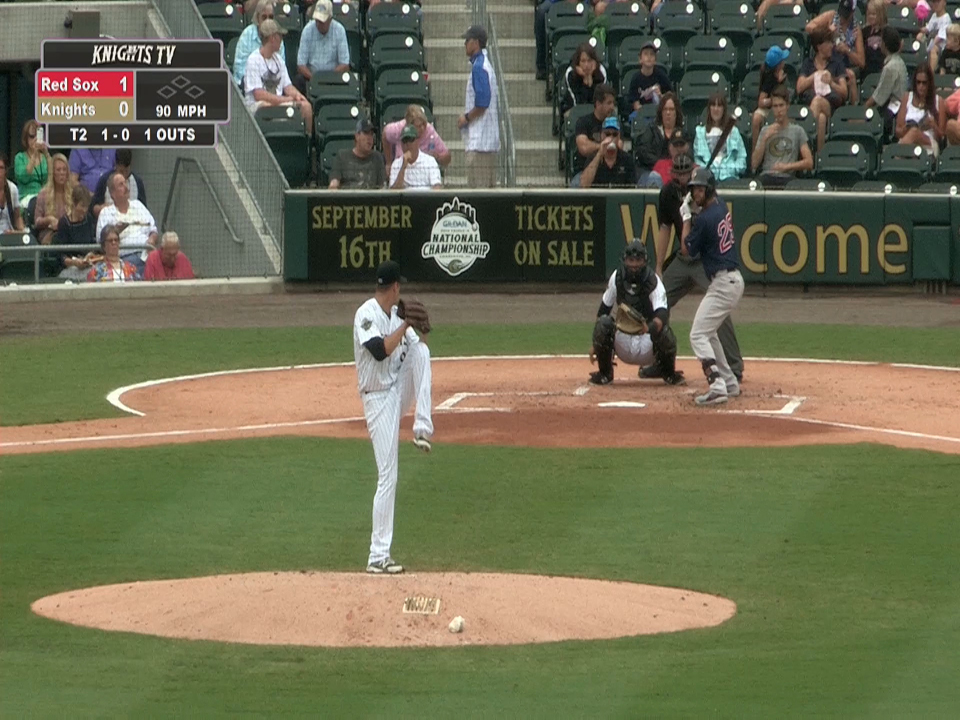 By John Wagner / Special to MiLB.com | August 18, 2014 10:00 AM ET
For a player starting his second full professional season, Deven Marrero had a lofty goal this spring.
"I just wanted to be a more consistent ballplayer -- and to get closer to the big leagues," he said. "That's everybody's goals every year. That's the ultimate dream."
So while others may have been surprised Boston assigned its 2012 first-round pick to Double-A Portland, the 23-year-old shortstop pushed for -- and received -- a midseason promotion to Pawtucket.
"Every time you get called up, it's a great experience because you're one step closer to your dream," said Marrero, who earned the callup to the PawSox on July 1. "When I got the call I was very excited. It gives me the feeling I'm heading in the right direction."
Marrero hit .291 with five homers and 39 RBIs in 68 games with the Sea Dogs to punch his ticket to Pawtucket. He batted .284 for the PawSox in July but has struggled in August, with his IL batting average tumbling to .229 with one homer and 18 RBIs in 38 games.
Marrero knows some scouts may question his offense, but he also feels his strong performance in Portland and his willingness to work will help him overcome his recent offensive struggles.
"I want to be a complete player; I don't want to be just a defensive player," he said. "I know my defense is better than my hitting, so that's what I'm working on. I know I can hit. I'm working on being more consistent with my swing and with my approach because I want to be the best player I can be."
Pawtucket skipper Kevin Boles, who managed Marrero in Portland late last season, has noticed differences in the 6-foot-1, 195-pound shortstop from a year ago.
"He's physically stronger than he was last year," Boles said. "When he came up from A-ball, towards the end of the year he got physically tired. He's a kid who's going to figure things out because he has the instincts and because he studies his craft."
Boles also is quick to point out that Marrero does not allow any offensive struggles to affect his defense.
"He's got good range to both sides and his arm strength is good, and he has quality footwork," Boles said. "Deven also has a good internal clock -- he knows the speed of the batted ball and the runner."
Boles said he remains confident that Marrero can take that final step to the Majors -- and take it soon.
"People can say he doesn't have five tools or he's not this or that, but [they miss the fact that] he's a solid player," he added. "He has a chance to be an everyday shortstop at the Major League level. And guys like that are very rare.
"To have him reach the upper levels of this organization so quickly, it's amazing how fast he has moved."
In brief
Sanchez solid: Charlotte IF Carlos Sanchez has earned a spot among the IL's top hitters, ranking 10th in the league with a .295 batting average. He's put together a consistent season for the Knights, hitting .292 in both April and May and .297 in June before bumping that up to a .319 mark in July. Sanchez, who has split time between shortstop and second base, also is tied for fourth in the league with six triples.
McCann can: Toledo C James McCann entered the All-Star break with a solid .286 batting average, but he came out of it red-hot. In the second half, he's batting .360 to raise his season's mark to .306, seventh-best in the IL. He also has 10 doubles in his last 100 at-bats to rank fourth in the IL with 32 on the season. And after hitting two homers in 273 at-bats before the break, McCann has four in those 100 at-bats after.
He said it: "Coming in, [James Ramsey] didn't start off great. He showed good maturity with that. He didn't get down on himself for not hitting up here. He handled it real well. The confidence that he apparently already had is still there. That's a good sign." -- Columbus manager Chris Tremie to the Columbus Dispatch. Ramsey joined the Clippers on Aug. 1 and went 1-for-16 in his first four games. In the 10 games since, he's hitting .429 with two homers and seven RBIs.
He said it, part II: "I don't look too much into [a batting streak], honestly. I think it's something cool for the fans to be a part of, but we're really just trying to win games. I know with where I'm at in the lineup, my job is to get on base and drive in runs, and that's what I've been doing." -- Buffalo OF Kevin Pillar to the Buffalo News. He had an IL season-high 21-game hitting streak that ended Aug. 14. Of course, that streak pales in comparison to the 54-game run he compiled at Cal State-Dominguez Hills in 2010, a streak that remains an NCAA Division II record.
John Wagner is a contributor to MiLB.com. This story was not subject to the approval of the National Association of Professional Baseball Leagues or its clubs.
View More