IL notes: Meyer benefits from pen pal
Pitching prospect gets advice from Twins right-hander Gibson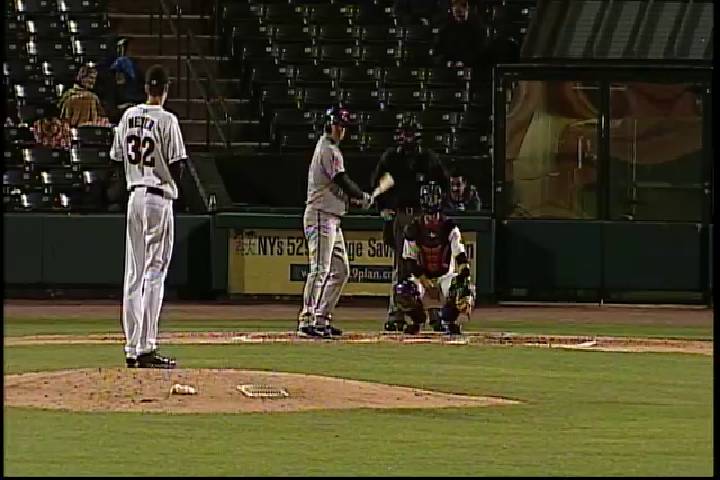 By John Wagner / Special to MiLB.com | May 12, 2014 10:00 AM ET
Alex Meyer has a pen pal.
The Rochester right-hander speaks frequently to another Indiana native in the Twins organization, another first-round Draft pick and pitcher who has dealt with high expectations while making a quick ascent through the organization.
And Meyer is quick to point out that his contact with Kyle Gibson has aided in his development.
"To have somebody to talk to is definitely beneficial to me," Meyer said. "Kyle is someone I watch in the big leagues, so it's fun to talk to someone who is doing what he's doing, to pick his brain and try to get better. To have someone like that to go to is definitely beneficial."
In fact, Meyer said Gibson recently sent him a text that has helped him deal with the ups and downs of his first Triple-A season.
"Gibson texted me and just said, 'Enjoy this,'" Meyer said. "Kyle told me to just take the ball and do my best wherever I am. And I know he's exactly right. Whether I'm pitching in Rochester, N.Y., or Minneapolis, my job is the same: Put my team in a position to win."
So far, the hard-throwing 24-year-old has flashed the ability that has made him one of baseball's better pitching prospects. The 6-foot-9 Meyer is 1-1 with a 4.33 ERA in seven starts for the Red Wings and is tied for third in the IL with 42 strikeouts.
Rochester manager Gene Glynn said he has been struck by Meyer's willingness to be coached as much as by his talent.
"His attitude is great and his makeup is off the charts," Glynn said. "He loves to compete and he has accepted the challenge of Triple-A. He is a young guy who is in the league for the first time, but his makeup, his poise and his confidence are such that he believes he can get people out."
Fans and scouts are aware of Meyer's talent, especially the fastball that sits consistently in the upper 90 mph range.
"I'm really forcing the changeup a little bit, trying to throw it a little more," he said. "I'm also trying to get better command of my fastball and working to throw a little bit more inside. Other than that, I'm trying to make sure my curveball is a weapon. I want to be able to throw it for a first-pitch strike when I need it."
When Meyer's curve is working, IL hitters have struggled. He struck out 11 over 6 2/3 innings on April 23 at Pawtucket, then fanned 11 more in six innings in his next start, allowing two hits in a win over Charlotte on April 28.
"He may have some work to do on his secondary pitches, but he has shown in some games that he can control [his breaking stuff]," Glynn said. "It's a feel that comes and goes, but it can come back in the same game.
"There's a lot of talent there -- it's always fun to watch him. He certainly has the ability to strike people out. Even when he gets into trouble, he has the ability to get himself out of trouble."
What is the best piece of advice Meyer has received from his big league pen pal? Not worrying about a promotion to the Majors.
"Kyle told me we are all in the situation we are in for a particular reason," Meyer said. "And he's absolutely right. I'm with Rochester right now to try and become a better pitcher, so that's what I'm going to focus on."
In brief
Whatever it takes: Charlotte LHP Charlie Leesman was 0-2 in his first five starts, despite a 2.17 ERA and .245 opponents' batting average. So he shut out Buffalo on four hits and two walks over eight innings on May 9 to claim his first win of the season. Leesman ranks fourth in the IL with a 1.70 ERA.
Dynamic duo: OF Gregory Polanco and 1B-OF Andrew Lambo give Indianapolis arguably the IL's best 1-2 hitting punch. Polanco leads the league with a .357 batting average and 29 RBIs, while Lambo is second in batting (.344) and has 19 RBIs. Polanco also is tied for first in the IL with 17 extra-base hits, while Lambo has a league-best 13 doubles and is tied for third with 16 extra-base hits. The Indians' .261 team batting average would fall to .239 after removing the contributions of Polanco and Lambo.
He said it: "[Rubby De La Rosa's] focus, his attitude, his work ethic all have gained a ton. He wants to get to the Major Leagues. I see that in his eyes now." -- Pawtucket pitching coach Rich Sauveur to the Providence Journal on May 8. The 25-year-old right-hander allowed one earned run over 6 2/3 innings against Toledo to improve to 2-2 on the season and lower his ERA to 2.29, which ranks 10th in the IL.
He said it, part II: "[Catcher Austin Romine] kind of puts good pressure on you. It's like, 'If I call this pitch, I have confidence in you. And you're going to make that pitch.' It's good to have someone like that back there. You never have to guess. Sometimes it's like, 'Does that [catcher] really have a game plan back there?' He does. And he does a heck of a job with it. He can steer you through a game." -- Scranton/Wilkes-Barre RHP Chase Whitley to The [Scranton] Times-Tribune.
John Wagner is a contributor to MiLB.com. This story was not subject to the approval of the National Association of Professional Baseball Leagues or its clubs.
View More