IL notes: Ranaudo focused on one goal
Red Sox prospect overcomes injuries, eyes big league promotion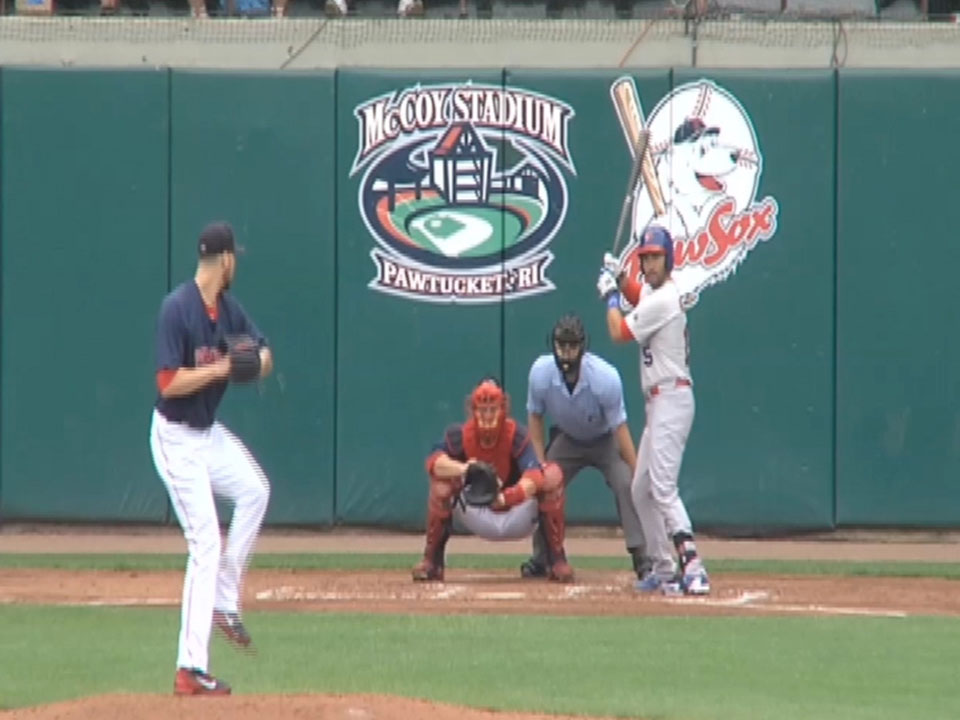 By John Wagner / Special to MiLB.com | July 21, 2014 10:00 AM ET
Anthony Ranaudo got off to a bad start against Toledo on July 10.
The first batter he faced, Ezequiel Carrera, lined a shot off his foot for an infield single that left the Pawtucket pitcher hopping around the mound in pain.
"It's something that you have deal with all the time, and it's all about managing those things," Ranaudo said a few days after the start. "It's unfortunate, but you know it's an injury that can't get worse, so you have to grind through it."
Ranaudo did just that, limiting the Mud Hens to six hits and a run and pitching the Red Sox to a victory. It was another example of a lesson he's learned the hard way after suffering two injury-plagued seasons at LSU and missing much of 2012 with groin problems.
"It sounds cliché, but [working through injuries] was huge for me," Ranaudo said. "I hope those injuries are behind me, but they helped me learn a lot about my body. They also have helped shape the routines I have now. And those routines have been successful in keeping me on the field every five days.
"Once you are on the field, you can work on things that will help you become more successful. When I was injured, I had to worry more about my mechanics or worry about getting hurt again. Now I can focus on in-game stuff."
So far this season, Ranaudo has had sharp focus, posting a 10-4 record and 2.62 ERA that ranks third in the IL. Opponents have hit .213 against him -- the second-best mark among league starters -- and he has 91 strikeouts.
"I try to avoid numbers goals because I think numbers goals don't always show how you have pitched," Ranaudo said. "There are times you have good stuff, but you give up hits on weak contact. My one goal is to get to the Major Leagues, to be successful and stay there, and help contribute to a winning team."
Pawtucket manager Kevin Boles said improved command of his fastball, which sits in the 92-94 mph range, has helped Ranaudo post those strong numbers.
"When he leverages a fastball down in the [strike] zone, his breaking ball plays off that," Boles said. "We've seen more consistent fastball command from him this year. In the past, he has missed high in the strike zone. The breaking ball has always been a sharp pitch for him and his changeup has become a weapon."
There still is work to be done. For example, Ranaudo's 44 walks are the fifth-highest total in the IL this season. But both Boles and the 24-year-old right-hander feel the injuries that have plagued him early in his career are behind him.
"He's a tough guy and I think he was more frustrated than hurt [on the ball hit by Carrera]," Boles said. "Two outings before that, he took a line drive off his leg but was able to battle through it. He doesn't want the ball taken out of his hands and his pain threshold is pretty high. He's tough, both mentally and physically tough."
In brief
Hague hitting homers: Indianapolis IF Matt Hague has never batted below .283 in his previous three seasons with the Indians, so he's proven he can hit at the Triple-A level. This season, he's shown improved power, belting 13 homers in 80 games to surpass his previous Indy single-season best of 12. Hague, who's switched from first base to third base this year, has more than a month left to tie his previous best of 15 set at Double-A Altoona in 2010.
Winning streak: Durham RHP Matt Andriese is on a roll, having won his last five starts. In that span, he's allowed 26 hits and nine walks over 32 1/3 innings while fanning 25. On the season, the 24-year-old is tied for the IL lead with 11 wins and has a 3.19 ERA.
Warming up: Scranton/Wilkes-Barre IF Jose Pirela got off to a slow start, hitting .241 in 21 games in April. But when the weather heated up, so did the bat of the Venezuela native as Pirela hit .346 in May and .336 in June before posting a .309 average in his first 16 July contests. He's fifth in the IL with a .313 average and second with 62 runs scored.
He said it: "That's why I tried to run away from them tonight because I knew they were coming in. But they're going to get you every time. That's great, man. If you can be in that pile every night, that would be awesome." -- Norfolk 2B Cord Phelps to The Virginian-Pilot on July 19. Phelps was trying to avoid a crush of teammates after stroking a walk-off single in the Tides' 3-2 victory over Rochester.
John Wagner is a contributor to MiLB.com. This story was not subject to the approval of the National Association of Professional Baseball Leagues or its clubs.
View More