Diaz puts up seven zeros for Drive
Red Sox No. 29 prospect gives up two hits, matches longest start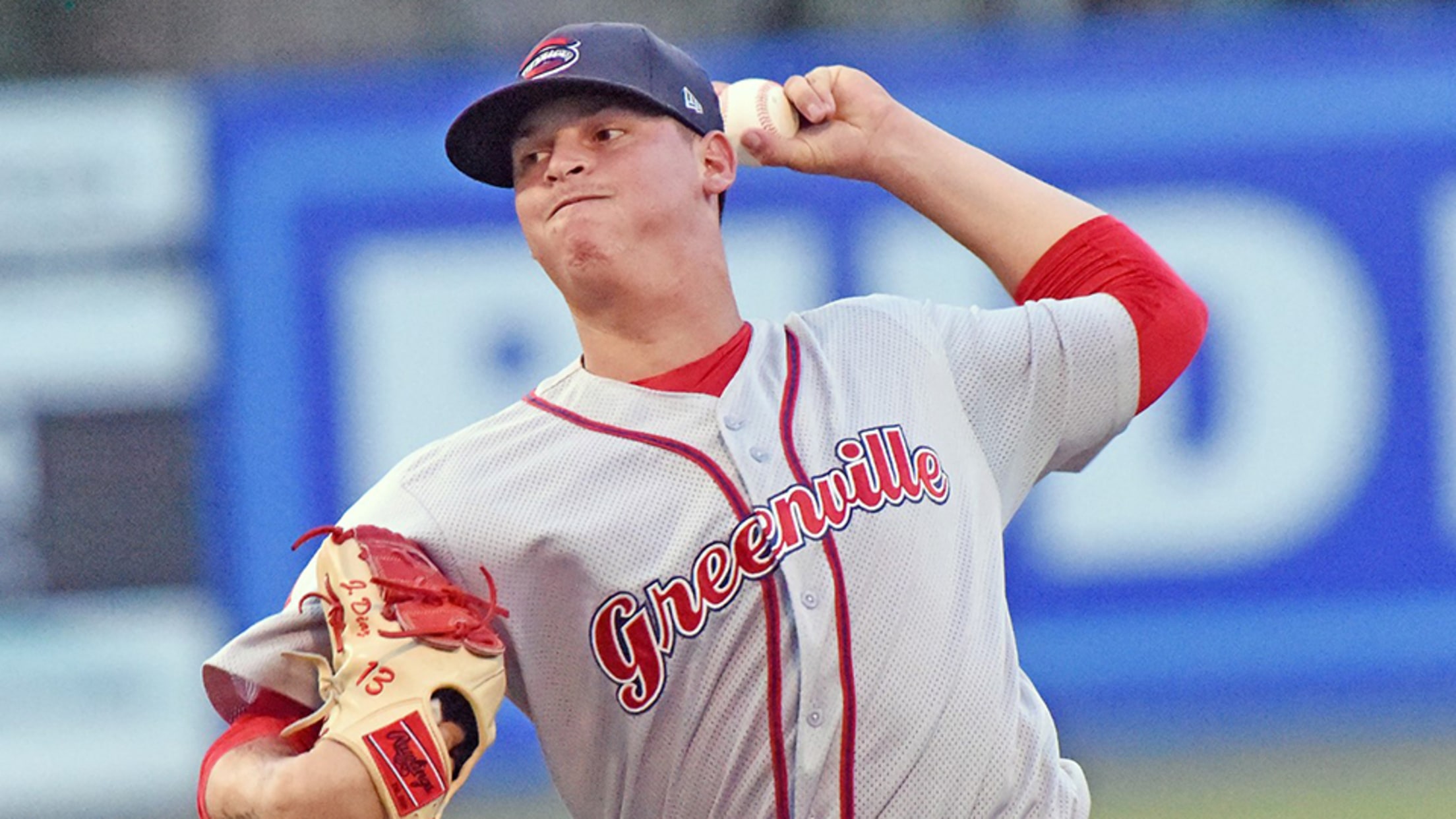 Jhonathan Diaz had gone seven innings two other times, most recently on Aug. 29. (Brian McLeod/MiLB.com)
Early in Wednesday's game at SRP Park, Class A Greenville pitching coach Bob Kipper noticed an intense focus from Jhonathan Diaz on the rubber. The extra attention to detail complementing his stuff translated into the southpaw's best start of the year.The 29th-ranked Red Sox prospect gave up two hits and
Early in Wednesday's game at SRP Park, Class A Greenville pitching coach Bob Kipper noticed an intense focus from Jhonathan Diaz on the rubber. The extra attention to detail complementing his stuff translated into the southpaw's best start of the year.
The 29th-ranked Red Sox prospect gave up two hits and a walk while striking out six over a career-high seven innings to lead the Drive in a 2-0 blanking of the GreenJackets.
Gameday box score
"He pitched with great pace," Kipper said. "He pitched with great rhythm within his delivery. I thought he threw his fastball really well, probably as good as I've seen any pitcher at this level pitch inside. He pitched inside tonight with authority and beat a lot of swings. I was really, really pleased with Jhonathan. He did not allow hitters to get comfortable over the plate. As a result, he had a lot of success against swings that were probably getting a little long."
After posting a 4.44 ERA through five starts in April, the 21-year-old had a 4.13 ERA and a 1.13 WHIP over 28 1/3 innings in May. Matching his longest outing since signing with the Red Sox in August 2013, Diaz (2-5) lowered his season ERA to 3.79 in his first victory since Opening Day. He ranks third on the team with 64 strikeouts.
Kipper said the lefty not only established the inside half of the plate, but effectively worked his off-speed and breaking pitches into the mix to keep Augusta uncomfortable and off balance.
"His curveball had strike-stealing value," the pitching coach said. "His changeup got better as the game went on. I thought it became an effective complement to his fastball and helped him slow some swings down. He did a really good job of getting the opposing lineup geared to swing. A really important part of effective pitching is to get a lineup geared to swing to the extent that you can read swings and make good decisions on how an at-bat should develop."
Diaz yielded two runs over five frames against the GreenJackets last Thursday, but kept them out of the run column this time by throwing 55 of 86 pitches for strikes and recording nine groundouts against two flyouts. He sports a 2.11 groundout-to-flyout ratio, which ranks 12th in the Minors. With the game tight throughout, the 21-year-old outdueled Giants No. 29 prospectJason Bahr, who allowed two runs on five hits over six innings.
Completing a perfect first on 13 pitches, Diaz found some trouble with two outs in the second when John Riley singled and Shane Matheny was plunked on a 3-0 pitch. The southpaw remained composed, fanning Rob Calabrese after a six pitch at-bat.
Diaz set down nine batters in a row before Calabrese delivered a two-out double in the fifth. But the threat was quickly thwarted when Nick Hill grounded out to second to keep the game scoreless.
"To me, it always comes down to the response and how you respond to something like that," Kipper said of the second. "[Diaz] responded very professionally and remained focused on the next hitter, the next pitch. And before you know it, he's off the field. That's all part of not just his development, but any pitcher's development, it's learning to manage challenging game situations. Jhonathan managed it very professionally."
Greenville broke through with two runs in the sixth and Diaz responded with a clean bottom half. Back out for the seventh for the first time since Aug. 29, the Venezuela native retired the first two hitters before Riley drew a two-out walk. Diaz avoided further traffic by fanning Matheny to wrap up his night.
"This is an outing you absolutely do build on, this is an outing I would say to him -- or any other pitcher that went out and pitched like that -- [is to] look at the performance," Kipper said. "Forget the linescore, the performance and everything he did in the performance that allowed him to get through seven innings of work. These ingredients to the performance need to become an expectation. Like, 'I'm capable of doing this and I'm going to hold myself to that standard.'
"The pitch-to-pitch tempo, the ability to repeat a delivery, the pitching inside with authority, the secondary mix, the pitching to a level of unpredictability. These are all ingredients to a performance that tonight resulted in seven scoreless innings. ... I would want this performance tonight to be an expectation for Jhonathan Diaz."
Through 150 1/3 innings in the South Atlantic League over the past two seasons, Diaz sports an 8-11 record and a 4.25 ERA in 29 starts. Kipper thinks he has the tools and repertoire that'll play almost anywhere, it's just a matter of putting all the pieces together over an extended period of time.
"It comes down to a level of consistency," the coach said. "How many times can you repeat a delivery that translates to a quality pitch? It's not like he doesn't have the stuff to pitch at the next level or the upper levels -- he does. It's going to come down to his ability to stay consistent in the way he delivers the baseball.
"He's 21 years old, there are probably things he doesn't know about himself right now that he's not supposed to know. But if he stays truly engaged day in and day out, outing after outing, he'll learn some things about himself that he'll need to be able to grab hold of and begin to apply more often."
Marcos Lantigua allowed a hit and a walk with two strikeouts over the final two frames for his second save of the year.
Andrew Battifarano is a contributor to MiLB.com. Follow him on Twitter, @AndrewAtBatt.