Kernels' Garver slams three home runs
Twins catching prospect skips BP, plates career-high five runs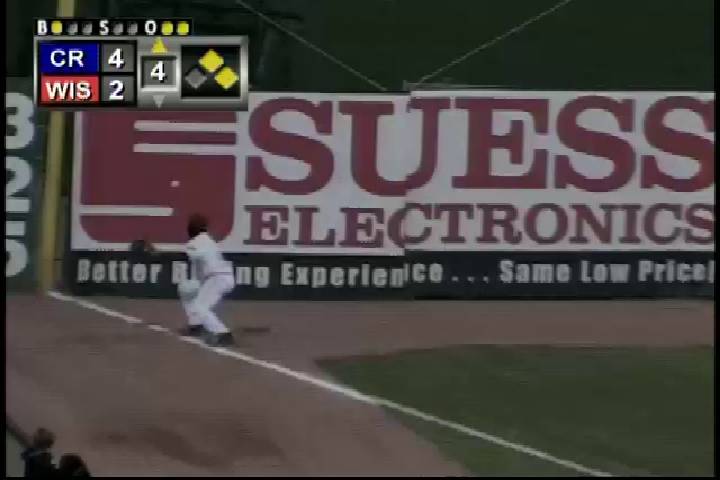 By Danny Wild / MiLB.com | July 21, 2014 6:06 PM ET
Mitch Garver accomplished what few hitters even dare trying. After slugging two homers on Monday afternoon, the Twins prospect stepped to the plate in the eighth inning with even bigger ambitions.
"Yeah, I was definitely trying to hit a third one," he said. "It was a 1-0 count, so I decided to go for home run No. 3. I took a healthy hack at it and tried to see if I could elevate it."
Garver, remarkably, did just that, blasting his third home run en route to a career-high five RBIs in Class A Cedar Rapids' 8-1 win over Fort Wayne on Monday afternoon. Batting cleanup for the Kernels, Garver went 3-for-4 with a two-run homer in the first off starter Max Fried, the Padres' top pitching prospect, before hitting another two-run shot in the third off Ron Herrera and a solo drive in the eighth off Payton Baskette.
Most professional hitters say it's harder to hit a home run when you're actually trying to hit one out. Batters tend to overswing, become overly anxious or just end up popping a ball up when taking an especially mighty cut, and most will never admit to even trying. But Garver, with his team up big in the game, swung for the fences.
"I've never tried hitting a home run actually -- that was a first for me," he said. "If I could keep the bat head out, I knew I could elevate it. No one tries to hit home runs -- they just happen -- but this time I was trying to hit a home run, it's just crazy."
The breakout afternoon was the most productive game of Garver's two-year career with the Twins. The University of New Mexico product has previously knocked home four runs on two occasions (Aug. 3, 2013, with Rookie-level Elizabethton, and May 27, 2014, against Beloit), and it was also his second career multi-homer game -- he hit a pair earlier this season, April 11 against Lansing.
What was different in Monday's matinee? Garver said he'd been frustrated at the plate lately and decided to skip taking batting practice before facing Fort Wayne. It was another outside-the-box move that paid off.
"I felt good -- I'd been struggling, trying to do too much," he said. "Today I decided not to take BP, I just wanted to keep it simple for my at-bats. I went out there with a clear mindset and got some good pitches to hit."
---
"No one tries to hit home runs -- they just happen -- but this time I was trying to hit a home run, it's just crazy."

-- Mitch Garver
---
Garver entered the game with nine homers this season after hitting just two in 202 at-bats over 56 games for the Twins last year, when he batted .243 with 30 RBIs and a .313 on-base percentage in the Appalachian League. He was hitting just .216 in his last 10 games entering Monday, though.
"I came in today and like I said, I had been struggling. I got frustrated yesterday. I wanted to come into the game fresh, not do too much, so I just took a few dry hacks and I ended up seeing the ball pretty ball," he said.
Garver, Minnesota's ninth-round pick in 2013, earned a promotion to Class A Cedar Rapids this spring and got off to a good start, hitting .321 with five homers and 16 RBIs in 23 April games, but saw his average and power numbers dip a bit in May, when he batted .275 with one homer. His production has remained solid -- he had 20 RBIs in May and 11 in June while hitting .345 in 14 games but was hitting .259 in July entering Monday's win.
A three-homer game can change a hitter's confidence, and Garver enjoyed all aspects of his feat Monday.
"After the third one, everyone big leagued me -- no one shook my hand," he said of his teammates' reaction to his third long ball. "My batting coach Tommy Watkins gave me a hand shake, and my field coordinator gave me a high five, but everyone else was sitting in their spots on the bench. So I just walked to my spot on the bench and started putting on my catchers gear and everyone came over and shook my hand finally."
Garver also revealed a bit of a secret weapon in his pocket, although it's not necessarily hitting-related. Garver said he came into 2014 with a goal of improving his defense behind the plate. He started working with Kernels manager Jake Mauer, the 34-year-old brother of Twins All-Star catcher Joe Mauer.
"My defense has improved the most since I've been working with Jake Mauer. He gave me Joe Mauer's phone number in case I ever wanted to call him so he could give me some tips," Garver said. "And just working with Jake and everyone here, that's been a good help to me -- we have a good line of communication here."
Yeah, but have you called up Joe Mauer yet?
"I haven't called him yet -- he gave me his number right before the Major League All-Star break, so I knew Joe was going to busy and I didn't want to bug him," Garver laughed. "If I ever have something to talk about, he's the guy I'll call."
Chih-Wei Hu (2-0) started for Cedar Rapids and allowed an unearned run on two hits and a pair of walks over six innings for his second win. The right-hander from Taiwan struck out six and lowered his ERA to 2.00 in his third Midwest League start. Relievers Brandon Bixler and Dallas Gallant combined for the final three scoreless innings, striking out six and allowing one hit between them.
Fried (0-1), the Padres' No. 2 prospect, was charged with a pair of runs on two hits and a walk, striking out one in two innings. Fried, ranked as the No. 35 prospect in baseball by MLB.com, missed the first three months of the season due to forearm soreness.
Danny Wild is an editor for MiLB.com. Follow his MLBlog column, Minoring in Twitter. This story was not subject to the approval of the National Association of Professional Baseball Leagues or its clubs.
View More