Kingham continues hot start with Indians
Pirates' No. 8 prospect allows unearned run, two hits in 6 2/3 innings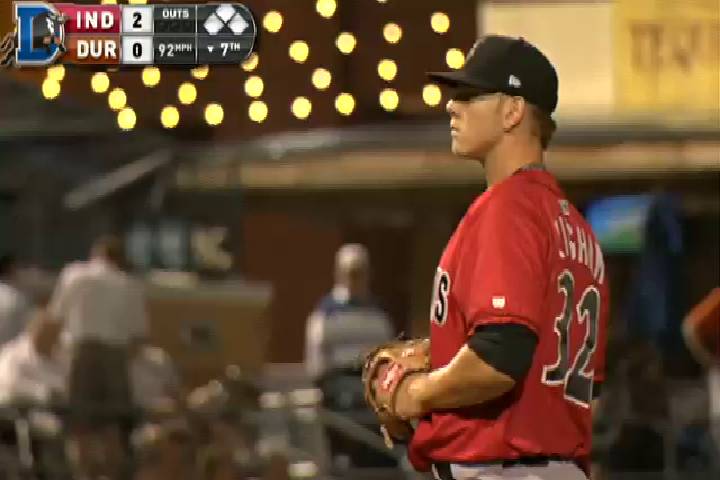 By Ashley Marshall / MiLB.com | June 25, 2014 12:10 AM ET
Nick Kingham pitched better than his numbers at Double-A suggest, but he doesn't like to get caught up with statistics. He'd rather keep his team in the game than pad his individual totals and he's more concerned with the name on the front of the jersey than the one on the back.
The Pirates' No. 8 prospect allowed an unearned run on two hits and two walks while striking out five over 6 2/3 innings Tuesday as Triple-A Indianapolis edged Durham, 2-1.
"I thought today was pretty good," Kingham said. "I had a game plan and stuck to it, and [catcher Nevin] Ashley behind the plate called a good game. It was fun to throw to him and we were meshing really well.
"I was trying to establish the fastball early and then throw the changeup and then try to put them away with the curveball later in the at-bat."
Kingham (2-0) retired the first six hitters and worked around Curt Casali's leadoff walk in the third by inducing an inning-ending double play off the bat of Ray Olmedo. Justin Christian broke up the no-hit bid with a one-out double to center field in the fourth, but the 22-year-old right-hander set down the next nine Bulls before Mike Mahtook singled back up the middle with one out in the seventh.
Mahtook stole second and advanced to third on a groundout. Josh Wall relieved Kingham, but Mahtook scored when Jayson Nix reached on third baseman Brent Morel's error.
"They were good pitches to hit, but at the same time they were not where I wanted them to be," Kingham said of the two hits he allowed. "But give credit to them, they did what they were supposed to do.
"[Manager Dean Treanor] asked me how I felt and asked me my thoughts on what to do with the next guy [in the seventh]. I didn't know what my pitch count was, but I was hoping to stay in. I had thrown a lot of pitches and I understand his judgment."
Ranked 86th overall among MLB.com's Top 100 Prospects, Kingham has a 0.44 ERA in three International League starts. He's allowed two runs -- one earned -- on 11 hits over 20 2/3 frames while striking out 15 and issuing three walks since being called up from Double-A Altoona two weeks ago.
Kingham was 1-7 in 12 Eastern League starts, despite limiting opponents to a .259 batting average and recording more than twice as many strikeouts (54) as walks (25).
"I felt good with how I did," said the 2010 fourth-round pick out of Nevada's Sierra Vista High School. "Sometimes the numbers kind of skew things and you can't go just off them. You have to look at your experiences and what's happening.
"The numbers can say one thing and the game can say another. The truth can be something else. Whatever gives my team the best chance to win in the end, I'm doing my job."
Wall allowed one hit over 1 1/3 innings and Andy Oliver struck out two in a perfect ninth to collect his eighth save.
Durham's Enny Romero (3-8) allowed two runs -- one earned -- on four hits and four walks while striking out six over six innings. The first-place Bulls have lost eight in a row.
Ashley Marshall is a contributor to MiLB.com. Follow him on Twitter @AshMarshallMLB. This story was not subject to the approval of the National Association of Professional Baseball Leagues or its clubs.
View More