Legendary Hessman retires as player
Minor League all-time home run leader 'to swap out bat for fungo'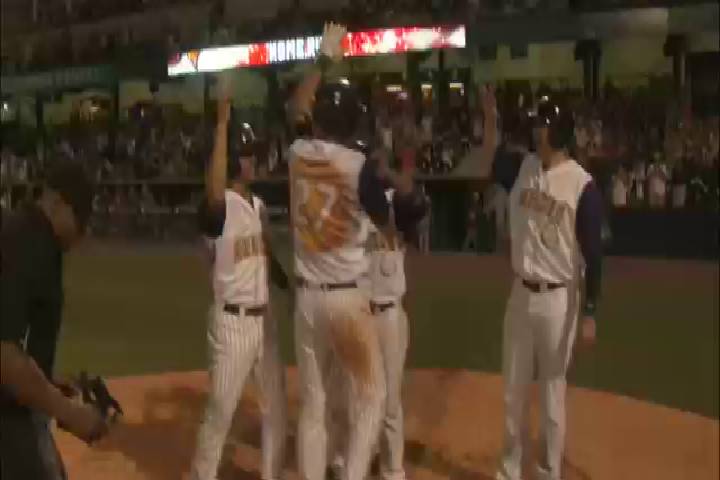 By Josh Jackson / MiLB.com | November 28, 2015 4:13 PM
Mike Hessman, Minor League Baseball's all-time home run leader, is retiring.
The 37-year-old slugger announced on Twitter on Saturday that it was "time to swap out a bat for a fungo" as he ends his career as a player and begins a coaching career. The tweet was later deleted, but Hessman confirmed via text message that, although he couldn't release further details, he is indeed retiring as a player.
Hessman, who played the last two years in the Tigers organization with the Triple-A Toledo Mud Hens, set the U.S.-based Minors home run record at 433 with a grand slam on Aug. 4. He's played parts of 19 seasons in the Minors and 20 as a pro -- he spent 2011 with the Japan Pacific League's Orix Buffaloes. Stateside, he's had stints with the Braves, Tigers (twice), Mets, Astros and Reds. In 13 of those campaigns in affiliated ball, he belted at least 20 home runs.
A corner infielder for the bulk of his career, Hessman also logged time in the outfield. In one 2009 game with Toledo, he played all nine positions.
The native of Fountain Valley, California, was selected by the Braves out of Santa Ana's Mater Dei High School in the 15th round of the 1996 Draft. Since then, in addition to his record long-ball tally, Hessman has collected 1,207 RBIs, 1,085 runs scored, 1,758 hits and 402 doubles over 2,094 games in the Minor Leagues. He holds the International League record with 290 homers in that circuit, and he owns Mud Hens franchise records for homers (186) and RBIs (494).
"I knew when I hit that one it would go," Hessman said after belting No. 493, which he hit at Toledo's Fifth Third Field. "I don't sit or watch where they go or anything like that, but you put a good swing on it, you get that solid contact, you know when you get them.
"It was great, [but] glad it's out of the way. I usually don't like talking about numbers or chasing these things or anything like that. So to get it done, it's been great. I've had a lot of support from the organization and my teammates, and being able to do it at home, I was glad I was able to do it for the fans."
He played in 109 Major League games across parts of five seasons, debuting with Atlanta in 2003 and getting his most recent crack with the New York Mets in 2010.
Playing 114 Triple-A games in his final season, Hessman batted .237 with 16 homers and 57 RBIs.
"For me personally, it's a little bit of a disappointment because I was expecting to do more. I have been grinding through a lot of this season," he said after tying Buzz Arlett's 78-year-old homer record on July 29. "I haven't been in the zone as much as I'd like, and it's been a little up and down. I'm really trying to grind out my at-bats. But I've still got some power numbers. I've always been blessed with that in my career, and I'm just working with what I can each day."
Josh Jackson is a contributor to MiLB.com. Follow and interact with him on Twitter, @JoshJacksonMiLB. This story was not subject to the approval of the National Association of Professional Baseball Leagues or its clubs.
View More