Lightning strikes twice for Cubs' Davis
Iowa catcher achieves viral fame, first call to Majors in same week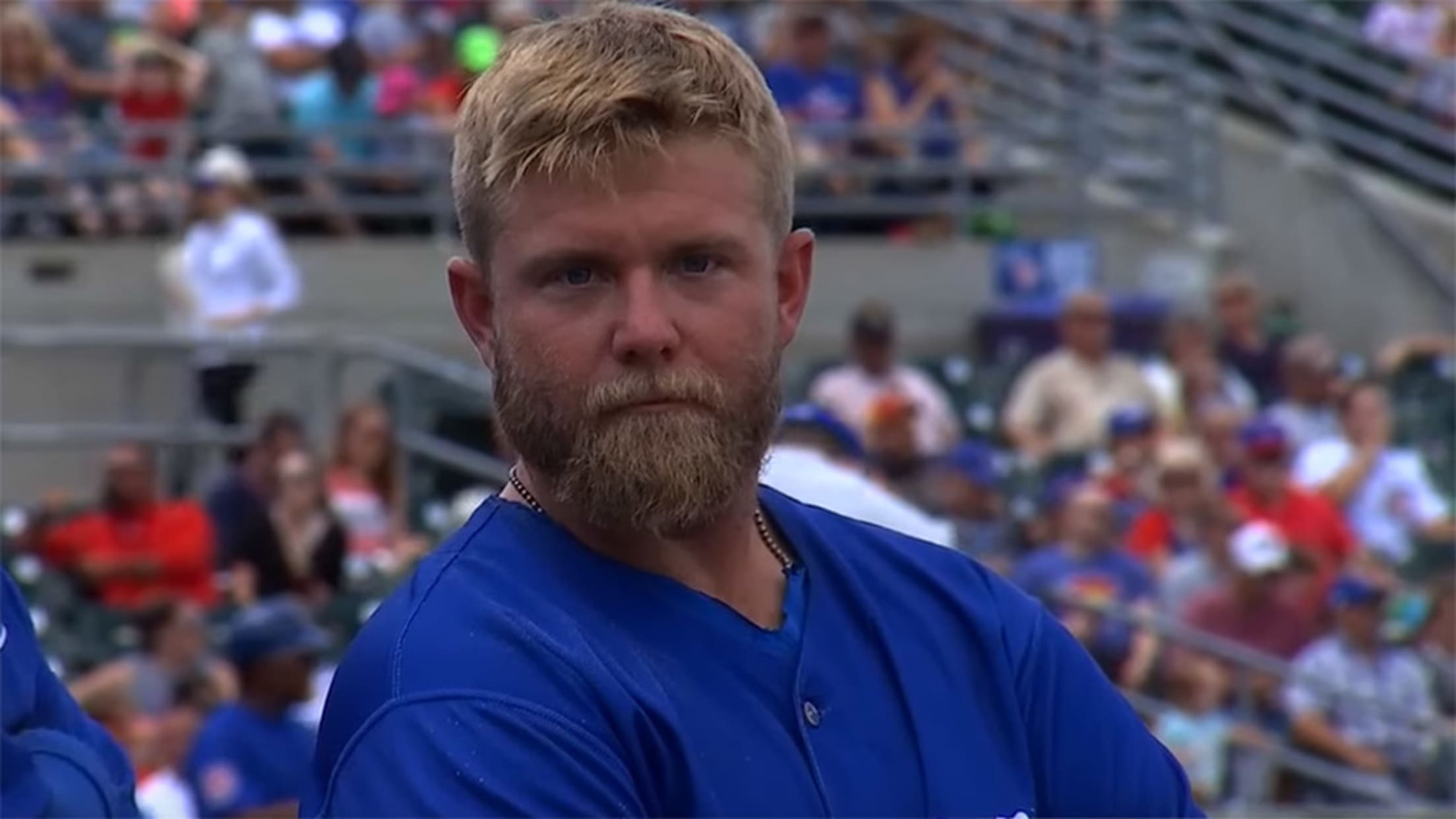 Taylor Davis starred in a viral video that garnered more than 21 million views on the Minors Leagues' official Facebook page.
It's not a new phenomenon for a ballplayer to garner attention for having an entertaining personality that extends beyond their on-field exploits.This season in Iowa, Cubs prospect Taylor Davis achieved a level of fame that only the internet can offer -- and it began one of the most memorable weeks
It's not a new phenomenon for a ballplayer to garner attention for having an entertaining personality that extends beyond their on-field exploits.
This season in Iowa, Cubs prospect Taylor Davis achieved a level of fame that only the internet can offer -- and it began one of the most memorable weeks of his life.
Before the start of the 2016 season, journeyman infielder Kristopher Negrón signed with the Cubs and was assigned to the team's Triple-A affiliate. A 2006 Draft pick of the Red Sox, he made his big league debut with the Reds in 2012 but could not crack the Cubs roster as they made their World Series run. He stayed in Iowa for the entire season alongside Davis, who was playing on the circuit for the second time in his sixth professional season.
Out of whatever baseball secrets Negron was able to bestow upon the 28-year-old Davis, none made as much of an impression as the simple truth that cameras are everywhere and they're better embraced than feared.
Justin Walters, the I-Cubs' director of video and multimedia, is in charge of the many in-house feeds that provide content for the scoreboard at Principal Park. In early June, he began to notice that Davis had a habit of finding a camera pointed somewhere at the field and staring into it. No funny faces. No hand gestures. It was just a not-so-subtle glance and an effortless knack for being in the right place at the right time.
The looks endeared him to all in attendance at I-Cubs home games. It did not take long for the seemingly innocuous quirk to become a special moment for the players, employees and fans in Iowa. Like any good entertainer, Davis gave the people what they wanted.
"A little bit into the season, the fans started asking for it and the GM would come down and be like, 'Hey, you going to look into the camera today?'" Davis recalled.
"It just kind of grew."
As the season rolled on and Davis continued to become a part of the ballpark experience, Walters kept adding to his archives.
"We kind of thought it was funny in the control room and weren't really sure how many people on our web stream were noticing," Walters said. "It was definitely a case where, pregame mostly, sometimes in-game if we can get him on camera, it was the anticipation of 'OK, what is he going to do this time?'"
By the end of the season, Walters had enough footage of Davis staring into the camera -- and from different angles -- that he was able to compile some clips to be displayed on the videoboard in Principal Park as a thank you to fans. Walters then took to Google to figure out how to best score this masterpiece, landing on Frankie Valli and the Four Seasons' "Can't Take My Eyes Off of You."
The video debuted before the final home game on Aug. 27 against Memphis. Walters even captured footage of Davis watching himself on the big screen. The team posted the video to social media the following day, and that's when things really took off.
"I didn't even know the video was going to come out," Davis said. "They released the video and then it gained all this popularity."
The clip almost immediately went viral. Davis landed guest spots on WGN and ESPN, but his internet fame startled many familiar with social media engagement.
As of Monday morning, the video, tweeted from the team's official account, received 1,410 retweets, 3,371 likes and 1.23 million views, while its Facebook post was viewed 2.7 million times and picked up 28,839 shares. (On Iowa's official YouTube channel, the video earned another 411,157 views and generated 105 comments.)
"The poor girl running the Facebook at Iowa [Shelby Cravens] would text me every few days like, 'Hey, I got, like, 20 more requests for people wanting to be your girlfriend and your best friend,'" Davis said. "It was so funny and crazy how the whole thing happened."
The phenomenon gained further momentum on Minor League Baseball's official Facebook page, where the video received an additional 21 million views, 3.3 million engagements and a whopping 115 million impressions.
"I thought it would be something that was kind of like an inside joke," Walters said. "I had no reason to believe this would be so popular and go viral like that and get so huge."
And clearly, you were made for stardom. pic.twitter.com/HF21KOGsjG

— Iowa Cubs (@IowaCubs) August 30, 2017
On the heels of his internet success, Davis' week only got better. He had been tipped off that he was likely to earn his first promotion to the Majors after the Minor League season ended. Iowa manager then revealed the news to Davis and his teammates in a clubhouse speech.
"Obviously the first call right away was to my wife, like, 'Hey, get on a plane' -- but the next call was absolutely to my parents and that's so fun," said the Florida native. "This is something that they've lived and this has been a goal of all of ours for so long and to be able to make that phone call that I've played for is incredible."
Davis' promotion to the big leagues after seven years in the Minors might have seemed improbable. After being selected by the Marlins in the 49th round in 2008, he decided to instead go to college at Morehead State and signed with the Cubs as an undrafted free agent in 2011.
"I'm not the first-rounder, I'm not the high prospect, I never was," Davis said. "I'm not built like a Major Leaguer, so this is a story, a true story, of a non-drafted free agent that made it. I feel like it gives a lot of kids hope.
"Shoot, it gave me hope."
In 102 Pacific Coast League games this season, Davis put together his most complete season at the plate. He batted .297/.357/.429 with six homers, 27 doubles, 62 RBIs and 41 runs scored. He benefited not only from being a veteran on the circuit, but also from having the opportunity to be in the lineup every day.
Between injuries and often having a reduced role, Davis had only two seasons in the Minors with more than 300 at-bats. What it took to keep him climbing for seven years is illustrated perfectly by a personality that ultimately went viral.
"I try to have fun while I'm playing and I'm always laughing, smiling and doing whatever," Davis said. "I was always kind of the, not necessarily goofball, but I enjoy what I'm doing."
2017 Cubs Organization All-Stars »
Joining a club that championed the singing voice of Harry Caray and embraced Bill Murray as a part of the team, Davis and all his internet fame were met with a warm reception in Chicago by manager Joe Maddon, who could qualify as one of baseball's "characters" himself.
"Thankfully, I was in that kind of an organization and not a scary one where I felt like I had to answer to somebody for doing this," Davis said. "I think having our manager and who our manager is, I think that helps. The lifestyle and the team that he promotes, it's about enjoying what you do. … You have to enjoy it, and so I think you saw that in the video that I love what I do."
The unlikeliness that this dream would come to fruition weighed on Davis' attitude about life in the Minor Leagues. He made it a goal to be remembered as a good teammate above all else.
"Baseball is the premier sport at which at some point somebody is going to tell you it's over," Davis said. "I wanted to be able to look back at the fun times that I had in the clubhouse ... on the road … in the dugout. Not very many people get to do that and get to see that much of the country and get paid to do it."
Gerard Gilberto is a contributor to MiLB.com. Follow and interact with him on Twitter, @GerardGilberto4.