Liriano debuts in Chihuahuas' wild win
Padres' No. 6 prospect scores four runs, drives in three in 16-7 romp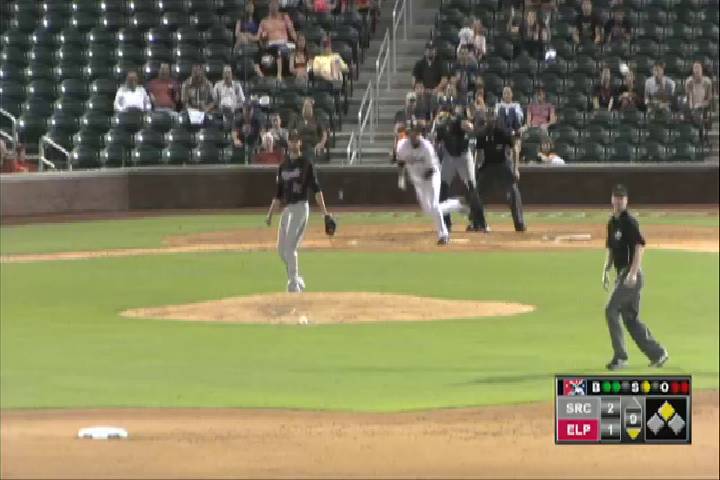 By Josh Jackson / MiLB.com | July 24, 2014 1:53 AM ET
There's not much chance Rymer Liriano will forget his Pacific Coast League debut anytime soon.
"That was crazy," El Paso manager Pat Murphy said. "What else can you say?"
The Padres' sixth-ranked prospect played a key role in the Chihuahuas' wild night, going 3-for-4 with two doubles, three RBIs, a walk and four runs scored as El Paso outslugged visiting Sacramento, 16-7, on Wednesday night.
Starting pitcher Jason Lane -- batting in place of a designated hitter -- homered on a 3-for-3 night and Alex Castellanos went 4-for-5 with six RBIs, missing the cycle by a triple. Rehabbing Padres second baseman Jedd Gyorko chipped in two hits, including a solo homer, and two RBIs.
Promoted from Double-A San Antonio, Liriano socked a two-run double in his first PCL plate appearance, putting the Chihuahuas on the board in a four-run first inning. He led off the third with another double, singled in a run in the sixth and fought for an eight-pitch walk against the reliever Fernando Rodriguez in the bottom of the eighth.
"I saw the intensity for all nine innings, even though the game got out of hand," Murphy said. "That was a great [battle] and he ended up taking a walk. A lot of guys would have swung there."
"That discipline is what's going to push him up. He definitely has the tools. Hopefully, he maintains that discipline, because he's a very capable player."
Liriano was hardly the Chihuahuas' only well-rounded player. Murphy was pleased with Lane's performance on the mound and at the plate. The former outfielder improved to 6-8 after allowing four runs -- two earned -- on seven hits over six innings, striking out four without walking a batter.
Many factors went into Murphy's decision to eschew the DH, but the most basic was his faith in Lane as a hitter. The University of Southern California product is batting .419 with three homers and 10 RBIs in 43 at-bats this year.
"Jason Lane is [37] years old, and to pitch like that, plus his hitting -- we didn't use a DH. It's pretty incredible," Murphy said. "Our [offensive] numbers are down a little bit, and whenever you have some guys rehabbing you're going to need substitutes. And, quite frankly, Lane tied the game for us last night in the ninth inning with an RBI hit.
"I'd venture to say he's one of the top hitters in the PCL. I say that not only knowing how he's performed this year but also his history. He's one of the most competitive players out there. And he pitched really well tonight. Unfortunately, we played horrible defense behind him."
After Sacramento scored an unearned run in the third, Lane went deep off starter Matt Buschmann (6-5) to get it back.
"Lane has a way -- the sound of the ball off his bat is indicative of how he hits it," said Murphy. "He hit it against the wind, so it took a lot to get it out, but he crushed it. For a pitcher to have three home runs, that's incredible."
Castellanos also went deep in the third, and his big game came despite limited playing time.
"He's been playing sparingly and he's played every position on the diamond except catch," Murphy said. "To have four hits when he's been in the cooler for a while, pinch-hitting and coming in on defense, that's a great night for him."
Even reliever Keyvius Sampson contributed on the biggest offensive night in El Paso's brief history, delivering an RBI single in the eighth.
Jake Elmore went 3-for-4 and drove in two runs for the River Cats.
Josh Jackson is a contributor to MiLB.com. This story was not subject to the approval of the National Association of Professional Baseball Leagues or its clubs.
View More