Rojas completes cycle in grand fashion
Angels prospect drives in career-best seven runs on historic night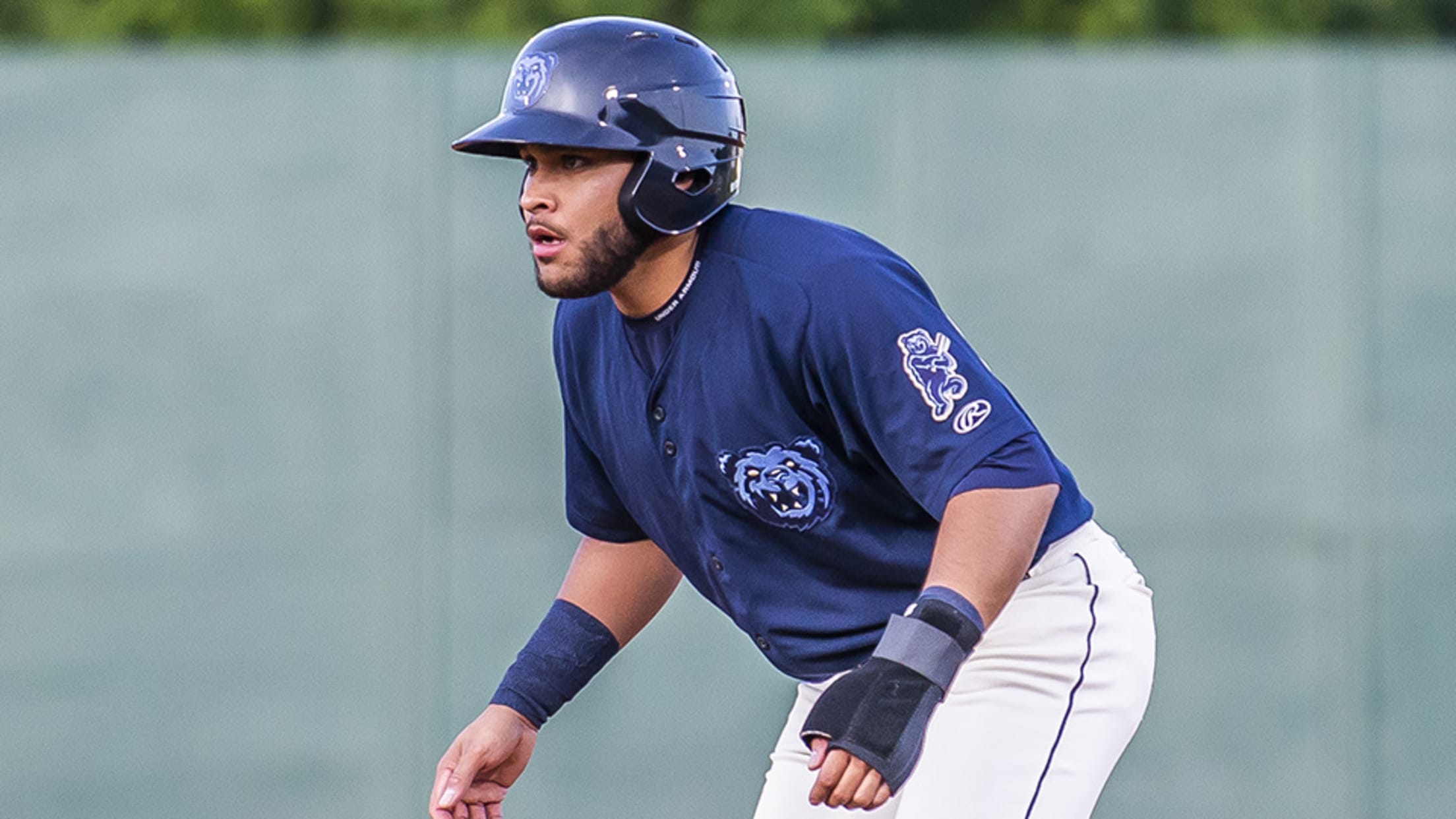 Jose Rojas had a pair of four-hit games prior to hitting for the cycle on Friday night for Mobile. (vpbowers.com)
Double-A Mobile has already had its share of historic moments early this season, and when Jose Rojas got the opportunity to make some history of his own on Friday night, the Angels prospect came through in grand fashion. Rojas crushed a grand slam in the eighth inning to complete the cycle and power
Double-A Mobile has already had its share of historic moments early this season, and when Jose Rojas got the opportunity to make some history of his own on Friday night, the Angels prospect came through in grand fashion.
Rojas crushed a grand slam in the eighth inning to complete the cycle and power the BayBears to a 14-3 victory over Mississippi at Trustmark Park. He set a career high with seven RBIs and matched a personal best with four hits, going 4-for-6.
It was the franchise's first cycle since Zach Borensteinaccomplished the feat on May 16, 2015.
It didn't take Rojas any extra effort to complete a career night, as building off a strong foundation he set early this season proved to be the key.
"I felt good. It was the same approach as usual," he said. "I was just trying to get a good pitch and hit the ball hard. ... It was one of those days where you're not really thinking about it until that third or fourth hit. Like I said, it was the same the approach as usual, going up the plate and hitting it hard. It worked out."
The first six weeks of the season have been filled with notable accomplishments for Mobile, as ninth-ranked Angels prospect Matt Thaiss and Connor Justusturned a triple play on April 17. Eleven days later, No. 8 prospect Griffin Canning combined with relievers Matt Custred and Ryan Clarkon a no-hitter.
Gameday box score
Raised within a few miles of Angel Stadium in Anaheim, Rojas felt carving out his own milestone with the organization he rooted for as a child made this night extra special.
"Having the opportunity to not only play baseball professionally but for your hometown team, who I grew up watching, going to the stadium with my dad," he said, "now having the opportunity to be a part of it and work my way up, it's just inexplicable."
Penciled in as the designated hitter, Rojas began his night by flying out to left field in the first. But with two runners on in the third, he pulled a 2-2 pitch from Enderson Franco into right for a two-run double.
After falling behind Franco, 0-2, in the fifth, the Vanguard University product slugged the third pitch of the at-bat into right and legged out his first triple of the season.
"[I was] battling, obviously, with two strikes," Rojas said. "If I can put the ball in play, good things will happen. It was nice -- I was going for that extra bag. It was hit into the gap where they had to have a good run to go get the ball. And I just went for it and, luckily, I was able to slide in safely."
Rojas led off the seventh with a single against reliever Elian Leyva.
With the bases full and one out an inning later, he put an exclamation point on the evening. Rojas ambushed the first offering from Josh Graham and sent it over the center field wall to complete the Southern League's second cycle of the season -- D-backs prospect Galli Cribbs Jr.made history for Jackson on April 18.
While the cycle might have been on his mind, Rojas wasn't swinging for a home run in his fifth at-bat of the night.
"It's something a little obvious not to think about," he said of the cycle. "It's a [situational] opportunity to score another run. A pop fly would have scored another run with a sac fly. The approach was to get something up and drive it to at least get a run in with a sacrifice fly. Luckily, I squared it up in enough for it to carry out of the park."
As he circled the bases with his third home run of the season, the weight of the moment finally hit Rojas.
"It was a very overwhelming feeling in a good way. I was super-excited," he said. "I was just in awe that it actually happened. I never thought I'd actually do that. Obviously, those things just happen, but it's not like you go out there and try to hit a cycle every day. ... All my teammates and coaches congratulated me for it. It was a super-awesome feeling."
The lefty-swinging Rojas had one more at-bat in the ninth but popped out to second.
After a promotion from the Class A Advanced California League to the Southern League last July, the 2016 36th-round pick hit .227/.259/.360 in 44 games. Rojas has seen his numbers climb through 16 games this season, with a .346 average and 1.084 OPS. The 25-year-old corner infielder has hit safely in seven of his last eight games and is 9-for-17 with three homers and 11 RBIs over the last four contests.
Rojas said his experience on the circuit last year provided him with some lessons.
"You understand the level of play and you know what it's like," he said. "Now that you have that taste of it, you know what you need to do to give yourself the best opportunity to succeed day in and day out. So that really helped me."
Having achieved this milestone, he doesn't intend on letting it get to his head.
"Just going to stay humble and keep working hard," Rojas said. "Tomorrow is a new day and you've got to do it all over again. So it's just keeping that mindset of working hard and staying humble, is really what my focus is."
Thaiss went 3-for-5 with a homer and four RBIs, while 14th-ranked Taylor Ward collected three hits, scored three runs and drove in one as the BayBears racked up 17 hits.
Andrew Battifarano is a contributor to MiLB.com. Follow him on Twitter, @AndrewAtBatt.