M-Braves' Lipka returning to prospect radar
Finally injury-free, 2010 first-round pick off to hot start in Mississippi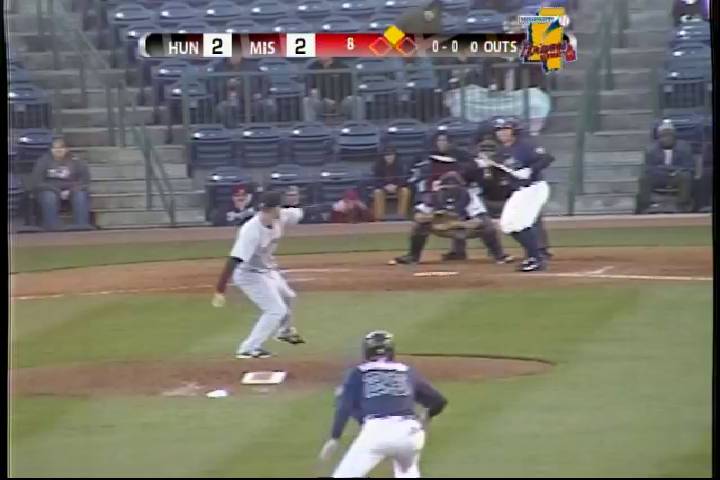 By Guy Curtright / Special to MiLB.com | May 5, 2015 11:00 AM
Matt Lipka and Zach Lee made up one of the most prolific passing combinations in Texas high school football, the speedy Lipka hauling in 22 touchdown passes as a senior.
"We were unstoppable," Lipka said.
Both, though, chose baseball over football, with Lee deciding not to throw passes for LSU and Lipka not to catch them for Alabama after being picked No. 28 and No. 35, respectively, in the 2010 Draft.
So far, the jury is still out on whether they made the right decisions, although Lee's was cushioned by a bonus of $5.25 million from the Los Angeles Dodgers.
Lee is in his second year pitching in Triple-A. Lipka is just now establishing himself in Double-A with the Mississippi Braves.
"I don't miss football," Lipka said. "Baseball was always my first love."
It hasn't always been kind to him, though.
A severe hamstring tear cost Lipka more than half of the 2012 season. Hand issues wiped out his 2014 season almost entirely.
"Missing all that time has just made me hungrier," the Mississippi outfielder said. "I'm healthy now and I'm determined to show everyone what I can really do."
So far, so good.
Lipka, who turned 23 on April 15, put together a 15-game hitting streak in which he went 23-for-56 and was batting .368 with a .410 on-base percentage through his first 23 games. In addition to his hitting streak, he reached base safely in 20 straight games.
"This was the first winter in a couple years that I wasn't rehabbing," Lipka said. "I could just work on things to make me a better baseball player, and I think it's all paid off."
Lipka has had to re-establish himself in a Braves organization that has gone through massive changes.
The Braves, now under the direction of John Hart, made trade after trade to bolster their young talent while mostly downplaying the prospects left over from the Frank Wren era.
"A lot of people have forgotten what I can do," said Lipka, who had three doubles, two triples and three stolen bases. "I've got a chip on my shoulder. I want to let everyone know that Matt Lipka is back and healthy, and this is what I can do. I was drafted where I was for a reason."
Lipka, who stole 37 bases two years ago, still has plus speed despite the past hamstring surgery and is swinging the bat well again now that he is not troubled by the hamate issue.
"It's not as if I'm injury prone," Lipka said. "Both times it was freak things."
The injuries, although to different parts of the body, were actually connected. Lipka had to change the leg he slid on and in doing that he hit his left hand on the ground. The resulting problems contributed to him going 1-for-30 to finish 2013 in the Class A Advanced Carolina League, then he ended up in a cast a month into last season with Mississippi.
Lipka, who had a stem-cell injection to aid with recovery from the injuries, was hoping to make it back by August last year but then hit his hand again just as he was completing a rehab assignment in the Gulf Coast League.
"That was definitely frustrating," he said.
Originally a shortstop, Lipka didn't last there long with Andrelton Simmons also part of the Braves' 2010 Draft. He made a stop at second base before being moved to center field in 2012.
With speedster Mallex Smith one of the prospects acquired over the winter, Lipka has played left field as well as some center with Mississippi this season.
"I think I have shown I can play all four positions," he said. "I'm probably overqualified for left, but I just want to play. I'll do whatever it takes to get where I want to go."
Where he wants to go is Atlanta, which would actually be a homecoming for Lipka. He was born in the Atlanta suburb of Snellville, but moved to McKinney, Texas, late in elementary school.
"I was really excited when the Braves picked me," Lipka said. "They were always my favorite team."
Now Lipka is determined to show that he still belongs in their plans.
"This is my time to really show what I can do," he said. "After all the adversity I've had, I'm due some better luck."
In brief
Landing on DL: Center fielder Albert Almora, the Chicago Cubs' No. 5 prospect, went on Tennessee's disabled list after being shaken up diving for a ball on April 27. He suffered an apparent concussion and whiplash to his neck. Almora, who turned 21 on April 16, had gotten off to a good start with the Smokies. The No. 56 prospect on MLB.com's Top 100 list had a .297 average and eight RBIs in his first 16 games. Almora, the No. 6 overall pick in the 2012 Draft, was limited to 61 games in 2013 because of a broken hamate bone and then a groin strain.
Back to roots: The road-weary Biloxi Shuckers returned to their former home in Huntsville and won the final two games of a five-game series at Joe W. Davis Stadium for first place in the South Division. The Shuckers, off to a 16-9 start, were scheduled to play at least their first 55 games on the road as construction continued on their Biloxi ballpark, which won't open before June 6. The Shuckers are scheduled to play series against Jacksonville and Birmingham in Huntsville in late May.
Work in progress: Kyle Schwarber, the Chicago Cubs' No. 4 prospect, was excelling at the plate for Tennessee while still trying to improve his work behind it. In the first 12 games he caught, the No. 4 overall pick in the 2014 Draft committed three passed balls, two errors and threw out just five of 27 runners trying to steal. Schwarber, though, was showing why he is No. 48 among MLB.com's Top 100 Prospects by batting .347 with five homers and 15 RBIs through 22 games.
Guy Curtright is a contributor to MiLB.com. This story was not subject to the approval of the National Association of Professional Baseball Leagues or its clubs.
View More