Grizzlies' Linares is a rising star for Astros
While developing players, manager has honed his own skill set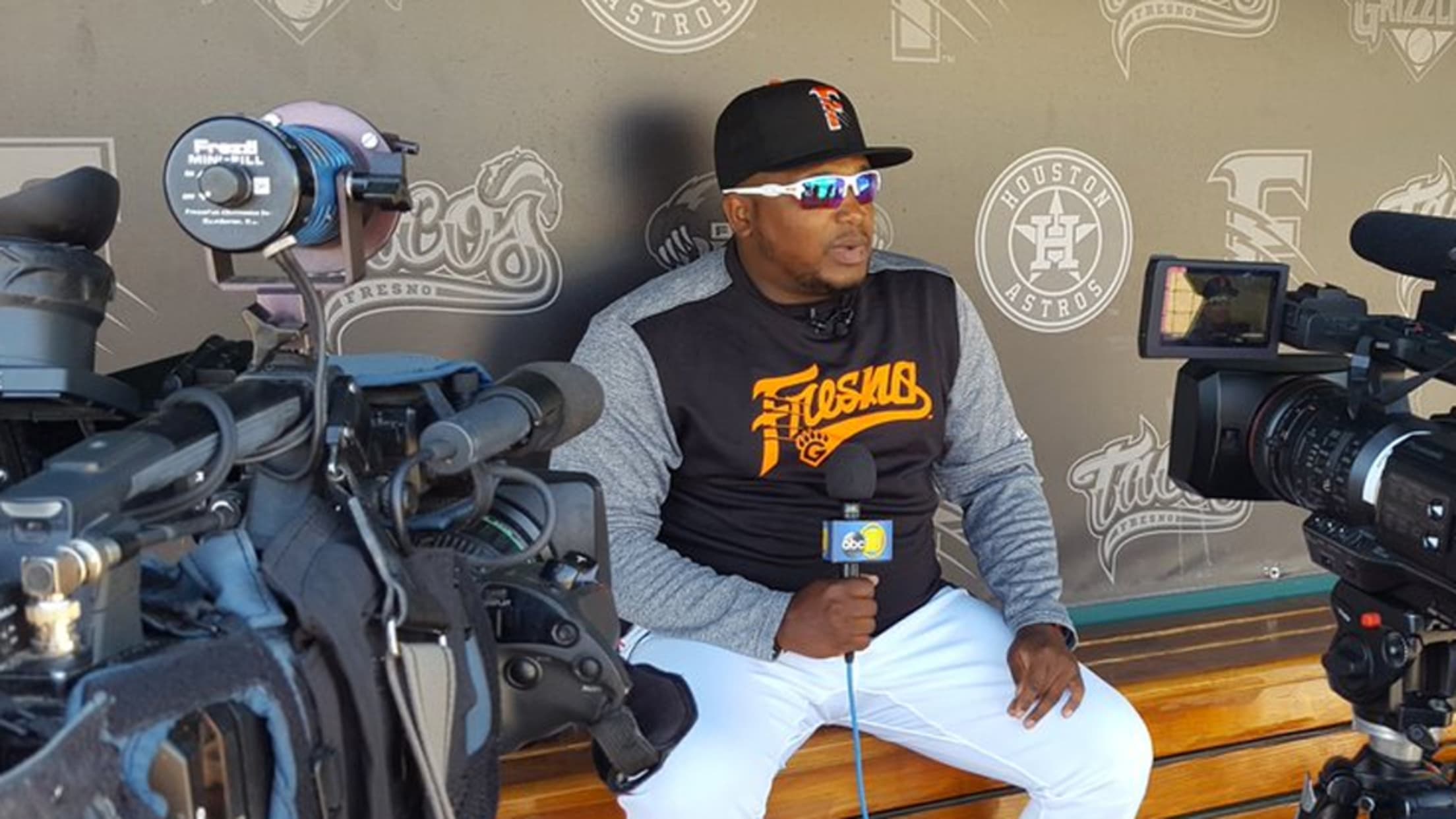 Rodney Linares reached Triple-A this year after managing Rookie ball, Class A, Class A Advanced and Double-A teams. (Fresno Grizzlies)
Rodney Linares has put together six straight winning seasons as a manager and is well on his way to a seventh. He's climbed from Rookie ball to Triple-A. He enters Friday with a 749-690 record in his 12th year managing in the Astros system, a pair of league championships under
Rodney Linares has put together six straight winning seasons as a manager and is well on his way to a seventh. He's climbed from Rookie ball to Triple-A. He enters Friday with a 749-690 record in his 12th year managing in the Astros system, a pair of league championships under his belt and a World Series ring on his finger.
Helming the Fresno Grizzlies as they head into the stretch run leading their Pacific Coast League division, he can look back on a heap of accomplishments -- including playing a role in the development of Jose Altuve, Carlos Correa, George Springer, Alex Bregman and nearly everybody else on the reigning champions' roster.
Yet when the 41-year-old reflects on what he's done, it's the earlier years that first come to mind. The losing years.
"A lot of losing early in my career kind of molded me to be where I'm at right now," he said. "I thought about [quitting]. After a 17-51 season in 2007, I said, 'You know what? I don't think I'm going to keep doing this thing and getting all these headaches.'"
That miserable campaign with the Greeneville Astros was Linares' first as a manager after six seasons as a hitting coach between the Dominican Republic and the Class A Lexington Legends. Frustrated, he got some encouragement from his father, Julio Linares, who's worked for the Astros since 1973, mostly as a Rookie-level manager and development guru. He also talked to his pitching coach, Bill Ballou, who was the only veteran on a field staff of newcomers.
"He told me, 'Jefe, no matter how much work you do with these guys, they're not going to get better, because they're not very good,'" Linares said. "That kind of threw the monkey off my back. But then we started to develop some guys."

Budding talent
Altuve was one of the first truly exciting prospects Linares got, coming to Greeneville in 2008. The next season, the team had another future Major League All-Star, but few would have guessed it at the time. Chosen with the 611th pick of the 2009 Draft, J.D. Martinez was destined to ride the pine, only in the Appalachian League to fill out the roster. Linares took one look at Martinez's swing and immediately got other ideas.
"I think about J.D. Martinez all the time. Where's he supposed to play? He's not supposed to play," said Linares, himself a former Tigers and Astros farmhand who didn't get much playing time.
The skipper told Martinez he'd be in the lineup as long as he was hitting, even if it got Linares fired. Martinez responded by batting .403/.446/.740 with 15 extra-base hits in 19 games. He went from a 20th-round pick persona non grata to a starting prospect with Class A Short Season Tri-City for the rest of the season.
The next year, the Astros promoted both Martinez and Linares to full-season ball in Lexington. Martinez was in Double-A by mid-July, and the manager would earn a bump to a higher level after two years. First, though, Linares faced a couple of the most educational experiences of his career.
The 2011 Lexington roster featured a prospect whom Houston had invested a lot of money and hope in: Delino DeShields.
"That was something that really, really helped me," the manager said. "Delino has a lot of God-given ability. But Delino would mope around a lot, and he would be a little laid-back. I was like, 'How am I going to reach this kid that we paid $2.5 million?' I never thought about maturity until I had him."
Linares again consulted with his father, who always loved giving young players a professional structure, teaching them to be loose enough to succeed but devoted enough to improve.
"My dad said, 'Well, in all my years, I've always told my bosses the only thing you can't rush with a player is his maturity,'" Linares recalled. "'A player will mature either through failure, through success -- some do mature through success -- but some do it through something that happens outside the game.'
"That kind of hit me. [Somebody from the Houston front office] came in and started saying, 'You've got to take him out of the game every time he doesn't run a ball out. He's the fastest guy in the world, and he doesn't run the ball out, and you allow him to do it.' I told him, 'You leave him alone, and you let me deal with him. He's my project.'"
Soon, the front office was on board with Linares' plan. They gave DeShields room to grow at his own pace, without antagonizing him. By the end of the year, the manager was looking at "a totally different kid," he said, and the results followed.
The next season, DeShields recorded 101 thefts, put up a .389 on-base percentage and scored 113 runs across two levels.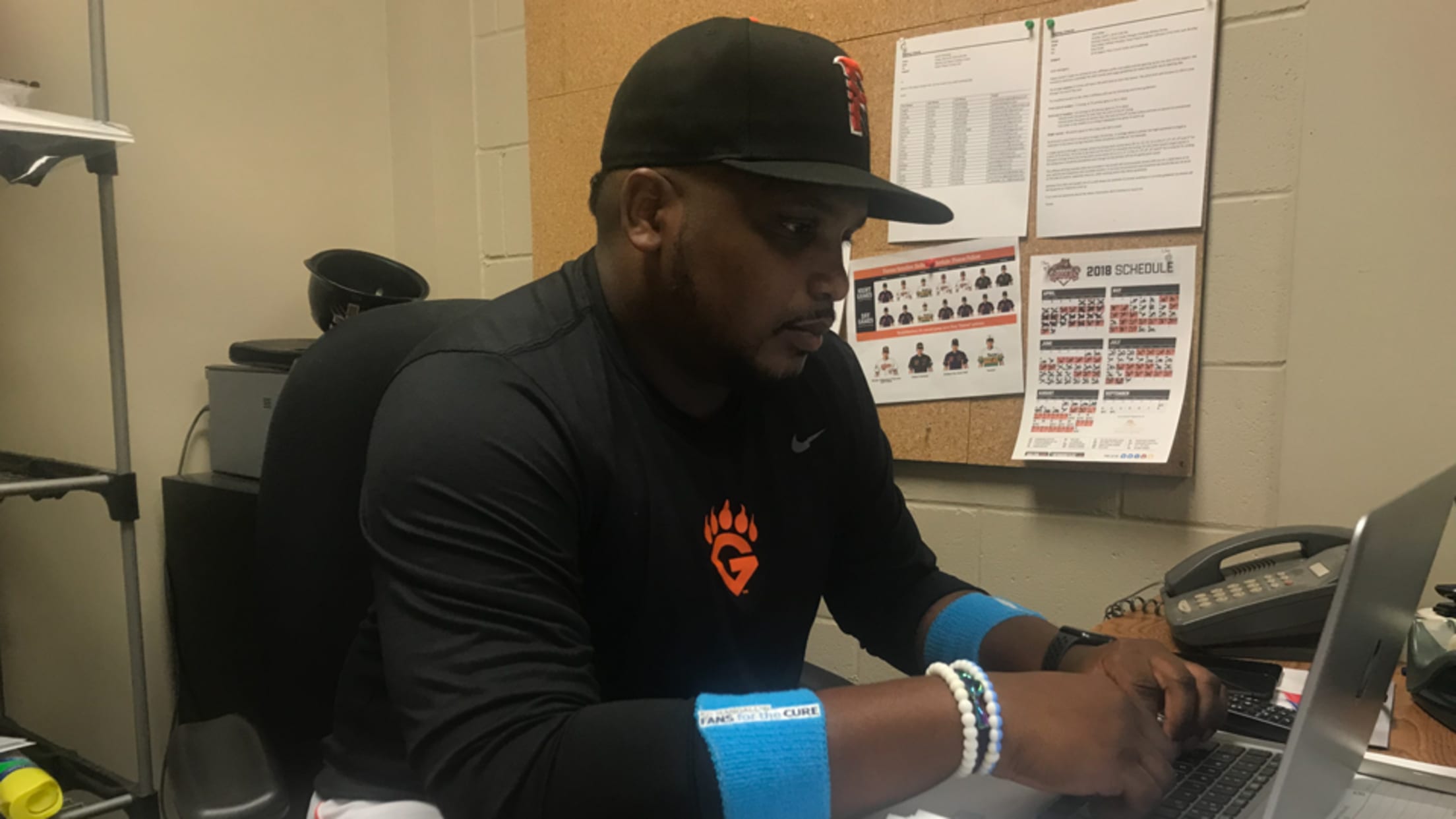 Like many of his players, Linares has progressed through the Minors. (Josh Jackson/MiLB.com)
But one of Linares' challenges in 2011 had been converting the teenager to second base, and that created yet another challenge. Enrique Hernández had been drafted by the Astros in the sixth round two years prior, and DeShields' conversion forced him out of his position in his first full-season assignment.
"I'm like, 'Get an outfielder's glove. Play over here. Play short. Play over there.' Move him around a little bit," Linares said. "And he hated me for ages."
When Hernandez's versatility made him a beloved member of the Dodgers, Linares was forgiven.
"Kiké sent me a message," he said. "'Hey, if it [hadn't] been for you moving me around...' I said, 'Well, I'm not going to take the credit, because you put in all the work.'"

Finding a balance
Promoted to the Lancaster JetHawks in the Class A Advanced California League for 2012, Linares had mastered not only giving players room, but also being enough of a presence to set the tone.
"If you create a good environment, players feel safe," he said. "If they come in with whatever, any problems outside of baseball, and they can communicate that to you, you gain their trust. If you gain their trust, they're going to trust you on the field. So I try to keep a good environment for them."
He'd learned, too, to give his staff some space.
"I stopped micromanaging. I used to be in the bullpen. I used to be in the cage," he said. "I hardly ever have been in the cage for the last six, seven years. I've let my hitting coaches do it -- that's their job. And the pitching coaches do their pitching stuff."
Darryl Robinson, the current hitting coach of the Grizzlies, began working with Linares in the Cal League that first year. Together, they brought the JetHawks to the playoffs for three straight seasons, picking up league titles in 2012 and 2014, with Linares being named the circuit's Manager of the Year in 2013.
"We stayed up some nights until 3:00, 4:00 in the morning, just talking about getting guys better. And I listened to him," Robinson said. "I'm learning so much from him, it's incredible. ... He has a different style of managing that works. When he needs to be hard on somebody, he will be. If he doesn't, he gives you enough room to do what you need to do."
Linares' 2012 Lancaster team featured Springer and Domingo Santana. In 2013, with a team including Preston Tucker and Chris Devenski, the JetHawks fell a game short of the Finals. For 62 games in his last Cal League campaign, Linares got Correa, whom he'd also have for 29 games with Double-A Corpus Christi en route to Texas League Manager of the Year honors in 2015.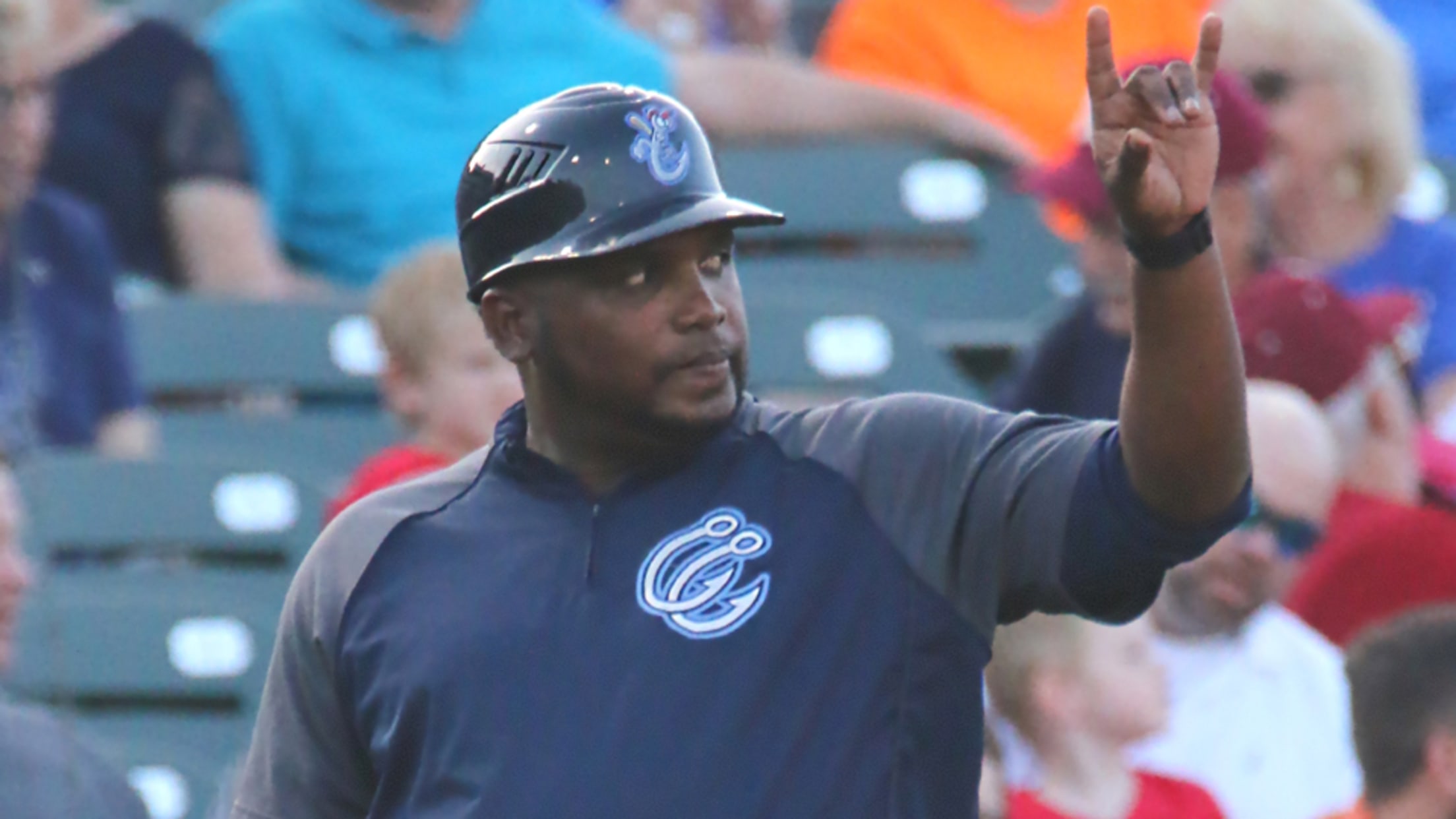 Linares led Double-A Corpus Christi to its winningest season in history. (Joshua Tjiong/MiLB.com)
That year, he led the Hooks to a franchise-best record of 89-51, and over three seasons managing in Double-A went 241-177 while shaping the 2018 World Series Champions.
"I was with [the Astros] in the playoffs last year, and we were in Boston and we were sitting in the clubhouse," Linares said. "Altuve came up and looked around, and he said, 'Hey, you know what? Everybody that's in here except for [Cameron] Maybin, you've managed before.'"

The Fresno bottleneck
The only drawback to graduating a bunch of outstanding young players to a winning big league club is that, eventually, there's no room to send anybody else up. Promoted to Fresno for this season, Linares has his own deep roster.
"It's hard. It's going to be hard not only this year, but it's going to be hard in the years coming, because [of the Astros' youth]," he said. "That leaves a little bit of room for a guy like [
Kyle Tucker
], a guy like [
Derek Fisher
], maybe for
J.D. Davis
. I think all of them have a lot of big league potential, to play every day in the big leagues, but ... we can't let you go out there and get 300 at-bats in the big leagues and suck. We need to win."
He keeps spirits high by being honest about that, and by challenging his players to force the organization's hand. When
Tony Kemp
went on a tear at the end of April, Linares told the outfielder that if he raised his average to .400, the Astros would start getting calls about him and feel pressured to either promote him or trade him to a club that would give him a big league opportunity. Kemp was called up in mid-May and hasn't been back since.
The Grizzlies still have a number of players who might be in the Majors were they playing in a weaker system --
AJ Reed
, for example, has 25 home runs and 98 RBIs through 108 PCL games. But Linares' steady demeanor and focus on a given day's work makes that blockage less of a morale issue, according to one of four Fresno pitchers who's among the league's top 10 in strikeouts.
"It's really nice for the guys in the clubhouse to know that, yeah, sure, some guys might be log-jammed, but at least our manager is going to be the same guy day in and day out," Cy Sneed said. "One thing that's really nice about Rodney: as players, we're trying to get better every day. We're trying to do little things. And I think you also see that from him."
And like his players, Linares hopes that day-by-day improvements lead him to the Majors.
"I've always said that I want to get as far as I can get in this game, which is, hopefully, somebody will give me an opportunity to manage in the big leagues," he said. "But in the meantime, I'll keep plugging away down here, and hopefully win a couple more championships, a couple more rings and get some more players to the big leagues."
Josh Jackson is a contributor to MiLB.com. Follow and interact with him on Twitter, @JoshJacksonMiLB.