Mascot Mania voting update after first week
Rookie, Sandy, Ripcord, Roscoe among leaders after first week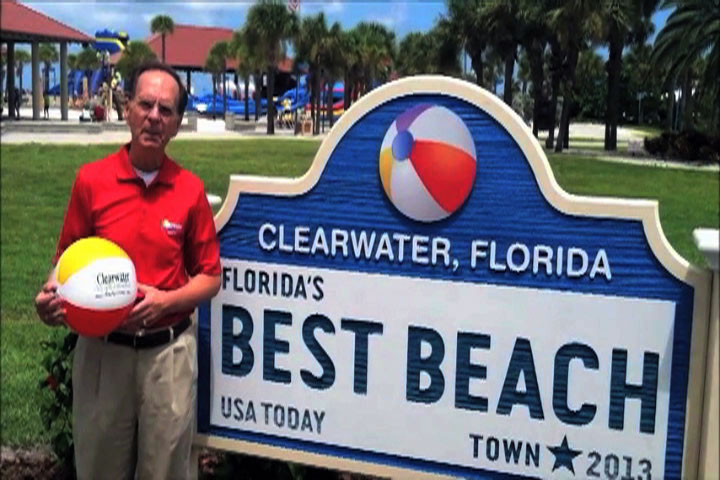 By Danny Wild / MiLB.com | July 29, 2014 10:45 AM ET
There's a reason Phinley has a permanent grin on his face.
The Clearwater mascot and the reigning champion of the Florida State League in MiLB.com's Mascot Mania is the runaway overall vote-getter after a week of fan voting in this year's contest, which aims to crown the best and most popular mascot in Minor League Baseball. Phinley, who lost last year to Columbus' LouSeal, owns a healthy lead in the Sunshine State as fans have taken to MiLB.com and Twitter to support their favorite fuzzy friends. Mascots compete among their league rivals for the first two weeks of the contest before the top mascot from each league advances to the Championship Round for a chance to be crowned Mascot Mania champion.
Phinley, a Hawaiian-shirt-wearing shark, is one of five 2013 champions that hold a lead in their circuits this summer. Savannah's Gnate the Gnat, a strong contender last year, ranks second overall and tops in the South Atlantic League, while Trenton's Rookie and Brooklyn's Sandy the Seagull hold edges in the Eastern and New York-Penn Leagues, respectively. The race in the NYPL is particularly compelling, since both Sandy and defending champ Ripcord from Aberdeen are in the top five in overall votes. Only one can advance to the Championship Round, which begins next Monday, Aug. 4.
Two of the closest matchups are taking place in the Carolina and International Leagues. Down in the Carolinas, Muddy the Mudcat of the Carolina Mudcats has a slim edge over rival Splash Pelican of Myrtle Beach. Winston-Salem's Bolt is just behind Slash in a three-way, border-state free-for-all. In the IL, it's also a three-way race where Gwinnett's Chopper has a lead over Charlotte's Homer the Dragon, who is barely ahead of Toledo's Muddy the Mud Hen.
Hillsboro's Barley again has the most votes among Northwest League mascots after winning the short-season league last year, while Billings' Homer leads the Pioneer League and also ranks among the top 30 mascots overall after one week.
Several mascots have seen their support dwindle early on compared to 2013, including Peoria's Homer, who won the Midwest League crown last year but currently ranks just outside the top 100 mascots. Fresno's Parker is the defending PCL king but is not among the top 100 vote-getters either. LouSeal, the reigning Mascot Mania champ, currently ranks No. 8 in the IL. Perhaps he is resting on his marine laurels.
Fans can continue to vote an unlimited amount of times on MiLB.com and up to 25 times daily via Twitter using their favorite mascot's hashtag. The League Round of voting continues until Monday before the Championship Round, which ends Aug. 11. When fans vote, they can also enter for a chance to win a subscription to MLB.TV, MiLB.TV and other prizes.
See below for the current top two in each league (click any league to vote for your favorite from that circuit):
2014 Mascot Mania League Standings (through first week of voting)
| League | First Place | Team | Second Place | Team |
| --- | --- | --- | --- | --- |
| International | Chopper | Gwinnett | Homer the Dragon | Charlotte |
| Pacific Coast | Chico | El Paso | Orbit | Albuquerque |
| Eastern | Rookie | Trenton | C. Wolf | Erie |
| Southern | Kazoo | Pensacola | Babe Ruff | Birmingham |
| Texas | Louie | Springfield | Rocky RockHound | Midland |
| California | Thunder | Lake Elsinore | Torch | Bakersfield |
| Carolina | Muddy the Mudcat | Carolina | Splash Pelican | Myrtle Beach |
| Florida State | Phinley | Clearwater | Blue | Tampa |
| Midwest | Lou E. Loon | Great Lakes | Johnny TinCap | Fort Wayne |
| South Atlantic | Gnate the Gnat | Savannah | Reedy Rip'It | Greenville |
| New York-Penn | Sandy the Seagull | Brooklyn | Ripcord | Aberdeen |
| Northwest | Barley | Hillsboro | Otto The Spokanasaurus | Spokane |
| Appalachian | Roscoe the Rooster | Princeton | Gizmo | Greeneville |
| Pioneer | Homer | Billings | Clark the Cougar | Helena |
Danny Wild is an editor for MiLB.com. Follow his MLBlog column, Minoring in Twitter. This story was not subject to the approval of the National Association of Professional Baseball Leagues or its clubs.
View More