Mets' Wheeler sent to NY for tests
Las Vegas starter to be evaluated for right clavicle soreness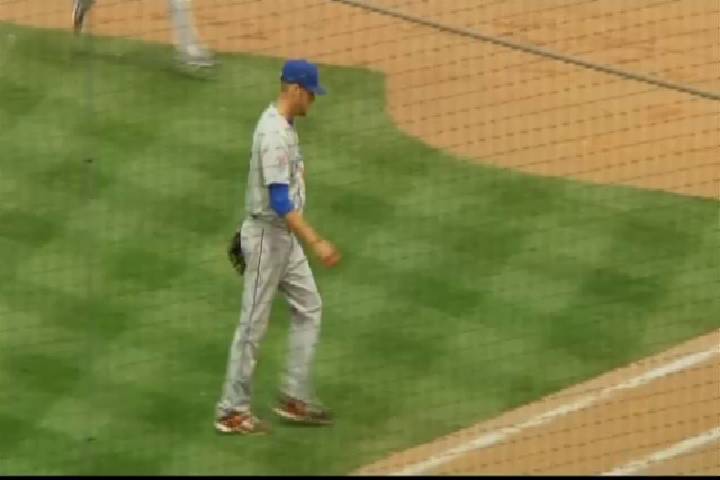 By Danny Wild / MLB.com | May 14, 2013 6:05 PM ET
Top Mets pitching prospect Zack Wheeler will be evaluated in New York after complaining of soreness in his right clavicle on Monday.
Wheeler, who is 2-1 with a 3.74 ERA in eight starts for Triple-A Las Vegas, is expected to miss at least one start. The Mets don't believe the injury is serious.
"I think we're being a little bit conservative given who it is," Mets assistant general manager John Ricco told MLB.com.
"From what I've heard today, it doesn't sound serious," Mets manager Terry Collins told ESPN.com. "But any time you miss a start, it's for the best interest of the player. We'll wait to hear the doctor's report and go from there. If it's only one start, that's certainly something we can handle easily."
Ricco said the soreness was in an "odd area" -- the clavicle, also known as the collarbone, runs between the shoulder and spine. It rotates when the shoulder is used.
"It's kind of an odd area," Ricco told ESPN. "He's going to most likely miss his next start. It was nothing that happened during the last outing. It was something that he felt a couple of days after. It's near his right clavicle. That's all I have right now until we have a doctor see him tomorrow."
The 22-year-old has been rumored to be in line for a promotion to New York in recent weeks after turning in a number of quality starts for the Triple-A 51s. He's allowed just three earned runs and struck out 19 in his last three starts, going 2-0 with a 1.35 ERA after a rough April which prompted him to watch video and make some mechanical adjustments on the mound.
"There will be a time when his performance converges with our need," Mets general manager Sandy Alderson told WFAN in New York on Monday. "I'm not here to say we don't need him at this point, but we have to make [sure] that we're comfortable and that he will be comfortable and that we don't set him back in his development and ultimately his career in New York."
No. 1 Mets prospect Travis d'Arnaud also is scheduled to travel to New York for a checkup on his fractured left foot. The Mets don't expect him back for at least one more month.
For Wheeler, his timetable to reach New York on better terms will depend on his health and when the Mets feel he is truly ready.
"What we want to do, in Wheeler's case, is what we did with Harvey," Alderson said. "That is to create the right moment for him to begin his Major League career and have success from the outset, and go forward. That doesn't mean bringing him up in July. We want to make sure that he has the best chance to succeed and he's not viewed as the savior of the Mets."
Danny Wild is an editor for MLB.com. This story was not subject to the approval of the National Association of Professional Baseball Leagues or its clubs.
View More