Midland sluggers power past Corpus Christi
Oakland prospects Burns, Marte, Muncy go yard and plate nine runs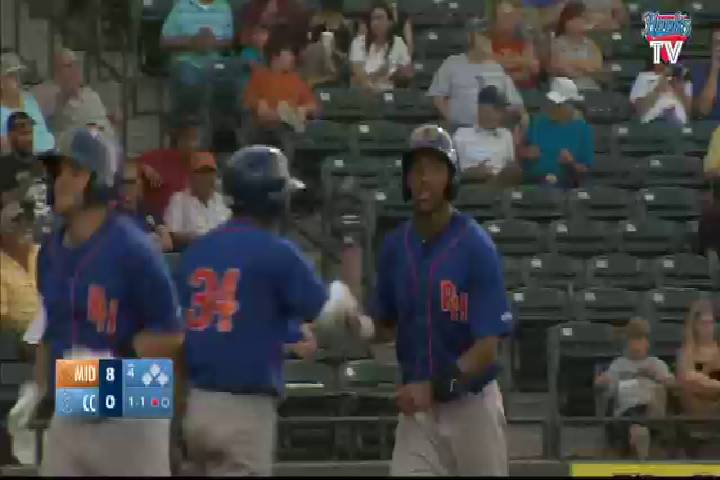 By Kelsie Heneghan / MiLB.com | July 15, 2014 2:52 AM ET
While Yoenis Cespedes was winning the Major League Home Run Derby in Minnesota, future Oakland All-Star hopefuls were putting on their own power display in the Texas League.
Powered by home runs off the bats of A's No. 7 prospect Billy Burns, No. 13 Max Muncy and hot-hitting Jefry Marte, Double-A Midland topped Corpus Christi, 14-2, at Whataburger Field.
"It was fun just seeing everyone get on base and get hits and the runs kept coming," Burns said. "It was just one of those days."
Burns started the game off with a bang by crushing the second pitch for his first home run since 2011.
"I was a little shocked," the 24-year-old switch-hitter said. "I know I have the ability, it's just something that hasn't happened."
After Muncy singled, it was Marte's turn to go deep. The Dominican Republic native's homer was the first his four hits against the Hooks.
"He's been pretty hot lately, so that's was no surprise," Burns said of Marte. "With him doing that, it was just a continuation of what he's being doing the past couple weeks; he's been getting a lot of clutch hits for us lately."
Over the past nine games, the cleanup hitter is averaging .500 with three homers and 11 RBIs -- leading teammates to nickname him "Super Marte."
In the fourth, Hiroyuki Nakajima reached on a fielding error by shortstop Carlos Perdomo, Burns bunted for a single and Myers singled to load the bases for Muncy.
"I was just looking to put something in play and get an RBI," the Baylor product said. "I hit it and thought 'OK, it's an RBI,' then I look up and the next thing I know, it was going over."
With his first home run in 40 games, the 23-year-old recorded his first grand slam since college. Muncy added an RBI single in the ninth, totaling five RBIs on three hits.
"The biggest thing for me is not getting too down on myself. I'm playing in a league where it's tough for left-handed hitters to pull the ball and I knew that going into the season," the power hitter said. "It's kind of a disappointing season for me, so it was nice to have a good night. Hopefully I can keep it going."
With the long ball in the first, the single in the fourth and a double in the fifth, Burns stepped up to the plate in the seventh looking for a triple to complete his first cycle, but flew out to center fielder Delino DeShields. Then he led off the final frame with the entire Midland bench rooting for one thing.
"Everyone was chirping at me in the dugout, they were telling me to swing for it," he said. The speedster ended up working a walk, leading to a playful demand from Webster Garrison. "My hitting coach called me into his office after the game and said he was going to fine me $50 for walking."
Burns didn't mind that he didn't reach the milestone, he was pleased with another good night that could help him inch a step closer to joining the organization's finest.
"Knowing that the A's are very successful, it makes me want to be someone that can contribute one day," the Mercer product said. "I know if I ever get the chance, it will be a very respectable team that I can learn a lot from."
Teammate Blake Forsythe added a two-run shot in the seventh, for the team's fourth homer just a night after falling, 14-1, to Corpus Christi.
Forsythe's batterymate, Chris Jenson (7-7) worked around a run on six hits over seven frames for the RockHounds.
Kelsie Heneghan is a contributor to MiLB.com. Follow her on Twitter @Kelsie_Heneghan. This story was not subject to the approval of the National Association of Professional Baseball Leagues or its clubs.
View More