Brewers' Derby safe after Las Vegas shooting
White Sox prospect Duarte's sister confirmed among the slain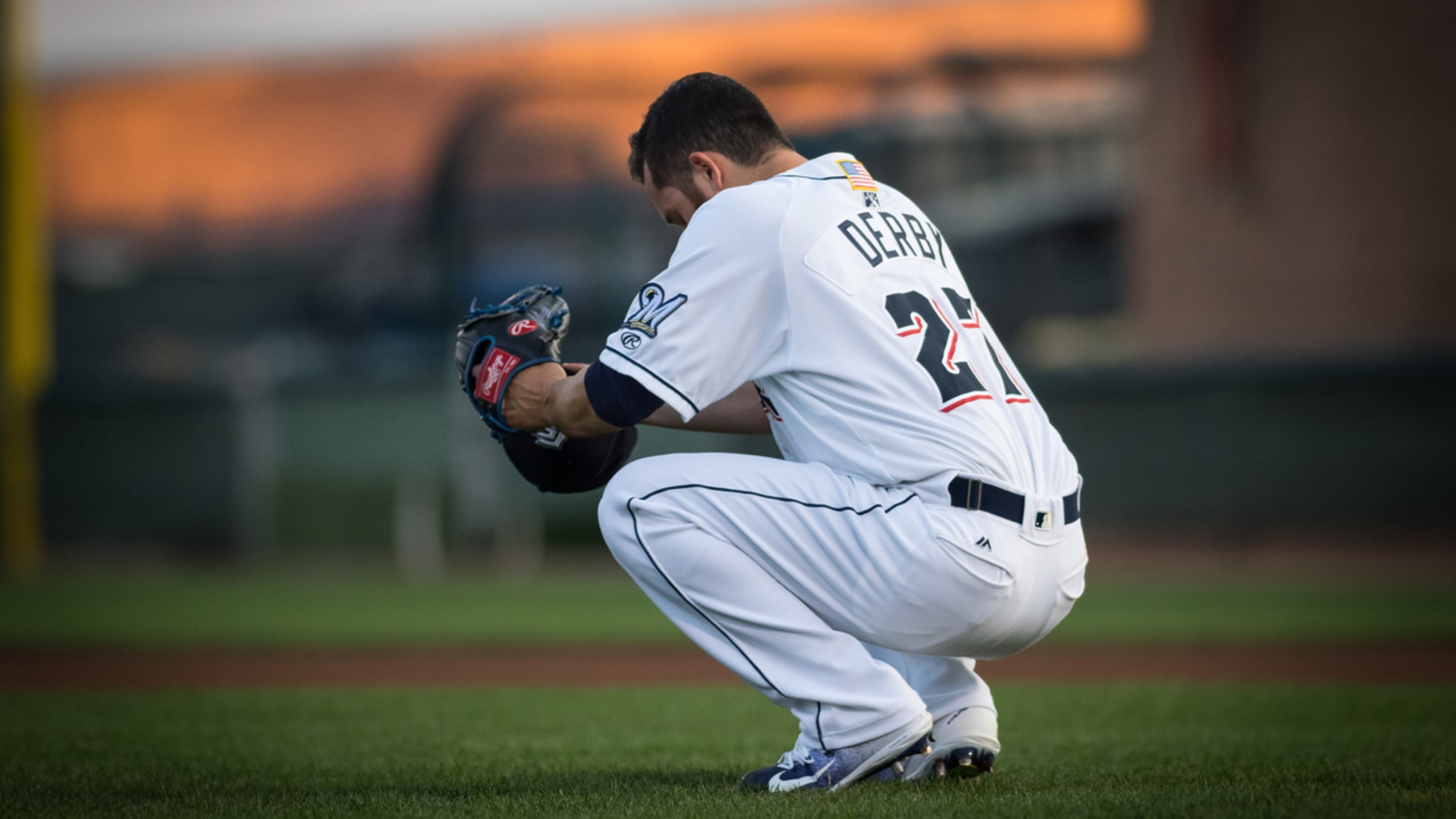 Bubba Derby spent time with Triple-A Colorado Springs during the 2017 season. (Bobby Stevens/MiLB.com)
Milwaukee pitching prospect Bubba Derby was unharmed in Sunday night's mass shooting at a concert in Las Vegas. Derby was in attendance when a gunman opened fire from the 32nd floor of the Mandalay Bay Resort and Casino, killing at least 59 and wounding over 500 concertgoers in the worst
Milwaukee pitching prospect Bubba Derby was unharmed in Sunday night's mass shooting at a concert in Las Vegas. Derby was in attendance when a gunman opened fire from the 32nd floor of the Mandalay Bay Resort and Casino, killing at least 59 and wounding over 500 concertgoers in the worst mass shooting in modern U.S. history.
Derby, 23, was in the crowd with family and friends for singer Jason Aldean's performance, the final set of the three-day event. When shots rang out, Derby told reporters he feared for their lives.
"At that point, we didn't know where the shots were coming from," Derby told MLB.com. "It sounded like it was on top of us. We had a sinking feeling that maybe he's shooting an automatic weapon from the top of the Mandalay Bay. It's kind of what everyone was thinking. Everybody got down, and we tried to get as low to the ground as possible.
"I turned around to find my aunt, and I'll never forget her face. We made eye contact, and it was that look like 'Are we about to die?' You could hear the bullets hitting, ricocheting, and it's kind of one of those moments where you don't know what to do, but you try to get out of there."
Derby told MLB.com he was about 100 yards from the stage when the shooting began. During a lull in the gunfire, he and members of his family ran.
"We waited a few seconds and it felt like an eternity," he recounted. "Finally, we got up and just started running. Then we started hearing the gun go off again. It was very loud. It sounded like a bunch of firecrackers going off in a row.
"That was probably the worst feeling. Everybody was just running for their life. They were scared beyond belief."
Derby and a handful of family members ran out of the Route 91 Harvest Festival venue and found shelter in a nearby House of Blues tent. The right-hander told reporters he had been staying in the same hotel, four floors below the shooter's.
"There's a ton of people lying on the ground crying, scared," Derby told MLB.com. "There was a corner that they designated for the wounded. My brother-in-law is a firefighter and used to be an EMT, and you see these people, they ran over and immediately started helping without hesitating. They're grabbing gloves, they're grabbing gauze, bottles of water, they're helping these victims who are facing injuries that they never thought they'd face in their lives, and they're scared. They don't know where their family is. Especially running out of the venue, you see these victims carrying wounded people. It was incredible to see all these people helping each other."
Friends confirmed to the Torrence (Calif.) Daily Breeze on Tuesday that Christiana Duarte, the younger sister of Chicago White Sox prospect Michael Duarte, was among the slain.
Christiana, 22, recently graduated from the University of Arizona and started a job with the Los Angeles Kings, who appealed to the public for help locating her on Monday. She was in the concert crowd with her brother's girlfriend, Ariel Romero, who was reported to be in stable condition with a fractured jaw after being shot in the face.
Tyler Maun is a contributor to MiLB.com. Follow him on Twitter @TylerMaun.