Montero knocks in six runs for Tacoma
Mariners farmhand homers, doubles during 5-for-5 performance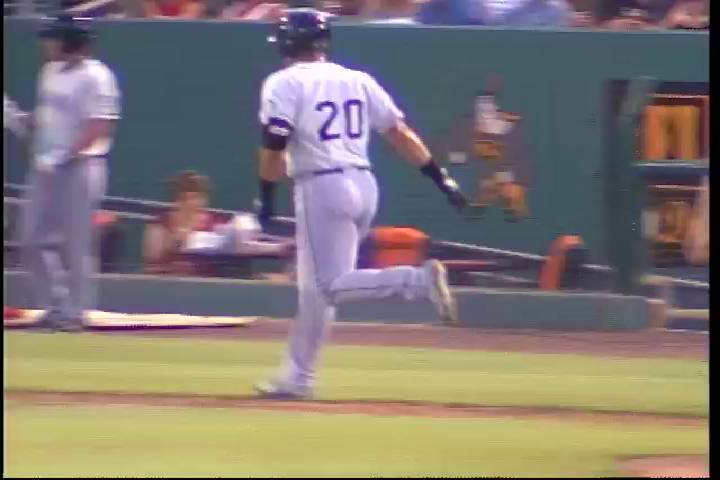 By Josh Jackson / MiLB.com | July 5, 2014 2:35 AM ET
Jesus Montero looked like his old self on Friday night. That's especially good news for the Mariners, considering he's still only 24.
"It's been a long time coming for him. He's a good kid and he's been working really hard," Triple-A Tacoma hitting coach Cory Snyder said. "His routine's been getting better, all his preparation has been getting better. From here on out, hopefully,a we'll see that pay off."
Montero matched a career high with six RBIs and went 5-for-5 with a homer, double and two runs scored as the Rainiers outslugged Fresno, 11-7, at Chukchansi Park.
The Venezuela native missed 50 games last year as the result of a suspension stemming from the Biogenesis scandal, then reported to Spring Training overweight. Seattle general manager Jack Zduriencik told the media he had "zero expectations for Jesus Montero" this season.
Given that background, tying the career high he established when he drove in six runs on Aug. 21, 2011 while still a blue-chip Yankees prospect was a major step forward.
"It's got to [mean a lot]. He came into Spring Training and I'm not sure how prepared he was," said Snyder, a veteran of nine big league seasons. "It's been a long haul for him. It's nice to see him do that. He can walk around with a little bit extra in his step.
"But he has to go out and play every game. It's not like one game is going to make or break the year. He's got to show he can be consistent again, and he has it in him. He's got great hands and great ability. You've got to prove to yourself you can do it on a consistent basis, day in and day out."
Montero was in the center of three-run outbursts in each of the first two innings. He singled in the first and scored on the first of Stefen Romero's two homers, then ripped a two-run double to the opposite field in the second.
Facing Grizzlies starter and No. 2 Giants prospect Edwin Escobar for a third time, Montero slugged a two-run homer on the first pitch he saw in the fifth.
"The pitcher's trying to get a strike over on one of those first two pitches, so it's important to stay aggressive," Snyder said. "In that at-bat, he got a hanging slider and he hit it out in straightaway center. He's got all kinds of pop. He's seeing the ball and driving the ball well."
Romero, who returned to Tacoma on June 30 after 51 games in the big leagues, followed with his second dinger of the game.
"I've had Romero for two years now. It's exciting for me, kind of like he's my own kid," Snyder said. "I was thrilled with him making the big leagues out of Spring Training this year. When he came back, I said, 'It's good to see you, but it's not good to see you.' He didn't get as many at-bats as he wanted up there.
"He came down and worked on seeing the ball. It's always nice to work on things and get instant success."
Montero delivered an RBI single in the sixth and another in the eighth.
"He stayed focused the whole game. Some guys say, 'Ah, I have three hits, I can let it down a little bit.' But you can't take any pitches off," Snyder said. "When you step into the box, it's game on right now. You have to be ready for pitchers to make mistakes, and at this level they don't make many mistakes.
"He jumped on five mistakes tonight and he didn't miss them. That shows how much he's learning."
Andrew Carraway (4-4) was the beneficiary of the Rainiers' 17-hit attack. He gave up six runs on eight hits over six innings and improved to 2-0 in his last four starts.
Escobar (3-8) surrendered nine runs -- six earned -- on 10 hits and a walk over 4 2/3 innings. He struck out two.
Andrew Susac, ranked fourth among Giants prospects, went 4-for-4 with a double, an RBI and two runs scored for Fresno.
Josh Jackson is a contributor to MiLB.com. This story was not subject to the approval of the National Association of Professional Baseball Leagues or its clubs.
View More