MWL notes: Vogelbach shows maturity
Cubs prospect proud of improved defense with Kane County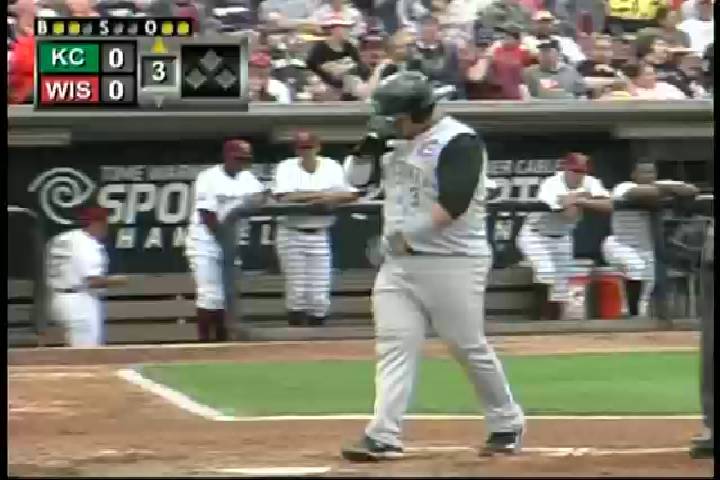 By Curt Rallo / Special to MiLB.com | July 11, 2013 6:00 AM ET
Kane County's Dan Vogelbach finished taking throws at first base and started running to the dugout. On the way, he stopped, shook hands and gave a hug to a teammate, then picked up a bat and chattered all the way to the batting cage to anyone within earshot.
After a few swings, Vogelbach had everybody else in the ballpark chattering. The 6-foot, 250-pound barrel of energy unleashed a mammoth shot that hit the top of the two-story scoreboard, a blast that scouts in attendance estimated at 475 feet before they fired off emails to their bosses about the tape-measure job.
Vogelbach was a second-round pick in 2012 by the Cubs an is rated the No. 11 prospect in Chicago's organization by MLB.com. This season, he's hitting .277 with 13 homers and 56 RBIs. In 151 professional games, Vogelbach has 123 RBIs and 31 homers.
Kane County manager Mark Johnson said Vogelbach wows fans and scouts with his hitting prowess, but his fielding, maturity and leadership are making an impact with him.
"Dan's obviously a really good hitter," Johnson said. "What's big for him from last year, where I had him in Boise, his defense has gotten way better. That was his big thing. He struggled on defense some, but he's been working on it. He knows he has to work on his flexibility, has to work on his hands and his feet. He knows it's not all about hitting any more. When he accepted that challenge, he really started to improve.
"Dan is a high-character guy," he added. "He's got a lot of energy and a lot of passion and a lot of will to win. He's a real charismatic guy and he lights up a clubhouse, lights up a dugout. On the field, he's always moving around, talking, full of energy, positive … he's just fun to be around. Obviously, his parents did a wonderful job with him."
Kane County center fielder Albert Almora, the Cubs' top pick in the 2012 Draft, said Vogelbach plays a huge role in keeping the chemistry positive in the clubhouse.
"Dan is one-of-a-kind," Almora said. "He always has a way to lift the team up. He's a great guy to be around. He's definitely a guy you want to be on your team. If you're having a bad day, he can make you happy. That's important, to have a teammate who can pick you up."
Vogelbach said he has always tried to be a positive force.
"When you play such a long season, and you're with the same guys for this amount of time, you have to stay loose," Vogelbach said. "You have to be able to have a good time as long as you're working hard. That's something I try to do, whether it's the ninth inning and we're down by five, or it's the ninth inning and we're up by five. I try to keep the same spirit with the guys, try to keep playing hard and let them know that we're never out of the game -- we're one pitch from [being] right back in it. That's something I've had my whole life. It's something I pride myself in."
According to Vogelbach, his maturity as a player has had a major role in his development.
"Obviously, you learn from the great coaches that I'm blessed to be able to have, but at the same time, as I play throughout the season, I've been able to pick up on things that I need to get better at," he said. "Obviously, hitting, I can always get better at. There are always mental parts of the game you can get better at, and around the bag, getting better and better every day, fielding, making a habit of running the bases hard every game and learning to play the right game.
"It's listening to your coaches, but you also have to learn things for yourself. Baseball is a lot more difficult than people think. There are times when you're not going to have a hit in a series. Then, there are times when you don't get out. The biggest thing for me is to learn not to ride the emotional roller coaster, just stay even the whole time."
In brief
Historical teammates: Mark Appel, the No. 1 overall pick in the 2013 Draft, has been promoted to Quad Cities and is scheduled to start Sunday against Dayton. Appel pitched a total of five innings over two starts with Class A Short-Season Tri-City in the New York-Penn League before the move was announced. The 6-foot-5 right-hander joins 2012 top pick Carlos Correa on the River Cats roster, the first time two No. 1 selections have ever played on the same team below Double-A and the first time in Minor League Baseball since 1981 (when Seattle's Al Chambers and Mike Moore played for Lynn of the Eastern League). Appel is the first No. 1 pick to pitch in the Midwest League since Luke Hochevar played for Burlington in 2006.
Eight is not enough: South Bend second baseman Fidel Pena drove in eight runs, going 4-for-5 with a grand slam a bases-loaded triple, but it wasn't enough as the Silver Hawks lost to Fort Wayne, 16-10. The defeat snapped a 24 2/3 scoreless streak by the Silver Hawks bullpen.
Bigger is better: Peoria's Dozer Park will feature a new, larger video board that will be ready by Aug. 17. The video board will be 4 1/2 times larger than the current video board.
Curt Rallo is a contributor to MiLB.com. This story was not subject to the approval of the National Association of Professional Baseball Leagues or its clubs.
View More