Lowe brothers making waves in Charlotte
Rays prospects' competitive boyhood grows to unbreakable bond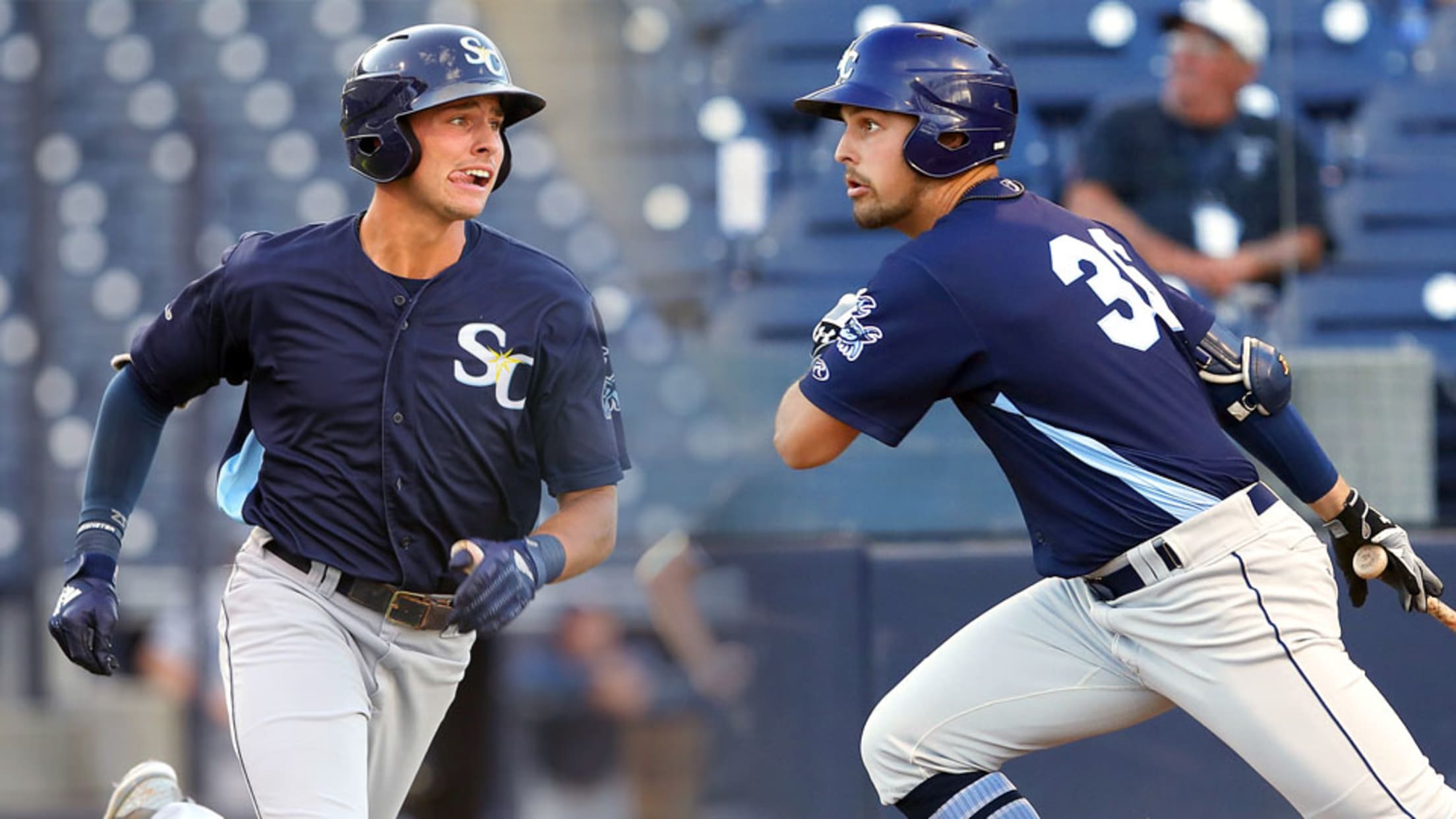 Josh and Nathaniel Lowe are regulars in the Florida State League's top hitting lineup. (Cliff Welch/MiLB.com, Mark LoMoglio/Tampa Tarpons)
Long before they were the everyday first baseman and center fielder for Class A Advanced Charlotte, Nathanieland Josh Lowe were opponents competing for passes from their father, David Lowe, during a family vacation on the beach in Pensacola, Florida.Landing safely on sand was just about all the football their mother,
Long before they were the everyday first baseman and center fielder for Class A Advanced Charlotte, Nathanieland Josh Lowe were opponents competing for passes from their father, David Lowe, during a family vacation on the beach in Pensacola, Florida.
Landing safely on sand was just about all the football their mother, Wendy Lowe, wanted to see from her two small children. It was welcomed news when they developed into professional baseball players -- even after growing up playing everything from basketball to skateboarding and, in Josh's case, flirting with the idea of following his father's footsteps to the NCAA gridiron.
"I was blessed with the opportunity to play football and baseball for all four years at the Naval Academy," said David Lowe, a former linebacker and right-handed pitcher. "Joshua's first love was football, and Nathaniel has always loved baseball."
The competitive nature of their hyperathletic childhood put their parents in a difficult spot. More than two years older than Josh, Nathaniel had a strength and size advantage on his brother, who was much faster, even at a very early age. No matter which sport they played, their father aimed to create a level playing field.
"Whenever they could get close, it was always a mismatch for Joshua, but as long as Joshua could stay away from [Nathaniel], it was a mismatch for Nathaniel," said David Lowe, who was drafted by the Mariners 115th overall in 1986, one spot ahead of Joe Girardi. "We did our best to make sure that Nathaniel didn't absolutely destroy him."
The younger sibling did indeed survive his childhood and as a freshman joined his brother on the varsity baseball team at Pope High School in Marietta, Georgia. Their run as amateur teammates culminated in a 2013 AAAAA State Championship, with Nathaniel delivering a walk-off grand slam in the first game of the title series as a senior.
Nathaniel moved on to Mercer University, then St. Johns River State College in Palatka, Florida, before finishing his collegiate career at Mississippi State, where we owned a .348 batting average in his lone season in Starkville. When it came time for Josh to pick a school, he committed to Florida State University and attempted to talk his parents and Seminoles baseball coach Mike Martin Jr. into letting him play both baseball and football.
But each was slated to be an early-round Draft selection in 2016. With their paths seemingly destined to cross on opposite sides of the diamond eventually, Nathaniel had a scouting report on his brother, or at least a comparison to his own game. The assessment was strikingly similar to what their parents saw when they were children -- the younger brother was speedier, the older more powerful.
"Josh has a couple more options at the plate than I have," the 22-year-old said. "The bunt's in play, even though he can hit the ball over the fence at any given time on just about any given pitch. I've kind of got to play to my strengths of hitting the ball over people's heads rather than trying to hit it on the ground and run it out."
The knock on Nathaniel has always been his lack of wheels -- his brother's polar opposite. That opinion followed him, even on the football field, where he struggled to fit into his high school's offense as a quarterback despite having a big arm.
"He was always told by all the coaches of how slow he was and it absolutely rips my heart out to think about that brand they put on him," his father said.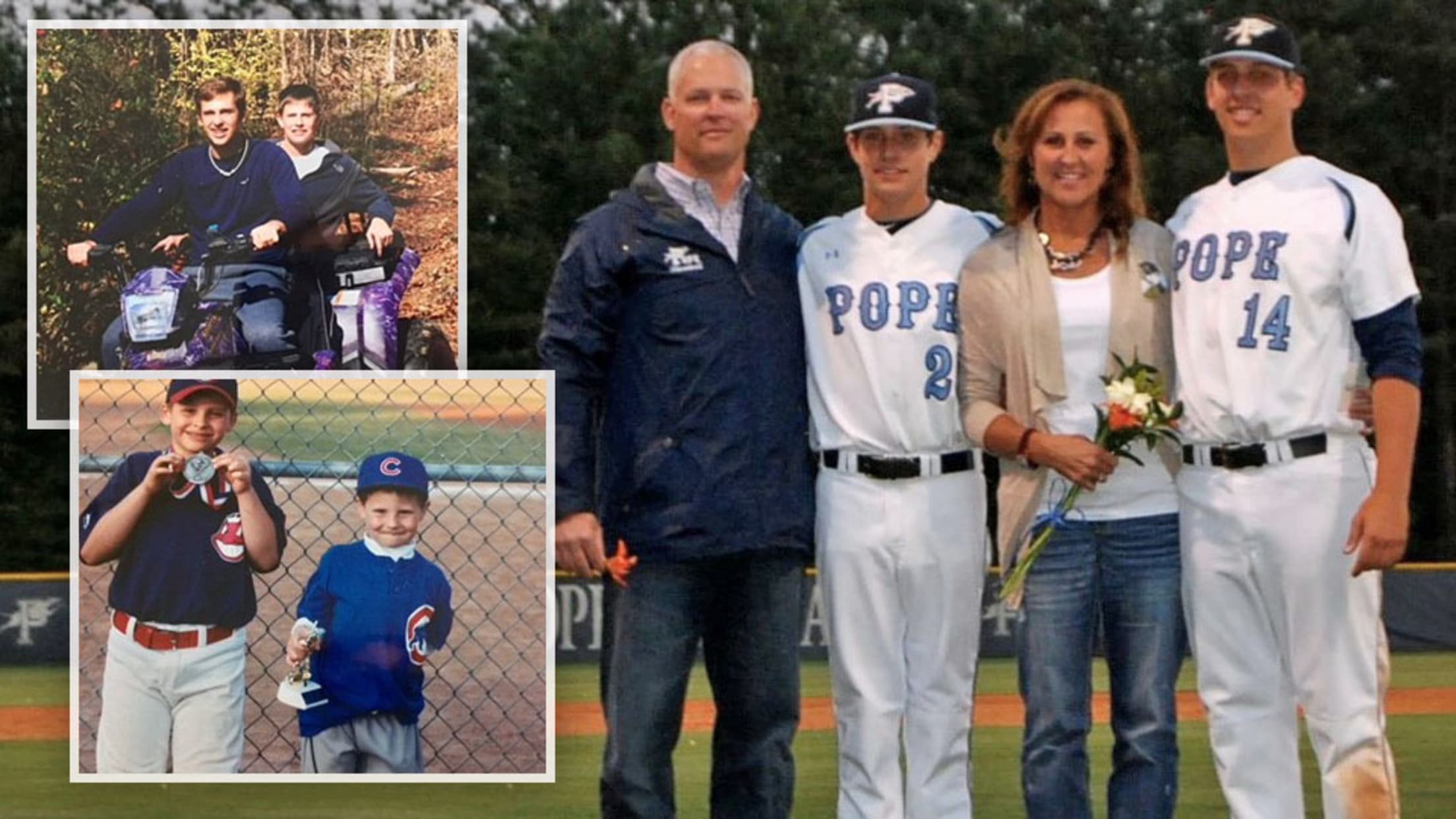 Although the brothers have rarely been able to avoid comparison, it never strained their relationship, even in competition. Wendy Lowe remembers that her older son was prone to trying new things but Josh, while willing to follow his brother, tended to show apprehension sooner or later.
"Nathaniel was more of a risk taker. Joshua was not," Wendy Lowe said. "If Nathaniel wanted to do something, it was, 'I'm going to watch videos. I'm going to watch it on television. I'm going to Google how to be the best' ... and Joshua's kind of looking back going, 'I don't know if I want to do this.'"
The roles reversed when the time came for the 2016 Draft, as the older brother played the follower.
The Rays met the family's expectations when they selected the high school senior with the 13th overall pick. The Draft coincided with Mississippi State's super regional matchup against Arizona at Dudy-Noble Field, so on the second day the Lowes drove to Starkville to be with Nathaniel when his name was called.
David Lowe had been told by people he trusted that his eldest son should be taken between the second and seventh rounds, but he wasn't selected until the 13th round, 390th overall. The shock and disappointment quickly came with a silver lining when the family learned that he would go to the same team as his brother.
"It was pretty cool being able to be there with the four of us as a family and see him get drafted to the same team," Josh, the Rays' No. 10 prospect, said. "It's pretty crazy that there's a 1 in 30 chance of that happening. It was just as much of a surprise to me as it was to everybody else."
Nathaniel was proud to join a team that thought his brother was worthy of a first-round pick and willing to show their faith in both of them, but there were also natural questions about how their lifelong friendship would evolve as they entered pro ball.
"They're brothers -- they're going to squabble over little things. They've got different personalities," Wendy Lowe said. "I wasn't sure how it was going to go at [Class A] Bowling Green and I saw their relationship obviously get closer."
The brothers spent their debut summer apart, with Nathaniel playing for Class A Short Season Hudson Valley and Josh in the Rookie-level Gulf Coast and Appalachian Leagues. But in 2017, the duo made their first appearance for the Hot Rods.
"We figured after we got drafted [that] it would happen at some point," the 20-year-old said. "It gets tough for a lot of players that are away from their family all the time. Having another family member here besides a teammate, it's a pretty cool feeling."
Nathaniel lasted only 63 games in the Midwest League, batting .293 with 18 extra-base hits and 35 RBIs before being elevated to Charlotte for the final 52 games of the season. Meanwhile, Josh stayed in Bowling Green and hit .268 with 36 extra-base hits and 22 stolen bases.
It seemed that the older brother was on track to stay a step ahead of the younger, but both were assigned to the Florida State League to start 2018. Through 45 games, Nathaniel leads the loop with a .380 batting average, a .459 on-base percentage and a .626 slugging percentage. He's also first with 43 RBIs, 36 runs, 15 doubles and 107 total bases. Clearwater's Darick Hall leads the league with 11 homers, but the older Lowe is second with nine.
"You watch him play every day and there's really no more reason that he should still be in this league," Josh said. "It's all just a part of the process, and I know that he's just trusting that. ... But right now we're just going to enjoy it while we still have it."
Nathaniel's success at the plate has inspired some speculation from the family about how fast another organization might promote a player generating those results, but those gripes quickly turn to statements of praise when they consider their unique situation.
"We will say it again and until the cows come home: we are very blessed to have them together," David Lowe said. "We are very blessed to have them in the same organization. But, quite frankly, Nathaniel is ready for Double-A."
Out of the gate, Josh was also a major contributor to the FSL's best offense, batting .304 with seven extra-base hits and seven stolen bases in April. He's had a difficult May, however, hitting .174 in 86 at-bats. Luckily, if he needs any advice on how to turn things around, he's pretty close with the league's best hitter.
"For the most part, I kind of back off and let him play, just because I don't ever want to seem like I'm telling him what to do," Nathaniel said. "If he comes to me with questions here or there, then I have no problem telling him to kind of simplify everything.
"Any time he needs help, I'm there for him. ... If he's struggling, he's going to find a way through it, because I can't hit for him and I can't field for him, so he's going to grow up on his pace and I'm just happy to play with him."
While he preaches simplicity, Nathaniel's leadership shines through while he champions the efforts of some of the less-recognized batters in a lineup that contains as many as four of the Rays' Top 30 prospects on any given day.
"We've got ... guys who are just your average pick in the Draft that showed up and figured out, 'Hey, it's time to play,'" Nathaniel said. "One guy that's in this league that doesn't get half the credit that he deserves is Peter Maris."
Maris, a non-drafted free agent from UC Santa Barbara, is hitting .337 while slotting in at three different positions, a number he cut down from six different spots in 2017.
The Lowe brothers live together with roommate and sixth-ranked Rays prospect Lucius Fox in a three-bedroom townhouse in the Riverwood retirement community in Port Charlotte. Josh joked that the combined ages of the three ballplayers matched that of the average Riverwood resident.
"We've always been huge fans of each other and we just developed a great relationship over the years playing together, and the household is so peaceful," Fox said. "We all get along and we all just try to help each other. Whether it's in the house or even on the field if we see something that we can help each other with, we're willing to do that. ... It's been an amazing experience and I have never met such a great group of guys, honestly. Both of them are good dudes."
Feeling at home there hasn't been difficult for Fox, who's been treated like a de facto third Lowe brother. The siblings' paternal grandfather, Edward Lowe, even goes as far as to call Fox and teammate Miles Mastrobuoni his adopted grandsons.
"When we first moved in together, their mom came down and she told me to get in between them if they ever argued and just keep them in order," said Fox, whose own family still lives in his native Bahamas. "But they haven't been arguing. At least not yet. If it's like a little disagreement, it'll blow over easily, but I make sure that I step in and I make sure that everything is calm between the two. They haven't been giving me any trouble."
Gerard Gilberto is a contributor to MiLB.com. Follow and interact with him on Twitter, @GerardGilberto4.