New faces step into spotlight for Dodgers
Peters, Ruiz, Beaty, Rios cement status as top-flight prospects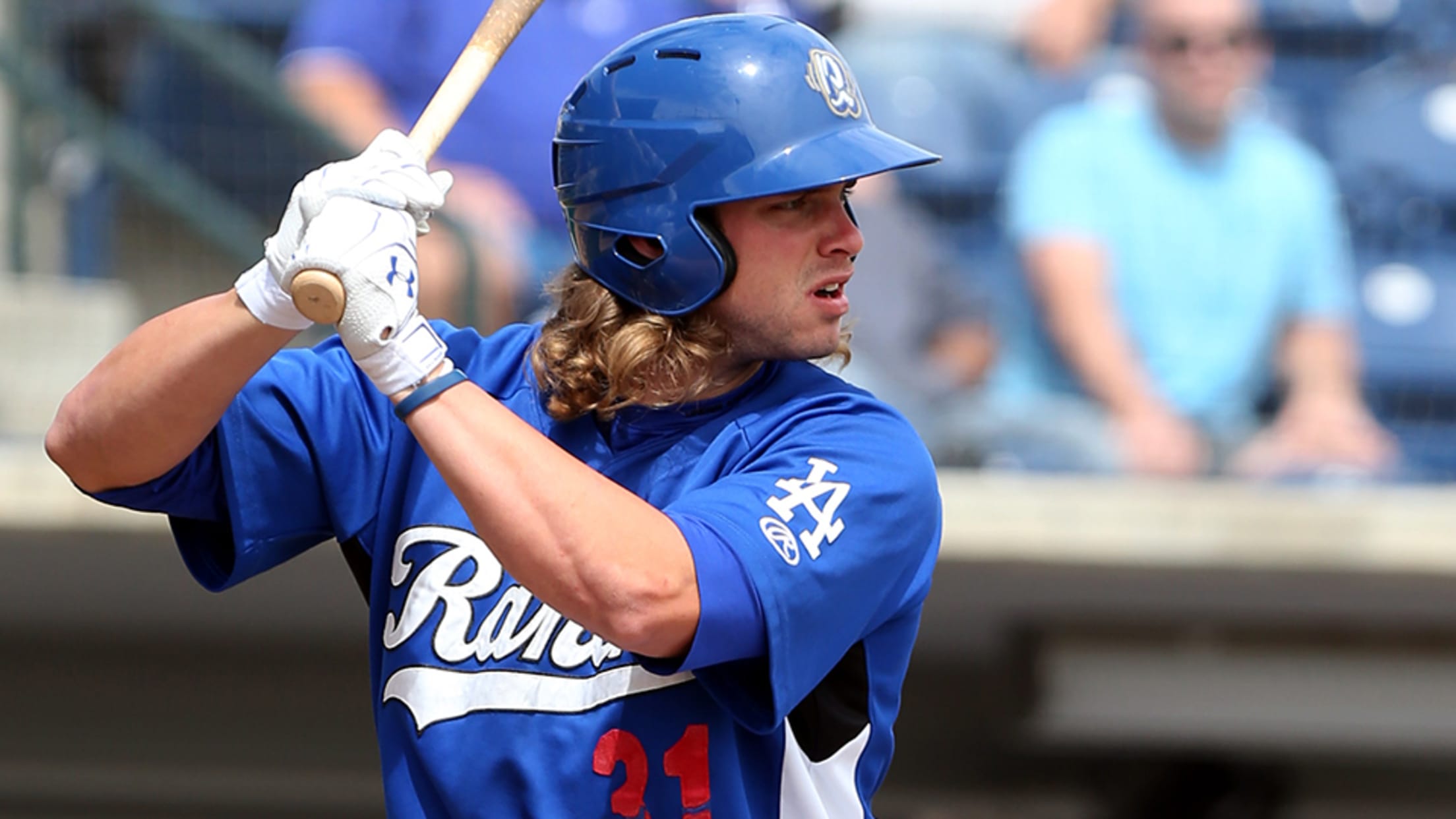 After putting together an MVP season in the California League, DJ Peters headed to the Arizona Fall League. (Donn Parris/MiLB.com)
This offseason, MiLB.com is taking a look at the most outstanding campaigns by players in each system across Minor League Baseball and honoring the players -- regardless of age or prospect status -- who had the best seasons in their organization.Change is afoot in the Dodgers system, but there's no
This offseason, MiLB.com is taking a look at the most outstanding campaigns by players in each system across Minor League Baseball and honoring the players -- regardless of age or prospect status -- who had the best seasons in their organization.
Change is afoot in the Dodgers system, but there's no reason for fans to be fearful.
The crop of youngsters that garnered so much attention over the last few years has graduated. The front office has endured a few departures since the end of the season, including that of former farm director Gabe Kapler, whom the Phillies hired to manage the big league club.
But there's every reason to believe that the player development department -- which Kapler revamped with a number of initiatives like a focus on nutrition and having a Spanish-speaking coach at every affiliate -- will be carefully restaffed. As for young prospects worthy of excitement, the Dodgers still have several, some of whom are relatively new to pro baseball and some of whom broke out this season.
Yadier Álvarez, Mitchell White, Jordan Sheffield and Dennis Santana are among the touted pitchers not named below. Gavin Lux, who turns 20 on Thanksgiving, stole 27 bases and had a stellar final month of his first long season. Johan Mieses, who's fallen off some rankings entirely, was good for 24 homers -- 16 at the Double-A level.
Overall, the Dodgers' had the winningest National League farm system (.562), behind only the Yankees (.586) and Twins (.592). Double-A Tulsa, Class A Advanced Rancho Cucamonga, the Rookie-level Arizona League Dodgers and Rookie-level Ogden all made the playoffs, with the Raptors winning their first championship. In the Dominican Summer League, the DSL Dodgers 2 topped the DSL Dodgers 1 in the championship game. It's only a Rookie-level circuit played at complexes, but you can't get much more dominant than that.
Dodgers Organization All-Stars
Catcher -- Keibert Ruiz, Great Lakes (63 games), Rancho Cucamonga (38 games):
The Dodgers honored Ruiz as the Branch Rickey Minor League Player of the Year, and why not? After playing his way out of the Midwest League, he
made an immediate impression
in the California League and
earned praise
from Quakes manager Drew Saylor. By the end of the season, he'd put up a .316/.361/.452 slash line and wowed with his defense.
The 19-year-old switch-hitter also jumped to the Texas League for the Championship Series, seeing action in the last two games and surprising Tulsa manager Scott Hennessey with his maturity.
"He has a feel for the game of baseball way beyond his years. I was shocked," Hennessey said. "It was like he was there the whole year. ... He expected to catch all five games, and that's exactly what you want [from] a player."
Honorable mention: Kyle Farmer, whose time in the Minors was limited by reaching the Majors. In addition to batting .317 between Tulsa and Triple-A Oklahoma City, he made national headlines on July 30 with a walk-off double against the Giants in his first big league plate appearance.
First baseman -- Edwin Ríos, Tulsa (77 games), Oklahoma City (51 games): Playing at the top two levels, the left-handed-hitting Rios batted .309/.362/.533 with 24 roundtrippers, 34 doubles and a system-best 91 RBIs. This followed a 27-homer season across three levels.
"He backed it up. He proved it," Hennessey said. "He's a professional hitter. He solidified that he is a Major League prospect. What position he's going to play, I don't know -- it'll be dictated by who's there. But he can play first, he can play left field, he can play third. But he can hit. His bat is the key."
Honorable mention: Although he wasn't as consistent as Rios, Ibandel Isabel led the system with 28 homers. Luis Paz clubbed 21 dingers in 99 games at the lower levels.
Second baseman -- Willie Calhoun, Oklahoma City (99 games), Round Rock (29 games), Texas (13 games): Calhoun was traded to Texas in the July 31 Yu Darvish deal, but he still logged more time at second base (731 2/3 innings) than anybody in the Los Angeles system and he socked 23 homers while batting .298 in Dodger blue.
Third baseman -- Rylan Bannon, Ogden (40 games): Bannon, an eighth-round pick out of Xavier University, made a seamless transition to the pros, generating a .336/.425/.591 slash line. Raptors manager Mark Kertenian credits Bannon's work with hitting coaches Pedro Guerrero and Justin Viele.
"The three of them meshed very well," Kertenian said. "The evaluation of the opposing pitchers and the approach Rylan would take and his execution was done at a very high level. He has an excellent combination of intelligence and athleticism."
His defense at Xavier got as much attention as his bat, and he showed why in the Pioneer League.
"He made some of the most athletic plays that we'd seen all year anywhere," his skipper said. "Some were on the first pitch of the game. He was just ready. The first pitch is driven down the line, and there's Rylan diving, belly-flopping into foul ground, making the throw to first base. That's how you start a game. He's got a live body, and he's in rhythm and motion on every play."
Shortstop -- Drew Jackson, AZL Dodgers (three games), Rancho Cucamonga (66 games), Tulsa (29 games): Playing his first season in the Dodgers organization, the 2015 fifth-rounder got on base at a .358 clip, stole 21 bags and socked 21 doubles, despite missing most of June with an injury. He did strike out 99 times in 98 games and his .247 average is a far cry from the .358 mark he put up in his debut season in the Mariners organization.
"I think he's going to hit for more average than he has. He's still learning who he is as a hitter," Hennessey said. "The launch angle improved a lot, and the older and more mature he gets as a hitter, he's going to hit for a higher average and keep the power. He's a toolshed. He's a tooled-up guy. The sky is the limit with him."
Honorable mention: Erick Mejia is likely just as deserving of this spot as Jackson (who got on base at a slightly better rate and had a higher slugging percentage), having played 127 games, 102 in the Texas League.
Outfielders -- DJ Peters, Rancho Cucamonga (132 games): Peters, who's playing for Glendale in the Arizona Fall League, had about as noteworthy a first full season as possible, slugging 27 homers, 29 doubles and five triples while batting .276/.372/.514 en route to Cal League MVP honors. He also picked up a MiLBY for going yard twice in the same inning against rehabbing Madison Bumgarner.
Alex Verdugo, Oklahoma City (122 games), Los Angeles (15 games): Anybody who's paid much attention to the Los Angeles system over the last few years has had an eye on Verdugo. This season, he batted .314/.389/436 in the Pacific Coast League, roping 27 doubles and finishing as the Dodgers' No. 2 prospect.
Romer Cuadrado, Ogden (64 games): In his first time playing out of a complex, Cuadrado led the system with a .335 average and notched 26 extra-base knocks and 11 steals in a short season.
"[He] worked his way into being an important leader on our team, even at a younger age," Kertenian said. "Whether or not he was hot at the plate, he was playing hard every game. He was our most consistent player all year, and he managed himself incredibly well."
Utility -- Matt Beaty, Tulsa (116 games): Playing both corner infield positions and seeing time at second base and both corner outfield positions, Beaty led the Texas League with a .326 batting average en route to Player of the Year honors.
"He hits velocity, hits left-handers, hits breaking balls. There's nothing he can't do offensively," Hennessey said. "On defense, you can plug him into first, third, left."
The Drillers manager cherished telling the 2015 12th-rounder that he'd be heading to the AFL.
"I guess the first thing that comes to my mind is a kid in a candy store, because he hasn't been touted as a prospect or a guy who would maybe get to do that," Hennessey said. "He forced everybody's hand. He earned it and he deserved it."
Honorable mention: Tim Locastro, who played several positions while batting .308/.383/.454 across the Minors' top two levels and leading the system with 34 steals.
Right-handed starting pitcher -- Walker Buehler, Rancho Cucamonga (five starts), Tulsa (11 starts), Oklahoma City (12 games, three starts), Los Angeles (eight games): After the start of Buehler's career was delayed by Tommy John surgery, the Vanderbilt product skated through three levels in his first complete season, adjusting to a move to the bullpen in time to get into some big league games during the stretch run. Along the way, he struck out 125 over 88 2/3 innings while posting a 3.35 ERA.
"The makeup, his work ethic, he's a student of the game. On nights he wouldn't pitch, he would sit or stand right next to me," Hennessey said. "He's in the game all the way on the four nights he's not pitching, studying hitters, how to get them out. That's what's going to get him over the hump. His stuff is electric and he's a tremendous athlete. You're not going to see guys like that. Guys like that don't grow on trees."
The Dodgers named him their Minor League Pitcher of the Year.
Honorable mention: Wilmer Font was the Pacific Coast League Pitcher of the Year after going 10-8 with a 3.42 ERA and a circuit-best 178 strikeouts.
Left-handed starting pitcher -- Caleb Ferguson, Rancho Cucamonga (25 games, 24 starts): Ferguson was a 38th-round pick three years ago. This season, he led the Cal League with a 2.87 ERA while striking out 140 over 122 1/3 innings and going 9-4 for the Quakes. The 21-year-old had three consecutive double-digit strikeout starts from July 27-Aug. 6.


Relief pitcher -- Miguel Urena, Ogden (19 games), Great Lakes (16 games), Tulsa (one game): Urena led the system with a 2.71 ERA while recording 10 saves in 11 chances and frequently turning in multiple-inning appearances across three levels. The 22-year-old right-hander has pitched in the organization since 2013, but this was his first year being used exclusively as a reliever. At 6-foot-8 and 210 pounds, he should be intimidating whenever he comes in.
"If he [entered before the ninth], he truly treated it like he was closing out the last inning of the game," Kertenian said. "That was a big part of his success. He took every opportunity he had very seriously."
Josh Jackson is a contributor to MiLB.com. Follow and interact with him on Twitter, @JoshJacksonMiLB.