No signs of rust in Calixte's second game
Royals' No. 9 prospect hits two home runs, including walk-off shot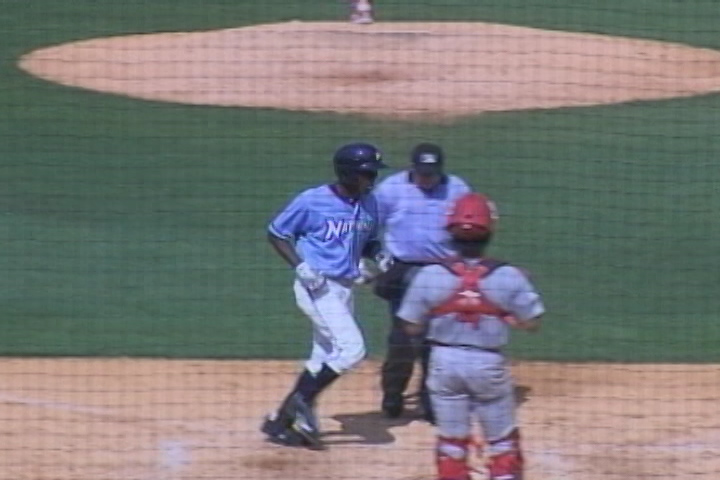 By Mark Emery / MiLB.com | May 11, 2014 9:30 PM
Welcome back, Orlando Calixte.
In just his second game of 2014, the Royals' No. 9 prospect went 4-for-5 with a pair of solo home runs, including a walk-off blast in the ninth inning that sent his Double-A Northwest Arkansas club to a 9-8 win over Springfield at Arvest Ballpark.
"He's been here a couple days and he's just really focused," Naturals hitting coach Andre David said. "He understands what he needs to do, and it's just carrying over from how he works to the game itself."
Calixte's late start was reportedly the result of visa issues. He arrived just in time to help lead Northwest Arkansas to its third straight win.
Batting sixth from the DH slot Sunday, Calixte also collected a pair of singles and stole his first base of the season. A day after he played shortstop and went 0-for-4, the Dominican Republic native singled in the second and third before going deep in the fifth and ninth. The game was Calixte's first with multiple roundtrippers.
"Yesterday, his timing was maybe a little off. But other than that, he competed well and his selection was really good," David said. "Going into today, he continues to prepare himself mentally, physically. Today, he just had real good plate appearances. He really hunted out his pitch. His selection was good today, his approach was good, and everything is history. He swung the bat real well."
Sunday was Calixte's third career four-hit game and the first since May 28, 2012, when he went 4-for-7 in a 12-inning game for Class A Kane County.
Kansas City signed the 22-year-old as a non-drafted free agent in 2010. Last season, he appeared in 123 games for Northwest Arkansas, posting a .250/.312/.368 slash line with eight home runs, 36 RBIs and 14 steals in 25 attempts.
"He's got tremendous ability," David said. "He's got instincts. Always in the right place on defense at the right time. He's got leadership qualities about him. He has a presence about him. For him, his bat speed of course. But he's just got all those other ingredients. Everybody seems to gravitate around him. He's always got a smile on his face. He loves to play, he loves to compete. All those things."
Calixte hasn't drawn a walk or struck out in nine at-bats. A season ago, he had 131 strikeouts and 44 walks (including two intentional) across 484 at-bats.
"He's got it there -- it's just developing the consistency now that he's back with us," David said. "We try to keep things in perspective and real simple. And that way he'll be more effective, more efficient, more persistent, more consistent."
Two of Calixte's teammates also went yard Sunday. Jorge Bonifacio, Kansas City's No. 3 prospect, smacked a grand slam in the third and Justin Trapp hit a solo shot in the seventh.
Springfield's Curt Smith hit a two-run homer in the sixth. Smith, Patrick Wisdom and Matt Williams had two RBIs apiece for the Cardinals.
Mark Emery is a contributor to MiLB.com. Follow him on Twitter @Mark_Emery. This story was not subject to the approval of the National Association of Professional Baseball Leagues or its clubs.
View More