Norris keeps dealing in second Triple-A start
Jays top prospect records career-high 13 strikeouts over 5 2/3 innings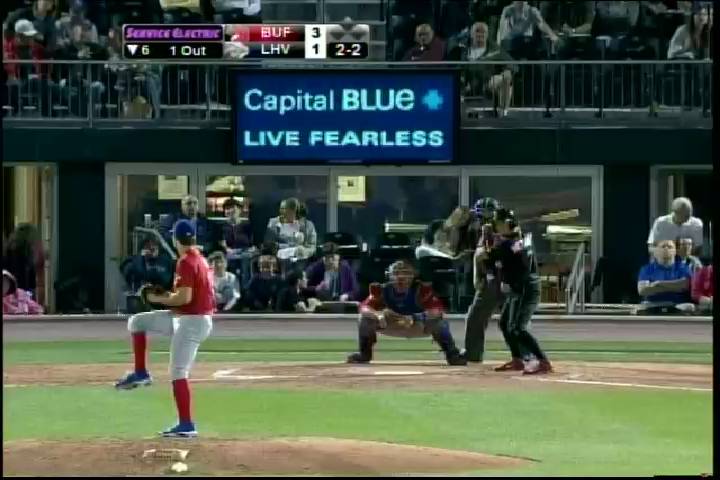 By Mark Emery / MiLB.com | August 16, 2014 1:31 AM ET
Daniel Norris is making quite a first impression in the International League.
Five days after tying a career high with 10 strikeouts in his Triple-A debut, the Blue Jays' top prospect established a new mark by fanning 13 in Buffalo's 7-1 win at Lehigh Valley on Friday.
Two starts into his Bisons' tenure, he's already the first pitcher in franchise history to post back-to-back double-digit strikeout performances.
"I want to come in and show these guys -- it seems like almost all of them have been in the big leagues -- and I wanted to come in and just show them that I want to help them win," said Norris, who did not issue a walk. "I want to give them a chance to win each time I go out there and compete and show them that I'm a competitor out there."
The 2011 second-round pick required only 85 pitches to get through 5 2/3 innings and notch 13 punchouts, nine of which were swinging. He struck out the side in the second and fourth innings while ringing up two whiffs in the first, third and fifth. His last batter, Cesar Hernandez, went down swinging for the second out in the sixth.
As was the case with his IL debut, in which he held Durham to two hits over six scoreless innings, Norris heaped praise on catcher Mike Nickeas. The veteran backstop apparently had some nice things to say about the southpaw's latest performance -- and he wasn't the only one.
"He comes out and is like, 'Man, that was really spectacular,' when [manager Gary Allenson] came out and took the ball from me," Norris said of Nickeas. "The guys in the infield came up and said the same thing, that it was just really impressive.
"It's really cool to get the fist bumps and stuff like that from guys like Sergio Santos and Kyle Drabek and Steve Delabar, guys that have been there."
Hernandez led off the fourth with a single for the IronPigs' first hit. They manufactured their lone run in the fifth, when Jim Murphy hit a leadoff triple and Tony Gwynn Jr. singled him home.
Norris fell one strikeout shy of Buffalo's modern-era record, established by Marcus Moore on Aug. 10, 1997 at Louisville. The 21-year-old left-hander is just the third Bisons pitcher to record multiple double-digit strikeout outings, joining Rick Reed and Matt Harvey. He's also the club's fourth pitcher to whiff at least 12 in a game, along with Mike York, Albie Lopez and Moore.
"If I get ahead, I feel like I've earned the right to try to punch him out. And then you go for it," Norris said. "But you never want to get behind in the count."
The Tennessee native has compiled an 11-1 record and 2.22 ERA in 23 starts across three Minor League levels this season. Over 113 2/3 innings, he's struck out 148 -- which ranks fourth in the Minor Leagues -- and issued 36 walks, putting together a 1.08 WHIP and .211 opponents' average.
"This offseason, I worked my butt off because I knew I had to," Norris said. "I don't know if I had any kind of expectations, really. It's tough to have expectations and it's tough to set goals for yourself, just because a lot of those things are out of your control.
"I know a goal of mine was just to stay healthy the entire year and just answer the bell every fifth day and show them that each time I go out there I'm bringing my best. Even if I don't have my best stuff, you know you're going to get all my effort."
Ryan Tepera relieved Norris and gave up two hits and two walks in 2 1/3 scoreless innings before Santos struck out the side around an error in the ninth.
Mark Emery is a contributor to MiLB.com. Follow him on Twitter @Mark_Emery. This story was not subject to the approval of the National Association of Professional Baseball Leagues or its clubs.
View More