Snappers' Hargrove blasts off on career day
Athletics prospect crushes three home runs, collects seven RBIs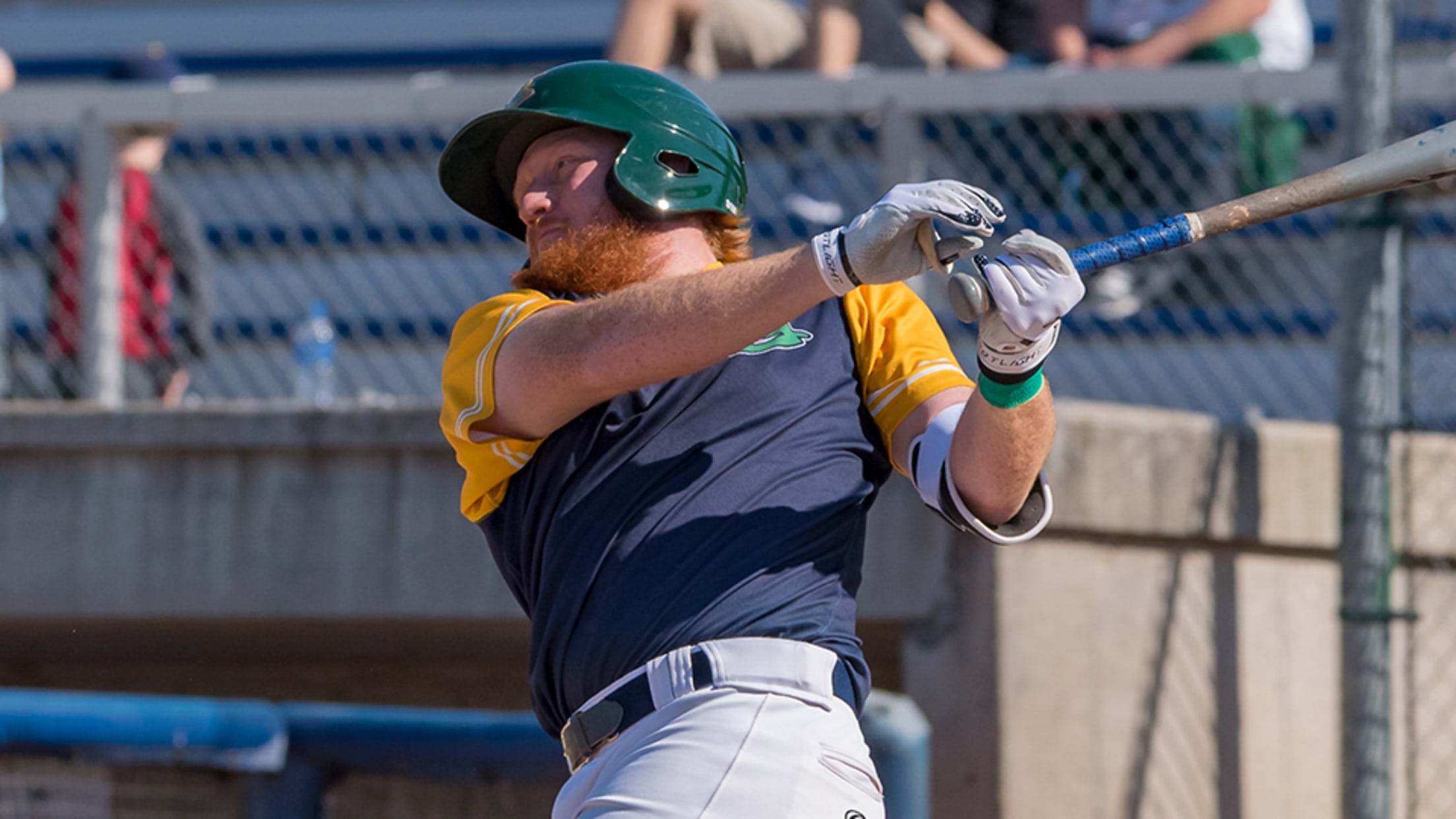 Hunter Hargrove ranks second on the Snappers with a .492 slugging percentage. (Justin Nuoffer/Beloit Snappers)
In a conversation with roommate Logan Farrar a few days ago, Hunter Hargrove came to the realization that most of his power comes in bunches. Though he hadn't cracked the home run column this season, the Athletics prospect had a feeling things would change in the not-so-distant future. That time came
In a conversation with roommate Logan Farrar a few days ago, Hunter Hargrove came to the realization that most of his power comes in bunches. Though he hadn't cracked the home run column this season, the Athletics prospect had a feeling things would change in the not-so-distant future.
That time came Saturday, as Hargrove produced career highs with three homers and seven RBIs in a 4-for-5 effort to power Class A Beloit to a 10-5 victory over Burlington at Community Field. It was the first time anyone on the Snappers has gone deep three times in one game since Frank Jaramillo did on Aug. 19, 1999.
Gameday box score
"It's just one of those things you always dream about," he said. "When you're little you always say, 'Hey, go up there and hit three home runs in a game.' I didn't have any home runs going into this game, so it's kind of fun just being able to piece that game together."
Hargrove, who had one Minor League homer before Saturday, hit .266/.309/.364 between the Rookie-level Arizona League and Class A Short Season New York-Penn League last year. Moving up to the Midwest League this season, the 23-year-old first baseman had a .315/.364/.402 slash line with 11 doubles and 11 RBIs through his first 35 games.
His three-homer performance might have surprised some, but Hargrove was working toward big results all season.
"I feel like it's been a long time coming," he said. "I've been barreling up balls this whole year and just driving the gaps. I haven't been trying to hit any home runs, it's just been trying to hit the ball hard. Today was one of those days where I saw the ball up and put good wood on it. Luckily, it went out."
Hargrove flied to right in his first at-bat but delivered in his second trip. Down in the count, 1-2, against Mitchell Traver in the fourth inning, the 2017 25th-round pick slugged a solo shot over the left field fence, ending a drought of 198 at-bats without a homer. As he circled the bases, he felt a sense of relief.
"After that first one, I came into the dugout and [my teammates] kind of gave me the silent treatment," he said. "It was funny. I was talking to [Farrar] the other day and most of my home runs come in twos -- even back in summer ball a few years ago in college. It's one of those things where I feel it and am kind of hitting the ball well."
In the fifth, Hargrove smacked an 0-2 offering to center and legged out his 12th double of the year. The Texas Tech product broke out the power stroke following a single from Mickey McDonald and a walk by eighth-ranked A's prospectLazaro Armenteros in the seventh. Facing reliever Eduardo Del Rosario, Hargrove connected on an 0-1 pitch and deposited it over the left field fence.
Seeing Del Rosario and his slider twice in the middle of the game led to positive results against the right-hander, according to Hargrove.
"My third [at-bat], I hit a double into right-center," he said. "And I was able to face the same guy in the next AB and he threw me the same pitch that I hit a double on. But I was able to hit it out that time. It's going up there with the confidence right now and getting good pitches to hit, and I was able to hit them."
In the final frame, Armenteros and seventh-ranked Austin Beck drew consecutive walks to set the stage for the Texas native. On the sixth pitch of the at-bat, he slugged one to the opposite field for his final dinger of the night. The righty-swinging Hargrove admits he had never before homered to right field and was happy to check that feat off the list.
"I've never ever been able to go that way," Hargrove said. "But I know I have the power to. And we've been working with [hitting coach Juan Dilone]. I've been working really hard with him. It's just one of those things where I was able to. I couldn't have done it without the guys in front of me getting on base. It was seeing a lot of pitches -- they were seeing a lot of pitches and they got some walks. That maybe led to [Burlington] making mistakes."
With four extra-base hits, he boosted his average to .333 and his OPS to .871, which are good for second and third on the team, respectively. Hargrove credits the extra preparation he's put in with Dilone since they got together at the team's complex in Mesa, Arizona, this spring.
"The biggest thing with [Dilone] is that we've been working on staying on my backside," Hargrove said. "Sometimes I tend to leak forward a little bit. And we've been working hard and I've been staying back since Spring Training started. At first I was lining out a lot and then those lineouts started turning into base hits."
Farrar belted his fifth dinger of the year and Trace Loehr went 3-for-5 with his 17th triple as a Snapper, passing Brian Finley for the all-time team lead.
Andrew Battifarano is a contributor to MiLB.com. Follow him on Twitter, @AndrewAtBatt.