Padres Prospect Primer: Margot goes West
Outfielder leads new blood in system revitalized by Kimbrel trade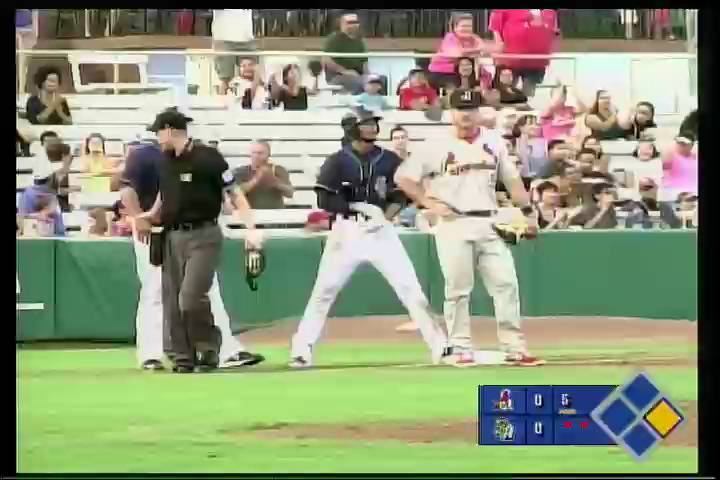 By Josh Jackson / MiLB.com | March 28, 2016 10:30 AM
Some players are on the verge of stardom, others are entering a crucial phase of their development and still others are getting their first tastes of full-season ball. With the 2016 season approaching, MiLB.com takes a look at the most intriguing prospects from each MLB organization.
Shining star: Manny Margot, CF
With one November trade, San Diego brought in four prospects now considered by MLB.com to be among the system's Top 30, including Margot, who rates No. 1 as well as baseball's No. 45 overall. The 21-year-old center fielder is prototypical for his position, having swiped 39 bags while slashing .276/.324/.419 between the Class A Advanced and the Double-A levels in the Boston system last year. Margot got into seven Cactus League games this spring and thrived, batting .318 with three doubles, a triple, five RBIs, seven runs scored and a stolen base.
He impressed Padres manager Andy Green during his time in big league camp this spring, not only with his physical skills but also a heads-up approach to his overall game, and talked about the keys to his early success.
"It's really founded on playing hard, doing the little things," Margot said from Arizona. "I pride myself on being someone who can pick up on things quickly and then keep going -- somebody who can hit, somebody who can run, somebody who can field, somebody who can do everything."
He's been assigned to Triple-A El Paso for the start of the season, but depending on how he does there and how things play out for Jon Jay and the rest of the Padres outfield, it's not hard to imagine Margot in the Majors at some point this year.
Major League-ready: Hunter Renfroe, RF
Like Margot, Renfroe will only be in the Pacific Coast League as long as entrenched big league outfielders are healthy and producing for the Padres. With Matt Kemp and Rule 5 pick Jabari Blash set to handle right field at Petco Park, the 2013 first-rounder will begin the campaign getting everyday playing time with the Chihuahuas. Don't take that or Renfroe's so-so performance in the Cactus League to mean he needs significant development in the Minors to reach his potential.
"He's a big part of what we're doing here in the future," Green said in a press conference on March 14, the day Renfroe was cut from big league camp. "I'm of the persuasion you don't keep a kid up here and see his at-bats dry up. Maybe he comes here, hangs around and gets more of a feel for what the big league life is like. But at the same time, he needs to get going, needs to get ready for his season."
The 24-year-old native of Mississippi has a cannon arm -- he notched two outfield assists in his six Spring Training games on the big league side -- and a powerful stroke capable of generating double-digit homers in the Majors. After a slow start to 2015 -- he was batting .220 through 50 Double-A games on June 6 -- Renfroe's bat came so sharply to life that he was in Triple-A by mid-August, where he batted .333 with 13 extra-base hits over 21 games. He finished with 20 homers between the two levels, making it the second time in two full seasons as a pro that he reached that milestone.
Breakout prospect: Michael Gettys, CF
At 20, Gettys is young enough, and more than talented enough, that it'd be foolish to call this a make-or-break campaign. He does, however, have the opportunity to demonstrate just how valuable a prospect he can be after failing to hit his potential in his first full season last year.
The 2014 second-rounder batted .231 with 162 strikeouts compared to 28 walks over 122 games in the Class A Midwest League, but when he put the bat on the ball it traveled far. Of his 114 hits, 39 were for extra-bases. Despite a .271 on-base percentage, he also managed to swipe 20 bags.
Gettys is a standout defensive center fielder -- he rates a 70 in both speed and throwing on the 20-80 scouting scale, and a 65 in fielding -- and if he controls his at-bats and makes more consistent contact this season, he'll blossom into a player who'd be a top five prospect in just about any system.
Full-season debutant: Jacob Nix, RHP
After an unusual set of circumstances voided his verbal agreement with the Astros in 2014 and made him ineligible to pitch for UCLA, Nix ended up a third-round pick last year out of a post-graduate program at Florida's IMG Academy. Now, he comes into his first full season as a 20-year-old with low-to-mid-90s heat, a solid curveball and a changeup he's spent the offseason and Spring Training improving.
"I didn't even need to throw it that much last year," Nix said of the changeup. "I pretty much relied on my two-seam and my curveball as my get-out pitch, but I really want to work on my changeup. My main issue is that I would always try to over-throw it. I just want to get comfortable with it."
The righty added that he feels "absolutely" comfortable throwing his curve in any count. Although the Padres are likely to keep the California native out of the chilly climes of the Midwest League and in extended spring camp at the very start of the year, he figures to be facing full-season talent within a few weeks.
Back and healthy: Jose Rondon, SS
The Padres acquired Rondon from the Angels in the Huston Street deal of July 2014, but his first full season in the organization was cut short by an elbow fracture he sustained 28 games after earning a promotion to Double-A San Antonio, where he'd gone 19-for-100 (.190). He profiles to hit with much more consistency than that and in fact has a .292/.347/.388 slash line through more than 1,400 professional at-bats since 2011. His defense has improved over the last two seasons, and MLB Pipeline believes he has the "tools to become a big-league regular at shortstop."
On the mend, Rondon is in a system deep in middle-infield talent -- deeper than it was when he was injured -- and the team's No. 5 prospect will try to regain his bearings and distinguish himself with San Antonio at the start of the year.
More to keep an eye on: As noted, the Padres are rich in middle infielders. Shortstop Javier Guerra and shortstop/second baseman Carlos Asuaje were among San Diego's prize gets in the Craig Kimbrel deal, and Ruddy Giron played well in the Midwest League at age 18 last year. To varying degrees, they each have the chance to develop into above-average big leaguers. ... Class A Fort Wayne could end up with a pretty special rotation for part of the season as Logan Allen, Austin Smith, Enyel De Los Santos and Nix could, at some point, end up there at the same time this year. ... In December, the Padres nabbed outfielder Jabari Blash from the Mariners in the Rule 5 Draft and acquired righty Luis Perdomo from the Rockies in a trade for future considerations. Perdomo appears likely to open the year in the San Diego bullpen, and the club hasn't ruled out Blash as a regular left field option.
Josh Jackson is a contributor to MiLB.com. Follow and interact with him on Twitter @JoshJacksonMiLB. This story was not subject to the approval of the National Association of Professional Baseball Leagues or its clubs.
View More