PASQUANTINO HOMERS TWICE BUT NATURALS CAN'T RALLY IN 8-5 LOSS TO WICHITA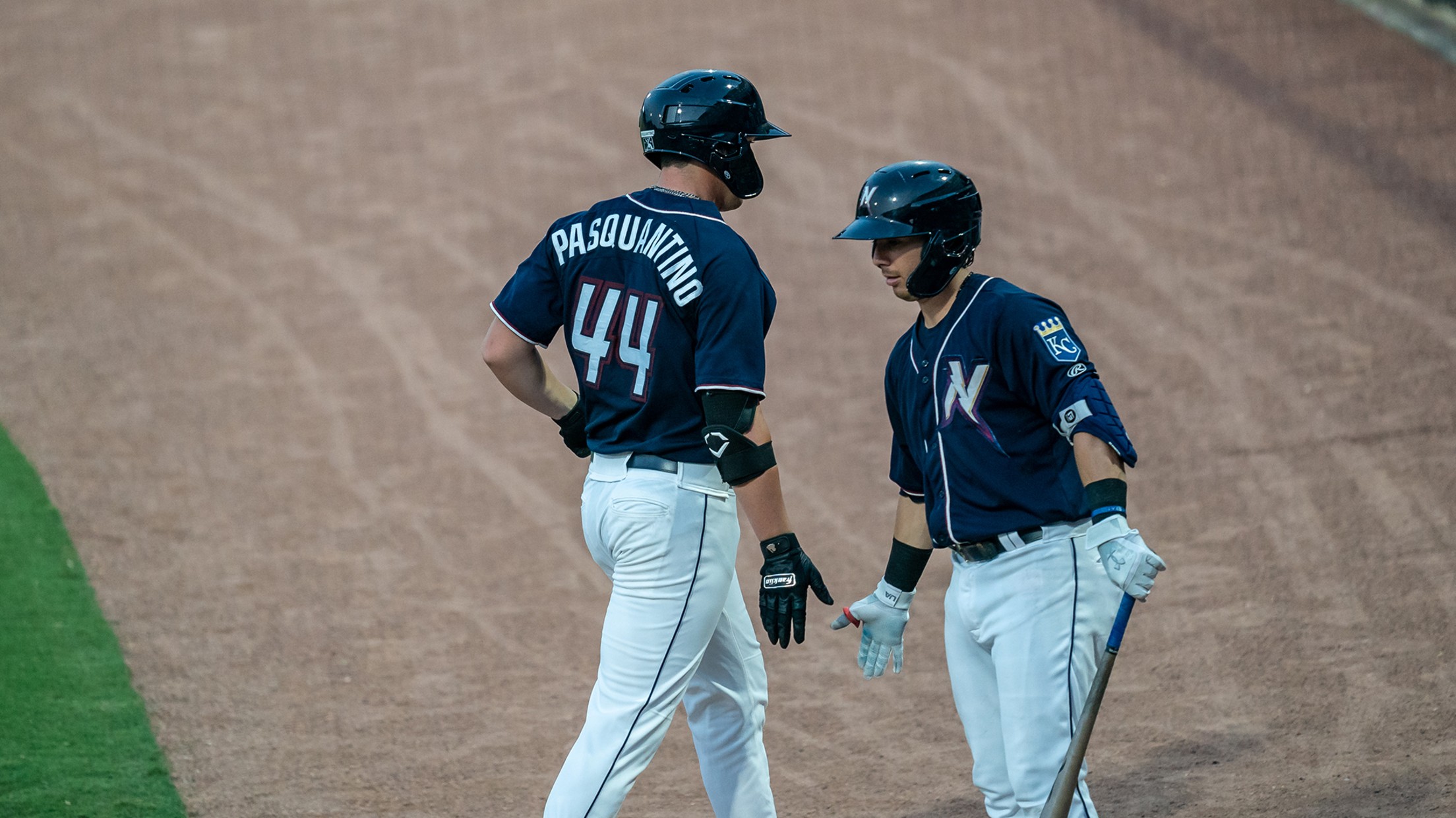 Brhet Bewley congratulates Vinnie Pasquantino after the first of his two home runs in the loss to Wichita on July 28, 2021. (Alan Jamison)
Northwest Arkansas Naturals first baseman Vinnie Pasquantino drove two homers over the fence Wednesday night but the Naturals stranded the bases loaded in each of the last two innings to fall to the Wichita Wind Surge 8-5. Wichita jumped out to an 8-1 lead at the halfway point in the
Northwest Arkansas Naturals first baseman Vinnie Pasquantino drove two homers over the fence Wednesday night but the Naturals stranded the bases loaded in each of the last two innings to fall to the Wichita Wind Surge 8-5.
Wichita jumped out to an 8-1 lead at the halfway point in the game, scoring off of Drew Parrish and Nolan Watson. Northwest Arkansas jumped right back into the game in the sixth, however, on back-to-back home runs from Pasquantino and Freddy Fermin.
Pasquantino first lifted a solo shot to center field in the fourth, then connected on a three-run homer, his fourth Double-A home run in the sixth. Two pitches later, Fermin sent a shot deep to left field, his sixth homer of the ninth instance of back-to-back home runs by Naturals hitters this year.
While the Wind Surge scored early and often, the Naturals' bullpen locked things down in the second half of the game, as Jose Cuas and Andrés Sotillet combined for 4.2 innings of scoreless relief, striking out five. Cuas retired the first eight batters he faced and Sotillet took over in the eighth to work out of a jam and went on to pitch a scoreless ninth.
Northwest Arkansas loaded the bases with two outs in the bottom of the night, putting the tying run on and bringing the game-winning run to the plate. But the comeback fell short, dropping a second straight game to Wichita and third straight overall.
Despite the losing effort; Dairon Blanco, MJ Melendez MLB Pipeline's No. 13 Royals' prospect) and Pasquantino each offered two-hit efforts, while Fermin contributed three hits. Melendez singled in the ninth, also adding his team-best 16th double of the season earlier in the game.
Northwest Arkansas (37-36) looks to get back in the win column on Thursday with Wichita (43-31) as the Naturals send left-hander Austin Cox (MLB Pipeline's No. 10 Royals' prospect) to the mound for his 11th start of the season, first pitch is at 7:05 p.m. CT.