PCL notes: Guerrero gearing back up again
After altercation, Dodgers prospect virtually starts his season over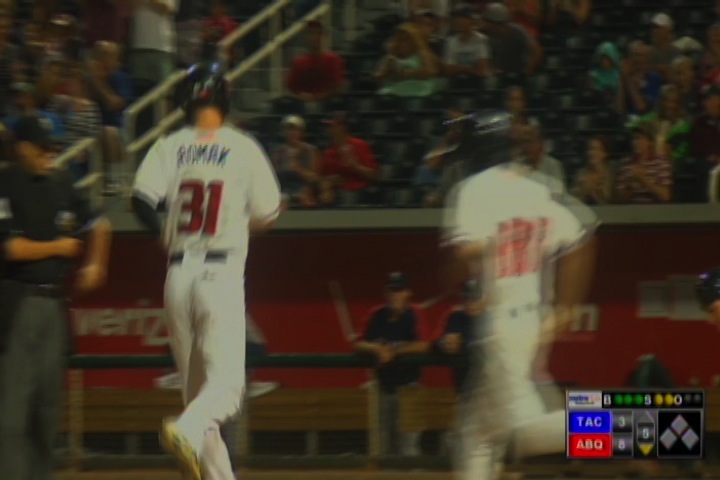 By Chris Jackson / Special to MiLB.com | August 11, 2014 10:00 AM ET
Alex Guerrero got off to the kind of start most baseball players could only dream of. The Cuban defector was batting .376 with 10 home runs and 29 RBIs through his first 33 games with the Albuquerque Isotopes.
Then on May 20, Guerrero's season was turned upside down.
The Dodgers infield prospect became involved in a violent altercation with then-teammate Miguel Olivo in the visiting dugout in Salt Lake. The brawl ended with Olivo biting off part of Guerrero's left ear, sending him to the disabled list.
Guerrero had surgery to reattach the ear. He was unable to resume baseball activities until July as he needed time to heal. Guerrero had to keep the wound dry and make daily visits to UCLA Medical Center in Los Angeles.
"There wasn't really much else to focus on except recovering 100 percent and making sure I was really taking the treatment seriously," he said through translator David Longworth.
After what amounted to a second Spring Training in the Rookie-level Arizona League and then Class A Advanced Rancho Cucamonga, Guerrero returned to the Isotopes on July 26. The long layoff was tough on him, Guerrero said.
"It set me back in every way," he said. "For an athlete who is in full-on competition, getting two months off was basically like starting from zero."
In terms of getting back in shape, Guerrero feels he is at the same point he left off at in May.
"Physically, I feel good. And baseball-wise, ability-wise, I feel good," Guerrero said. "It's just a matter of getting back to 100 percent."
The hardest part for Guerrero has been regaining his timing at the plate.
"Right now I feel like I'm out of [sync] a little bit, not seeing the pitches as well as I normally do," Guerrero said. "In training right now I'm working on my swing, trying to shorten it up."
He has shown some signs of life in his bat the last seven games, going 10-for-33 with his first home run since his return.
Guerrero played almost exclusively at second base prior to the incident, though the Dodgers were planning on moving him around to other positions. Since he came back, Guerrero also has seen time at third base, shortstop and left field.
"We've been moving him around a lot in the infield and I've been throwing him out in left and getting his feet wet out there," Isotopes manager Damon Berryhill said. "He's been concentrating a lot on some defensive changes. Offensively, we knew it would be a little bit before he'd get that swing going again. He's a quality hitter, and once he sees enough pitches, he'll get going again."
Guerrero said he is happy to just be playing again, no matter the position.
"It's been good," Guerrero said. "If it gets me to the big leagues faster, then I'll try to do my best."
In brief
Soler power: Even with the promotion of Javier Baez to Chicago, the Iowa Cubs still pack plenty of punch. Outfield prospect Jorge Soler is hitting .308 with five home runs in his first 17 games since joining the team from Double-A in July.
Going Gonzo: Memphis left-hander Marco Gonzales had a rough introduction to the PCL back on July 11, giving up four runs on seven hits and two walks in just three innings. Since then, however, the Cardinals prospect has allowed just seven runs in 25 2/3 innings and now sports a solid 3.45 ERA in five starts.
Smith stopper: Right-hander Carson Smith has really taken to the closer's role of late with Tacoma. In his last 10 appearances, Smith has allowed just two runs in 13 1/3 innings and struck out 17 batters, earning five saves and one victory.
Chris Jackson is a contributor to MiLB.com. This story was not subject to the approval of the National Association of Professional Baseball Leagues or its clubs.
View More