PCL notes: Pederson puts in the work
No. 2 Dodgers prospect doesn't let status speak for him with 'Topes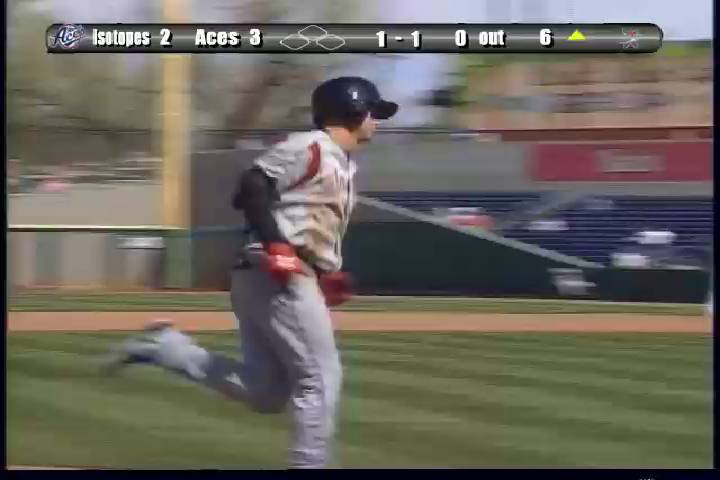 By Chris Jackson / Special to MiLB.com | April 14, 2014 10:00 AM ET
Joc Pederson is making life in the Pacific Coast League look easy.
Still, the season is only a little over a week old, so the Dodgers' No. 2 prospect is not about to take anything for granted.
"I'm just trying to get a pitch over the plate that I can put a good swing on and then try to keep it as simple as possible," Pederson said. "Let it get deep and put it on the barrel."
Pederson has hit .371/.511/.714 with three home runs through his first 10 games with the Albuquerque Isotopes. He has started every game in center field.
"He's gotten off to a hot start," manager Damon Berryhill said. "He's capable of putting up good numbers. The big thing for Joc is just to stay on track, keep working hard, and make sure he's going in the right direction and doesn't get satisfied with where he's at right now."
Pederson, who turns 22 next Monday, said he takes all the prospect talk in stride and does not let it go to his head.
"I guess it's humbling that people think highly of you," he said. "That doesn't change anything for me. I've still got to come to the park every day, get my work in, get better, improve on my weaknesses to make my overall game better. I have high standards for myself, so it doesn't really add any pressure.
"It's also nice to know that people acknowledge you're doing a good job."
Pederson figures to spend the bulk of the season in Albuquerque. The Dodgers' outfield is already overcrowded with Carl Crawford, Andre Ethier, Matt Kemp and Yasiel Puig vying for playing time.
"He is still a young player -- he's got some things he's still got to work on," Berryhill said. "He's always been a hard worker. He's always wanted to get out here and work. He's really never been a problem for us. We really don't expect anything but what he's shown us so far."
Pederson said adjusting to the veteran pitchers in the PCL has not been too big of an issue.
"I think they have a little bit better command, a little tighter spin," he said. "You've just got to be a little bit more selective as a hitter. You've got to get a pitch that you can handle or else they'll take advantage of you."
The bigger adjustment has been getting used to the travel.
"That first road trip, the travel is no joke," Pederson said. "Really, it's tough on the body. I know it's the first one, but it was tough."
Coming home to a crowd of 11,550 fans at Isotopes Park certainly helped Pederson and his teammates.
"It definitely made that first game back from the 4 a.m. wakeup call easier, to give you some more energy that was needed to win the game [6-3 over Tacoma]," Pederson said. "It's good that they were here to support us."
In brief
Red-hot start: Fellow outfielder Oscar Taveras may get a lot of the prospect hype, but it's Stephen Piscotty who is turning some heads early for Memphis. The Cardinals' No. 3 prospect is hitting .405 (15-for-37) with eight RBIs through nine games with the Redbirds.
Ace of Aces: Pitching in the PCL can sometimes be hazardous to a prospect's ERA, but so far so good for D-backs No. 1 prospect Archie Bradley. The Reno right-hander has gone 1-1 with a 1.50 ERA in two starts, allowing just seven hits and four walks in 12 innings of work.
Blue beginning: Not every top prospect is off to a blazing start in the PCL as Iowa shortstop Javier Baez can attest. The Chicago Cubs' No. 1 prospect is hitting just .154 (4-for-26) with two home runs in eight games.
Chris Jackson is a contributor to MiLB.com. This story was not subject to the approval of the National Association of Professional Baseball Leagues or its clubs.
View More