Peguero homers in return to Tacoma
Storm Chasers outfielder continues torrid August with another blast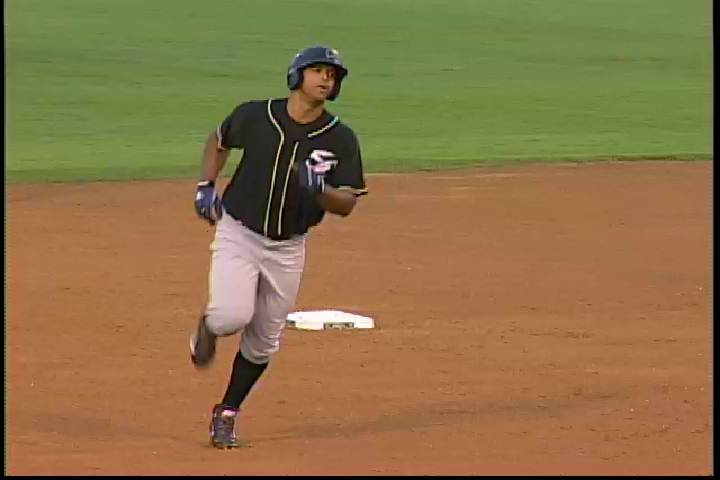 By Ashley Marshall / MiLB.com | August 21, 2014 2:09 AM ET
Carlos Peguero has fond memories of the Seattle organization and his time in Tacoma. He misses some of his old friends and coaches and is thankful for the opportunity the Mariners gave him to make his Major League debut.
As for the imposing 29-foot batter's eye located 425 feet from home plate at Cheney Stadium? The Royals outfielder doesn't miss that one bit.
In his first game back in Tacoma as a member of the visiting team Wednesday night, Peguero homered for the fourth straight contest as Triple-A Omaha dropped a 6-4 decision to the Rainiers.
"First of all, in the beginning, being on the other side for the first time, it was a little surprising," said Peguero, who played 251 games for the Rainiers before being traded in the offseason. "I have a lot of memories here because [the Mariners] gave me the opportunity to play professional baseball. I was a little bit nervous, but I got everything in control when the game started. It wasn't like pressure, just nerves.
"I knew them and they knew me. Before the game I said hi to most of the guys that played in the game today. It was good to see them and to be back here. I have a lot of memories here. It was fun, but you have to let it go and focus and play the game."
Peguero has six homers since Sunday, eight in his last eight contests and 13 in August, the most in a month for Omaha since Craig Brazell hit 13 in May 2007. No player in affiliated ball has more homers or extra-base hits (17) this month than Peguero.
To put it into perspective, he boasts a 1.063 slugging percentage in August, meaning he has more than one total base for every at-bat. With 13 homers, four doubles and eight singles, he's collected 68 total bases in 64 at-bats since the end of July.
The 27-year-old outfielder reached on an infield single in the second inning, then clubbed the second pitch he saw from Mariners top prospect Taijuan Walker over the left-center field wall leading off the fourth. Batting cleanup and serving as the Storm Chasers' designated hitter, he struck out to end the fifth and was intentionally walked -- for the second time this week -- by Logan Kensing with two outs in the seventh.
Peguero was stranded on deck in the ninth when Paulo Orlando, representing the potential tying run, flied to right field to end the game.
"It was a fastball away, 0-1," Peguero said of his 28th homer of the season. "He threw me a good two-seamer first pitch and he repeated the fastball and I put a really good swing on the ball. He throws a lot of fastballs because he has a good fastball. He is a very good pitcher, but I didn't think he was going to throw me an off-speed. I knew it [was gone] right away. Sometimes you feel it. When you put a good swing in it, you feel it and you feel it is going.
"I have never hit a home run over [straightaway] center field, not over the big wall and 425 feet. I've tried it like five times over the years. I've seen some people hit it hard, but it wasn't over that center-field wall. Jesus Christ did all the work tonight. If Jesus decides to try that, it is all him."
Peguero was signed by Seattle as a non-drafted free agent in 2005. But out of Triple-A options heading into Spring Training, he was traded to the Royals for a player to be named or cash considerations. All eight of his Minor League seasons had been with the Mariners, the team that took a chance on his as a teenager. A deeply religious man, Peguero had faith everything would work out for the best.
He's flourished in his new organization, with his 28 homers leaving him three short of matching the career high he set with High Desert in the hitter-friendly California League in 2009. With 84 RBIs, he's also closing in on his 2009 high of 98. He's already set a personal best with 28 doubles with 12 games remaining.
The native of the Dominican Republic homered twice against Las Vegas on Sunday and went deep against the 51s on again Monday. He continued his hot streak with two more long balls as part of a 3-for-4 night in Tuesday's series finale.
In 19 August games, Peguero -- who played 65 big league games with Seattle -- is 25-for-64 with 20 runs scored. That's more than he's had in any calendar month and one shy of how many times he crossed the plate in April (nine), June (five) and July (seven) combined.
He's being pitched a little differently than he was in the first half of the season, but he's making the most of any mistakes, especially on fastballs.
"Sometimes when they see you swing at a lot of pitches in the dirt, they will continue to try that," Peguero said. "You just try to stay patient. You try to stay focused. Today was not a good game for the team because we lost, but we lose together and we win together. We do what we can do. They played a better game than us. Tomorrow is another day.
"I don't try to think about [statistics]. Just try to make my at-bats count and put a good swing on the ball. I just try to have fun every time I play. For me, it is very, very fun because when you do something that you love, it is easy. I come to the ball park and say, 'OK, I'm going to have fun and play for Jesus Christ and do everything for him.' Just have fun each and every day when I get the opportunity to play this game."
The Rainiers rallied for the win, getting RBI singles from Mariners No. 10 prospect Ketel Marte, Justin Smoak and Ty Kelly in the seventh inning.
Ashley Marshall is a contributor to MiLB.com. Follow him on Twitter @AshMarshallMLB. This story was not subject to the approval of the National Association of Professional Baseball Leagues or its clubs.
View More