Pelicans' Gallo slugs three homers again
Rangers prospect pulls trick for fourth time as pro, second time in '14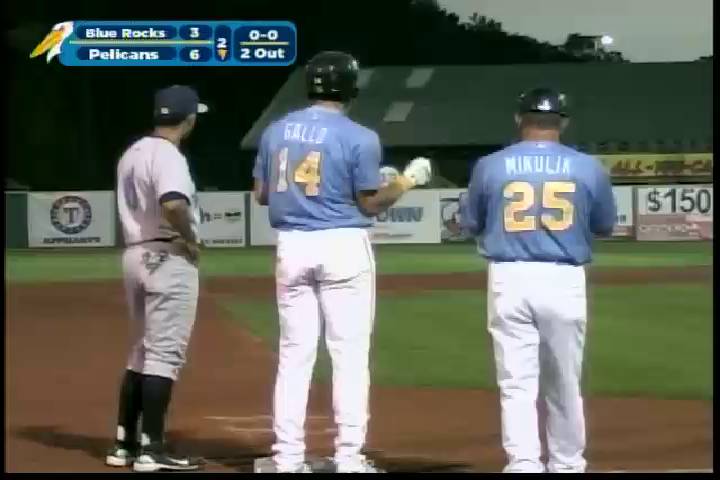 By Josh Jackson / MiLB.com | May 16, 2014 11:56 PM ET
Bad news for Carolina League pitching staffs: Joey Gallo has not yet grown tired of putting up multiple-homer games.
"It's always awesome," he said. "Every time, it's awesome."
The Rangers' fourth-ranked prospect went yard three times, collected five RBIs and scored four runs in a 4-for-4 performance that powered Class A Advanced Myrtle Beach to an 11-5 win over Potomac on Friday night.
It was the fourth three-homer game of Gallo's career and his second this season. He's also had a pair of two-homer nights in his first 39 games this year.
Gallo -- who led the Minors with 40 homers last season -- is on pace to become the first affiliated Minor Leaguer to hit 50 dingers in a season since Edmonton's Ron Kittle did it in the Pacific Coast League in 1982.
"I guess three today helped out," said Gallo, who's hit seven of his Minor League-leading 17 homers in his last nine games. "I'm seeing the ball pretty well. Yesterday, we were rained out, so all of our timing was a little off just from skipping one day with hitting, especially early on."
The 20-year-old third baseman didn't get the opportunity to make adjustments to his stroke in his first plate appearance, as he was hit by a pitch from Nationals starter Ian Dickson.
"It might look like, 'Oh, they hit him and he got mad and hit three home runs,' but it was part of the game," Gallo said. "He was trying to come inside and just hit me on the leg. It really wasn't a big deal."
In his next at-bat in the third inning, he went back-to-back with Rangers No. 5 prospect Nick Williams to give the Pelicans a 3-2 lead.
"That was really cool. We both hit the ball [to the opposite field], so it was pretty special," said Gallo, who bats left-handed. "It's good to see [Williams] swing the bat well lately. He's gotten out of a little funk he was in for the first month."
Gallo singled up the middle against reliever Wander Suero in the fifth, then took him deep in the sixth to plate Williams. He hit another two-run homer in the eighth, sending a 1-2 pitch from Robert Benincasa to the clubhouse beyond the right-field fence.
"With a 1-2 count, he came inside with a fastball to try to jam me or beat me with it, and I got to it," Gallo said. "Fortunately, the wind wasn't blowing and it went out to right. I was just trying to protect, but I ended up driving it."
Some at TicketReturn.com Field thought the home run was among the longest Gallo has hit this year, but he wasn't so sure.
"I don't think it was the longest," he said. "It was definitely the highest. The height made it look like it went a lot farther than it probably did, I think.
"It was like any other home run -- really cool. It's always really cool to hit a home run. But every time you hit that third one at the end of a game, it's special because it's a pretty rare thing."
Gallo had not enjoyed a multi-homer game in front of a supportive crowd this year.
"Going up there for that third time, you can feel they want another one. It's a little more pressure," he said. "On the road, the crowd doesn't say anything when you come up the third time. It's also easier on the road because it's tough to hit the ball out here in Myrtle Beach."
Gallo's eighth-inning moonshot came three batters after Zach Cone hit an inside-the-park homer.
"That was awesome. He's swinging the bat well now, too. I thought he hit it out," Gallo said. "It probably would have been out in any other park in country. He was fired up."
Andrew Faulkner (2-0) benefited from the Pelicans' six-homer barrage. He allowed four runs on nine hits and three walks with four strikeouts over six innings.
Nationals No. 8 prospect Pedro Severino broke out of an 0-for-20 funk with a base hit and No. 20 prospect Tony Renda singled, walked twice and scored a run for Potomac.
Josh Jackson is a contributor to MiLB.com. This story was not subject to the approval of the National Association of Professional Baseball Leagues or its clubs.
View More