Peterson off to roaring start for Rainiers
M's No. 6 prospect plates four, collects four hits in third PCL game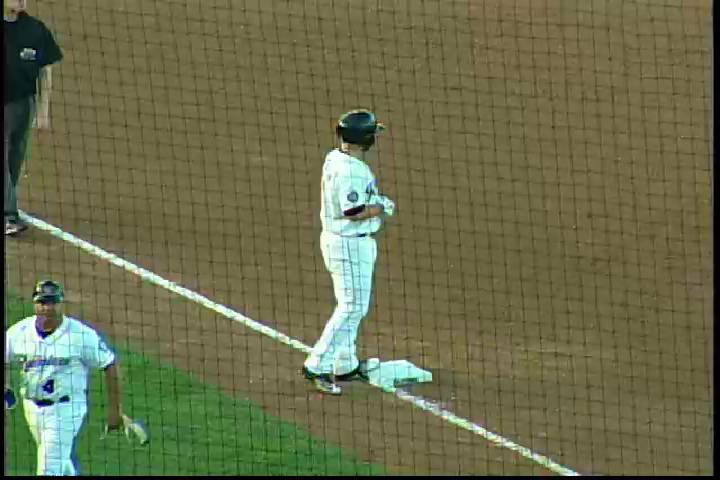 By Michael Avallone / MiLB.com | July 3, 2016 1:39 AM
D.J. Peterson had ample reason for wanting to forget a 2015 season in which he hit .223 in 97 games. But instead of locking those struggles in a vault and throwing away the key, he's used last year's problems as a springboard to this year's success.
The Mariners' No. 6 prospect went 4-for-5 with a triple and four RBIs in his third game with Triple-A Tacoma as the Rainiers rolled to a 9-2 victory over visiting Las Vegas on Saturday night.
After dropping the series opener on Thursday, Tacoma has outscored the 51s, 18-3, in the last two games.
Much of the offense on Saturday came from the Peterson, who collected four hits for the first time since Sep. 1, 2014 when he was with Double-A Jackson. The 24-year-old has hit safely in all three games since his promotion to the Pacific Coast League, going 6-for-13 with seven RBIs.
Overall, Peterson is hitting .279 with 11 homers and 49 RBIs in 76 games, helping to put last season behind him, even if he won't allow himself to ignore it.
"I don't ever want to forget it," Peterson said. "At some point, everyone gets humbled in this game and that's what it was, a humbling experience. But it showed me my flaws and helped me understand what I needed to do to fix them. I'm not going to allow something like last year to ever happen again."
The 12th overall pick in the 2013 Draft has a simple explanation for his turnaround.
"I just think this year I'm trying to drive the ball to the center part of the field," Peterson said. "Now that I'm up here, I don't have that left field monster [at the Ballpark at Jackson] yelling at me every at-bat. Tacoma's got great team chemistry and it's a fun atmosphere to come and play in every day."
The Arizona native got his night off to a quick start with an RBI single to right that tied the game in the second inning. The Rainiers had already scored twice in the third when he batted with runners at the corners and one out. He got ahead in the count against 51s starter Duane Below and cashed in both runs with a triple to left-center.
Peterson grounded out in the fifth, then singled and scored on Zach Shank's double in the seventh. He put an exclamation point on his evening with an RBI single in the eighth.
"Just trying to find a pitch in the middle part of the zone," Peterson said of the triple. "With a guy on third and one out, I'm trying to drive it to center field. He gave me a fastball middle-in and I was able to drive it to right and get the runs in."
Although he appeared in four games with Tacoma late last season, he said he doesn't see that as being beneficial to his current situation. There just weren't enough games or at-bats to allow him any sort of comfort level from which to draw.
"It was so short that in a way it almost never happened," Peterson said. "This is a new start for me now. So now that I'm up here, I just want to help the team win and do my part."
Peterson also was complimentary of Rainiers starter Donn Roach (5-4). The 26-year-old right-hander gave up two runs on four hits and a walk with four strikeouts in five innings to record his first win since May 24.
"Roach pitched his tail off," he said. "He threw a lot of good pitches, dominated the strike zone and had a great outing."
Mariners No. 19 prospect Patrick Kivlehan went 2-for-2 with a double and scored twice for the Rainiers, while Stefen Romero doubled and drove in three runs.
Below (4-7) was charged with seven runs -- six earned -- on 11 hits in 5 2/3 innings. The southpaw walked one and struck out two and is winless in his last seven starts.
Michael Avallone is a contributor to MiLB.com. Follow him on Twitter @MavalloneMiLB This story was not subject to the approval of the National Association of Professional Baseball Leagues or its clubs.
View More