Pioneer notes: Gibbons shows good instincts
Angels' 17th-round pick anchoring the lineup for playoff-bound Owlz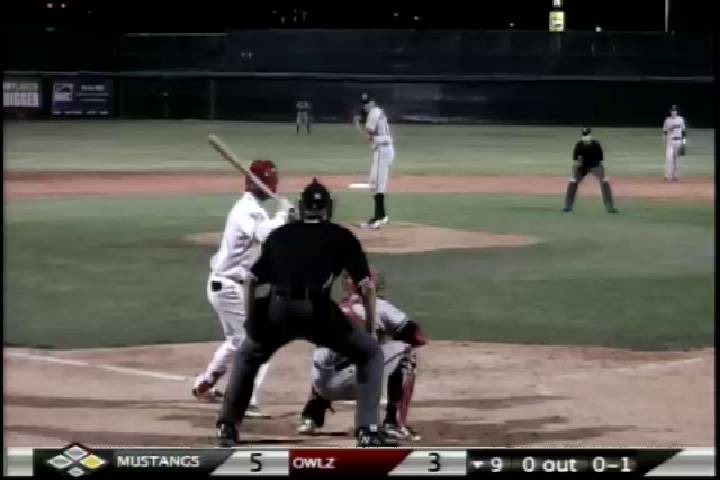 By Fritz Neighbor / Special to MiLB.com | August 25, 2016 10:00 AM ET
Zach Gibbons can play every outfield position, hit for average and for power and run the bases.
All these attributes make him a valuable player for the Orem Owlz, who won the first-half title in the Pioneer League's Southern Division. So does the fact that he's stuck around.
In a lineup decimated by promotions, the 17th-round pick out of the University of Arizona has been a mainstay. His average has dropped to .364 from a high of .417 on Aug. 10, but Orem manager Dave Stapleton is happy to have him.
"He's just a player with good baseball instincts, a player who can run the bases," said Stapleton. "It's been nice having him here, he's been playing well and swinging the bat really well.
"And he comes from a program that really has a good reputation for playing the game of baseball."
Gibbons was the potential tying run left on third when Coastal Carolina beat Arizona, 4-3, for the College World Series title on June 28; he and teammate Cody Ramer (19th round) had both by then been selected by the Los Angeles Angels in the 2016 MLB Draft.
Soon after the CWS ended, Gibbons got a call from the Angels' area scout.
"He was like, 'You guys take a week off and come back out,'" Gibbons recalled. "'I don't want you guys even thinking about baseball; just be ready to go when you get out here.'"
He and Ramer carpooled from Phoenix -- Gibbons is from Scottsdale -- to Orem, and by July 9 they began to rake: Ramer was hitting .372 in 10 games before being sidelined by an injury.
Gibbons stands out in that he is one of the highest picks remaining in Orem from this year's Draft. The Angels put a host of 2016 draftees in Utah and saw them get off to a 14-7 start.
Then one by one -- sometimes two by two -- players like Connor Justus (fifth round), Jordan Zimmerman (seventh), Troy Montgomery (eighth) and Andrew Vinson (10th) were promoted. Seven top 15 picks in all came and went. Stapleton has seen it happen before.
"Not this fast," noted the manager, whose club held off Idaho Falls to clinch a berth in the Pioneer League playoffs. "But that's what this is about; it's about moving along in the system, and there's been a need for it.
"Once again, credit to those guys who were here early, who were able to get out to a good start and win us a lot of games."
Credit goes to Gibbons, too, a 5-foot-8, 185-pounder who has more walks (18) than strikeouts (16).
"We've been trying to get him a little short cut here and there, because the game obviously gets a little faster here," Stapleton noted. "But he has really good baseball instincts, good angles and good reads in the outfield.
"And swinging the bat -- he's done a really good job with us not changing much. We just let him get in there and see strikes and swing hard."
There is one glaring statistic, sitting next to his 11 stolen bases: He's been caught eight times.
"That's part of the process," Stapleton said. "We're trying to get him to open up his stance a little bit, and really it's about getting him confident and getting him not to come up so soon. He's got to stay a little lower and be a little more athletic, but that comes along with just reps and being able to do it."
"We're working just on getting a rhythm," Gibbons added. "Sometimes when I lead off I get a little frozen. If you do that you're losing a lot of strength and quickness."
Strength and quickness are two tools that made Gibbons the target of nearly every Pac-12 baseball program. Now he gets to keep honing those skills in Utah -- a rarity for someone drafted by the Angels in 2016.
"We told him we're going to keep running," Stapleton said. "He's just got to figure it out and keep getting better and better at it."
In brief
Throwing smoke: Great Falls remains well-armed, even after losing their best arm to the South Atlantic League. On Aug. 16 Alec Hansen threw five no-hit innings for the Voyagers, who took a combined no-hitter into the seventh of an eventual 15-inning, 2-1 loss at Ogden. Nick Yarnall broke up the no-no with two outs in the seventh, and the Raptors eventually pinned the loss on reliever Jaider Rocha. But on Aug. 20 Rocha finished off a no-hitter in a 2-0 home win over Helena. Yosmer Solorzano threw the first seven innings and Andy Panayotich added a hitless eighth for the Voyagers, who at 13-10 lead the Northern Division standings this half-season. A day later (Aug. 21) Hansen was on the bump again, fanning 13 in six innings of work. The 6-foot-7 right-hander earned Pioneer League Pitcher of the Week honors and a promotion to Class A Kannapolis. The Chicago White Sox's second-round pick in 2016 yielded just 12 hits in 36 2/3 innings for Great Falls.
Gomez goes off: Jose Gomez won't turn 20 until December, but like quite a few Pioneer Leaguers from Central or South America, he is in third season in the pro ball. The Venezuelan's recent surge -- .432 in his last 10 games with 19 RBIs -- has helped Grand Junction (13-8) surge to the front of the Southern Division standings in the second half. Gomez had two homers in the Rockies' 10-6 win over Idaho Falls on Aug. 21, marking the third four-hit game he had in 12 days. He drove in four against Idaho Falls and six at home against Helena on Aug. 10. For the season Gomez is hitting .373, good for third in the circuit. His 43 RBIs rank fourth.
Fritz Neighbor is a contributor to MiLB.com. This story was not subject to the approval of the National Association of Professional Baseball Leagues or its clubs.
View More