Pioneer notes: Lavigne aces transition
Rockies prospect doesn't miss a beat moving into pro ranks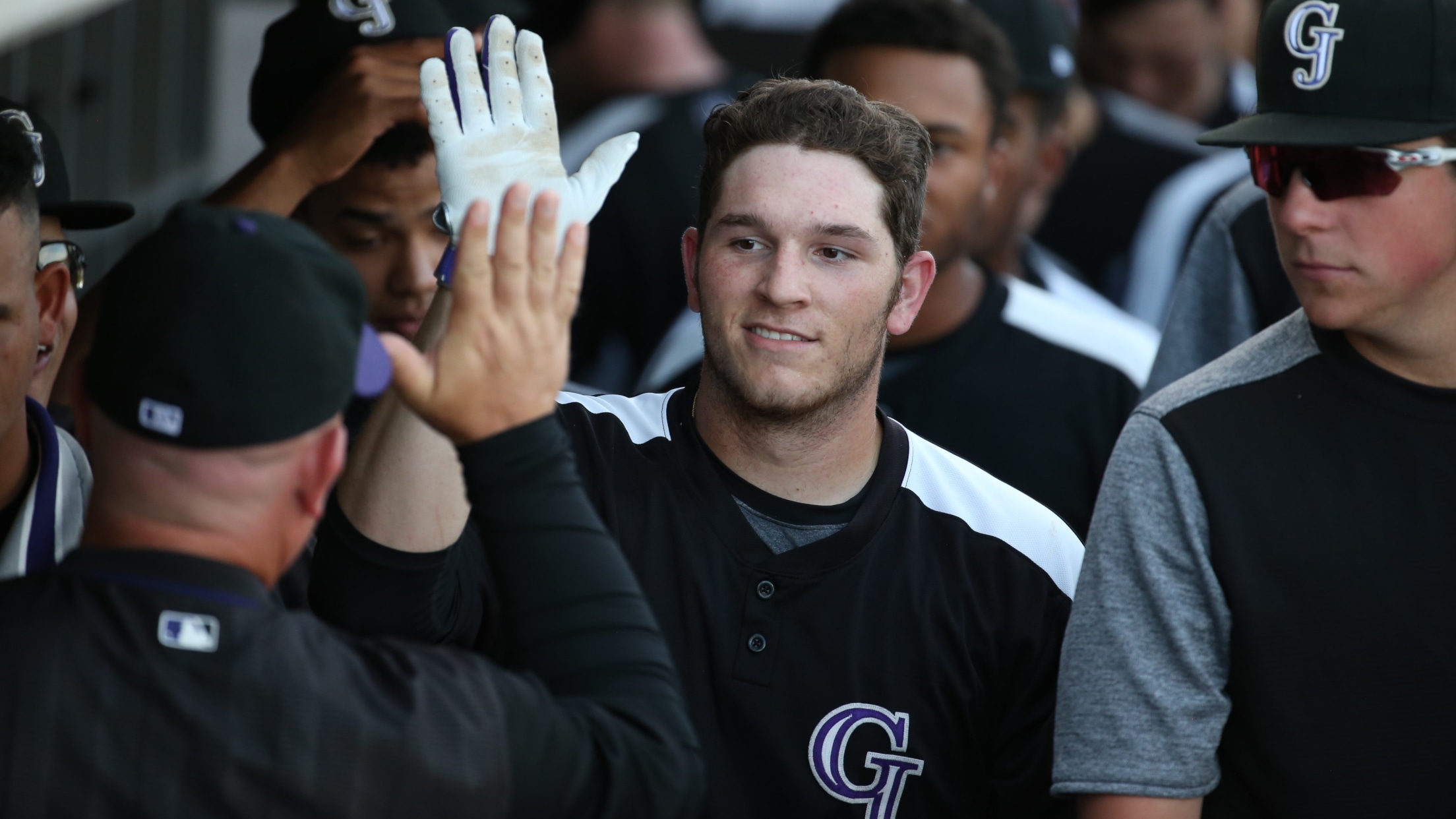 A little more than a month out of high school, Grant Lavigne went on a 15-for-29 tear toward the end of July. (Todd Bennett/Grand Junction Rockies)
In early June, Grant Lavigne had a scholarship offer from Wake Forest and a .639 batting average at Bedford High in New Hampshire. Then he moved 2,250 miles west.Taken with the 42nd pick in the 2018 Draft, Lavigne has adapted to his new digs in Grand Junction, hitting .371 for
In early June, Grant Lavigne had a scholarship offer from Wake Forest and a .639 batting average at Bedford High in New Hampshire. Then he moved 2,250 miles west.
Taken with the 42nd pick in the 2018 Draft, Lavigne has adapted to his new digs in Grand Junction, hitting .371 for the Colorado Rockies' affiliate in the Rookie-level Pioneer League.
The 6-foot-4 first baseman has been around the .400 mark much of the season. Before an 0-for-4 showing on July 30, he'd gone 15-for-29 in his previous eight games. Grand Junction manager Jake Opitz can see why.
"First of all, his presence," Opitz said. "When he walks in, you're not thinking, 'That's an 18-year-old kid.' He's a big man. With him coming from New Hampshire, you don't know what will happen once he sees some good stuff and some velocity. But he's handled it all, that's for sure."
Lavigne has an all-fields approach and came out of the gate with some early power, though he has hit just one of his five homers since July 6. Growing up, he had the presence of mind to figure he'd play professionally at some point, so he competed in wood bat leagues whenever he could.
"I thought it'd prepare me better," he said. "The pitching [in pro ball] is obviously a lot more advanced. I just have to stick to my approach: be aggressive early in the count, jump on some fastballs if I can and go from there."
Lavigne runs well (he has seven steals) and would like to burnish his walk-to-strikeout ratio, since he's whiffed 26 times compared to 17 bases on balls. But it's been a strong debut, with impressive splits for the left-handed hitter -- a .352 average against southpaws and a .375 average on the road.
He's a youngster compared to most in the college-heavy league and he sees no familiar faces, though Lavigne noted that in New England he'd competed with a pitcher now in the Class A Short Season Northwest League -- Hillsboro's Matt Tabor.
The annual All-Star game between the Pioneer and Northwest leagues is Aug. 7 in Grand Junction. Opitz would be very surprised if Lavigne didn't make it. The Rockies seem to have chosen well, even if that choice caught Lavigne by surprise.
"Going into the spring, I thought I had a chance to get drafted in the top few rounds, but I never thought I'd go 42nd overall," he said. "I was honored and excited. I was at my house with family and teammates, and it was pretty special."

In brief
On Holliday:
Grand Junction welcomed a veteran Sunday, when Major League standout
Matt Holliday
reported upon coming out of retirement for the parent Colorado Rockies. "Getting my baseball legs underneath me," the 38-year-old told the
Grand Junction Herald
, adding that Rockies GM Jeff Bridich might have him play a Pioneer League game. "That's up to me, just see how the next couple of days go," said Holliday, who hit 314 home runs in the Majors. Holliday, who did not play on July 30 or July 31, indicated that he'd stay in Grand Junction through its current home stand that ends Aug. 1.
Coming to earth:
An 18-10 start helped carry the Great Falls Voyagers to the first-half Northern Division title (Ogden won the Southern Division), though the White Sox farm team is 5-10 since that strong start. Voyagers shortstop
Lenyn Sosa
extended his hitting streak to 10 games on July 30, going 1-for-4 in a 7-2 loss to Billings. The 18-year-old Venezuelan was hitting .381 during the streak and .313 overall.
Fritz Neighbor is a contributor to MiLB.com.