Pitcher upends Johnson's no-hit bid
No. 11 Cubs prospect triumphs, outdueling Stephenson for Smokies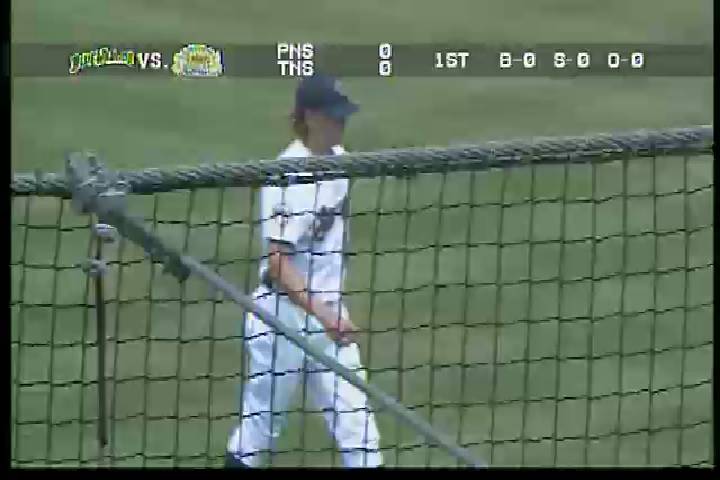 By Sam Dykstra / MiLB.com | August 3, 2014 8:42 PM ET
One of the hot topics around baseball recently has concerned what does and doesn't constitute the "unwritten rules of the game."
For example: Only pitchers would know what it's like to take a no-hitter deep into a ballgame. So when one hurler steps into the batter's box against a counterpart working on a no-hit bid, it might feel like a bit of a pitching faux pas to break up the potential feat.
But not for Double-A Pensacola's Robert Stephenson, who dug in against Tennessee's Pierce Johnson with two outs in the sixth inning. There were no Blue Wahoos hits on the board at the time.
"He fooled me earlier [during a strikeout in the fifth] on a really good breaker, so I was hoping to maybe get a little payback and give him one of my own," Johnson said. "And he just beat me on one of my best pitches."
The right-handed Stephenson grounded a ball into left field, but that didn't take away from a strong outing by the Cubs' No. 11 prospect. Johnson finished with only two hits and one walk allowed while striking out six over six frames Sunday in Tennessee's 4-1 win over Pensacola at Smokies Park.
The 23-year-old right-hander struck out the side in the first frame on 12 pitches and faced the minimum through the first five. His only hiccup -- a walk to Kyle Waldrop in the second -- was erased when he picked the Blue Wahoos left fielder off first base.
"I felt really good right from the start," Johnson said. "I'm just trying to build off every start and, thankfully, my tempo was good right when I got on the mound. ... My fastball, slider and cutter were all really good."
He got Yorman Rodriguez to line out to second base to end the sixth and gave up a second single to Brodie Greene in the seventh before exiting after only 75 pitches, 52 of which were for strikes. Of the 18 outs he recorded, eight came on the ground.
It was the latest strong start for the Cubs' 2011 first-rounder since his return to the Smokies rotation on July 2. After missing a month-and-a-half with lower-leg injuries, Johnson sports a 1.59 ERA with 41 strikeouts and 17 walks in his last seven starts (39 2/3 innings). He credits his increased tempo on the mound with his incredible recent run.
"It's all about not taking too much time," said Johnson, who is 4-4 with a 2.71 ERA on the season. "I just want to get up there and get my defenders back in the dugout as quick as I can. The faster we're in and out, the more the defense stays in the game, and they can really help me out like they did today. ... Just let the defense do the work, keep the ball down, that's been my focus."
The Smokies got an early advantage when No. 3 Cubs prospect Addison Russell hit a two-run homer in the first. The 20-year-old shortstop, who went 1-for-3 with a walk, has a .293/.333/.566 slash line with eight homers and 18 RBIs in 25 games since joining the Smokies after being acquired by the Cubs in the Jeff Samardzija deal with the A's.
"He's the man, on and off the field really," Johnson said. "He's one of my roommates here, and he's just been a real pleasure to watch play ever since he came over. I mean, the guy's only 20 years old, and he's making Double-A look easy."
Stephenson (5-8), the Reds' top prospect, gave up four runs on three hits and two walks while fanning seven over six frames.
Sam Dykstra is a contributor to MiLB.com. This story was not subject to the approval of the National Association of Professional Baseball Leagues or its clubs.
View More