Ramsey flirts with cycle on 5-for-5 night
No. 5 Indians prospect upstages teammate Lindor, IronPigs' Franco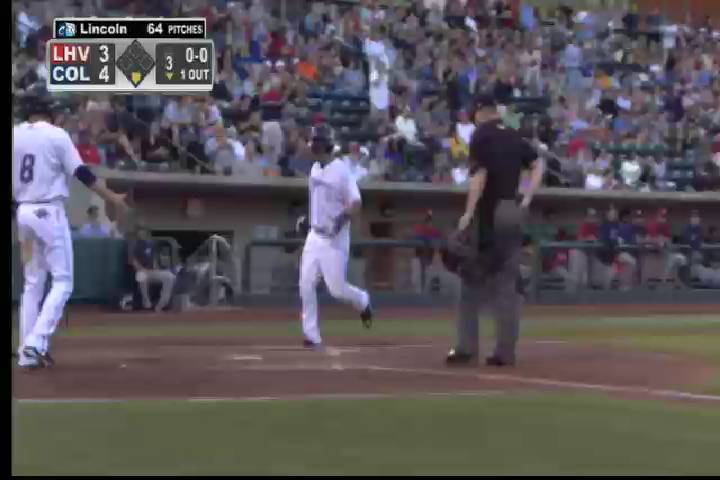 By Ashley Marshall / MiLB.com | August 15, 2014 12:03 AM ET
It was billed as a battle of top prospects.
On one side was Francisco Lindor, baseball's fourth-ranked prospect and Cleveland's top player on the farm. On the other side was Maikel Franco, ranked third for Philadephia and 60th overall.
In the end, however, 2012 first-rounder and Tribe newcomer James Ramsey who upstaged both of them.
The center fielder went a perfect 5-for-5 at the plate and fell a triple shy of hitting for the cycle in the Triple-A Columbus Clippers' 7-4 win over the visiting Lehigh Valley IronPigs on Thursday.
Ramsey, the Indians' No. 5 prospect, finished with four RBIs and lifted his average 23 points to .314 in the triumph.
"Obviously, when you go 5-for-5 and put the ball in play hard, it's a good game," said Ramsey. "But importantly I came up in big spots with runners in scoring position and I look forward to that. I credit my teammates for getting on base in front of me.
"I've had a couple four-hit games, a couple games where I've had a chance to win the game, a pinch-hit two-out, two-run homer. This is up there. It's in the group of games that you will remember, for sure. When you're being evaluated, everybody can hit when there's no pressure. The fact it was a close game says even more about the night."
His five hits set a new career high while his four RBIs tied his personal record. He had four for Double-A Springfield twice this season, most recently May 5 in a 7-6 win against Tulsa.
On Thursday, the 24-year-old left-hander doubled to right field with two outs in the first inning and he clubbed a two-run homer to straight-away center with one out in the third.
"It was a fastball I hit," said Ramsey, who has missed time this year with a shoulder injury and an intercostal muscle strain. "I was just trying to get a good pitch to hit. I knew I hit it good, and my good enough is good enough in most parks, but you're still running hard out of the box each at-bat.
"When I was with the Cardinals, I watched guys like Allen Craig and Matt Holliday, guys that are successful. A good approach with runners in scoring position is the same approach without runners in scoring position. They take pride in getting a good pitch to hit and driving it hard. Now I look at guys on Cleveland's big league roster and it's the same."
Ramsey laced a pair of RBI singles to left and center in the fourth and sixth respectively before pulling a two-out double to the wall down the right-field line in the eighth.
Ramsey has nine career triples, including two this season. His most recent three-bagger came against the IronPigs on Wednesday, but he settled for a standup double in his final at-bat partly because of the short distance in right field (318 feet) and how quickly the ball came back to the infield.
"You're conscious of it and it crossed my mind," Ramsey said about needing the triple. "But just because you're a triple away, you still have to take what the game gives you. You have to respect the game.
"When the ball is already secure in the cutoff man's hand and I'm going into second, it's not about me. That's the way I play the game. When it's hit to right field, it's in front of you until you take the turn toward third base. My teammates wouldn't have been upset if I had tried to stretch it, but I wasn't going to try to come up with an individual accolade. Hopefully, I'll have another chance to hit for the cycle and when it happens, it happens."
Selected by the Cardinals 23rd overall in the 2012 Draft, Ramsey was traded to the Indians in the deal that sent right-hander Justin Masterson to the Cardinals on July 30.
The Florida State product was hitting .300/.389/.527 with 13 homers and 36 RBIs over 67 games in his second season with Springfield at the time of the trade.
"Any time you settle in with new teammates and get to know them on a personal level and become close with them, that's all you can ask," the Georgia native said. "I knew my game would play at Triple-A and that it will play in the big leagues. Really, it wasn't that much different tonight to what I've been doing this whole season."
Columbus third baseman Giovanny Urshela, Cleveland's No. 14 prospect, hit his 11th Triple-A homer and right fielder Matt Carson added his ninth. Lindor and Franco both finished 1-for-5 with a run scored.
"I think Francisco has been great," Ramsey said. "I played against [Lindor and Franco] in the Futures Game and I've known about Francisco for a while because we were in the same Draft class. I always want to play with guys that will make an impact on the big league level, it's fun. I'm building relationships with guys who I will hopefully be sharing a big league clubhouse with and that is always exciting."
Ashley Marshall is a contributor to MiLB.com. Follow him on Twitter @AshMarshallMLB. This story was not subject to the approval of the National Association of Professional Baseball Leagues or its clubs.
View More