Rays Prospect Primer: Snell standing tall
After breakout year, MiLBY, southpaw sets sights on Major Leagues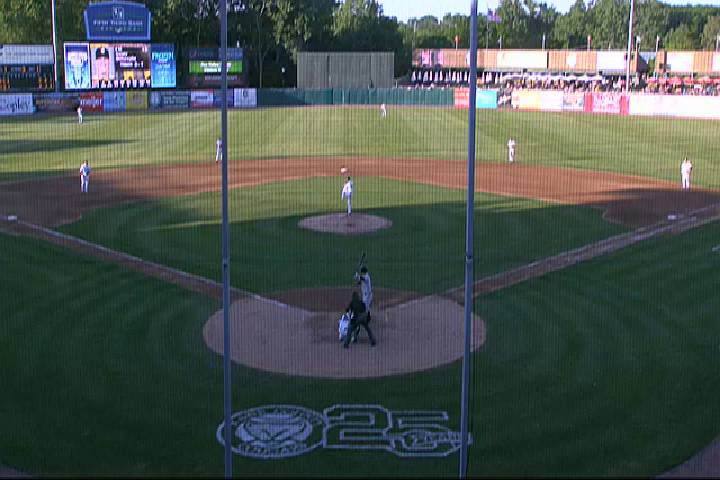 By Alex Kraft / MiLB.com | April 4, 2016 10:00 AM
Some players are on the verge of stardom, others are entering a crucial phase of their development and still others are getting their first tastes of full-season ball. With the 2016 season approaching, MiLB.com takes a look at the most intriguing prospects from each MLB organization.
Shining star: Blake Snell, LHP
Snell was one of the breakout stories of 2015, but he won't be able to sneak up on anyone the same way this year.
The 23-year-old began the season with 46 consecutive scoreless innings and ended it by taking home the MiLBY as Top Starting Pitcher.
"It started from day one when we saw him because he came in with a whole different mind frame," said Rays director of Minor League operations Mitch Lukevics. "He was mentally ready, he was physically ready and he didn't stop until the last pitch of the season."
Snell's 15-4 record and Minor League-leading 1.41 ERA sent him flying up MLB.com's Top 100 prospect rankings to No. 14. On his way back to Triple-A Durham to start the year, he has a lofty goal for 2016.
"My goal is I want to be an All-Star," he told the MiLB podcast in October. "I want to be the best I can be and I really believe that I can compete up there with the best. … I know how hard that is but I feel that's something that I've been working for and I've just got to keep pushing myself to be the best I can be."
Major League-ready: Richie Shaffer, 3B
The Rays top pick in the 2012 Draft came into 2015 with 34 homers in three Minor League seasons, a solid total for most players, but Shaffer wanted more. The 25-year-old spent the offseason bulking up, adding 20-25 pounds to his 6-foot-3 frame.
"I saw an instant boost getting into the box and just feeling more physical," Shaffer told MiLB.com. "When I was a lot stronger and physical, I didn't feel the need to swing so hard. Everything just fell into place after that."
The Clemson University product slugged a career-high 26 homers between Double-A Montgomery and Durham, adding four during a 31-game stint in the Majors (one of which became an internet sensation).
"What's good about him, when we signed him, Richie Shaffer was a guy that came into the system with power," Lukevics said. "We didn't see that right away, and last year starting out in Double-A he took a turn for the better where that latent power tool was coming out. He carried that over into Durham and eventually in the big leagues. We're happy that he made the progression he made so that he's on the horizon for our Major League team now."
Back and healthy: Casey Gillaspie, 1B
Like Shaffer, Gillaspie was putting up some of the best power numbers of his career early last season, with 16 homers through 64 games for Class A Bowling Green. The 2014 first-rounder was promoted to Class A Advanced Charlotte in late June, but his advance came to a halt when he broke his left hand after being hit by a pitch. He played only 14 games the rest of the season.
"There was power from both sides of the plate and then, when we promoted him to the Charlotte Stone Crabs and he broke his hand, that was a setback," Lukevics said. "You know, the power's waiting. It takes a little bit longer, but Casey has all those intangibles to make that a go."
The 23-year-old got a chance to make up for lost time in the Arizona Fall League, where he batted .191 with two homers in 23 games, but left the Rays' front office pleased with his progress and even mulling an assignment to the Southern League to start 2016.
"[The AFL] was good, he made good hard contact," Lukevics said. "The average I'm sure wasn't what he would like. Sometimes, though, you don't look at that. You look at how often and how hard the ball was hit, and we were happy with that."
Full season debutant: Garrett Whitley, OF
Tampa Bay snagged Whitley with the 13th overall pick in last year's Draft out of Niskayuna High School in New York. The 19-year-old hit .174/.293/.312 in 42 games between the Rookie-level Gulf Coast League and Class A Short Season Hudson Valley, but his tools and athleticism should mean those numbers will jump up in his first full season in the system.
"It's just a matter of playing and getting experience," Lukevics said. "He comes from a cold-weather city, you know? He's behind a little bit when you talk in terms of playing baseball. But Garrett Whitley has tools and he has intangibles. He's one of the nicest young men you would ever want to meet.
"I almost throw out the first year. You know, these guys come from Mars and then they hit .088. I remember [Derek] Jeter hit .202 in the Gulf Coast League and the next year he went to Low-A and he hit fine. ... I'm not comparing Garrett Whitley to Derek Jeter -- it's hard to compare young kids to future Hall of Famers and it's not fair to the new player. However, he has what it takes and we're not in any hurry."
It's unsure whether Whitley will start the season at Class A Bowling Green or return to Hudson Valley, an hour from his hometown. A good performance at either level could push the outfielder into the Top 100 rankings.
At the crossroads: Justin O'Conner, C
When the Rays drafted O'Conner 31st overall in 2010, they knew they were getting a player with standout athleticism. Unfortunately, the 24-year-old hasn't been able to translate it into production at the plate, with a career line of .232/.281/.390 in 465 Minor League games.
"Justin O'Conner has great tools," Lukevics said, "great tools behind the plate, great tools at the plate. It's all about the maturation of the human being and putting it all together because he can throw a baseball like no other and he has bat speed like no other. Putting it all together is the key for him right now."
O'Conner's best work has come behind the plate, where he possesses one of the system's loudest tools in a plus throwing arm. He threw out 48 percent of opposing basestealers with Montgomery, three points better than Major League leader A.J. Ellis of the Dodgers.
The Indiana native suffered a back injury early in Spring Training and likely won't break camp. When he gets back on the field, O'Conner will need to show offensive improvement if he wants to be anything more than a defensive catcher.
More to keep an eye on
Taylor Guerrieri missed all of 2014 following Tommy John surgery, but he quickly put it behind him last year and put together a 1.85 ERA and 72-to-19 strikeout-to-walk ratio in 20 appearances (18 starts) between Charlotte and Montgomery. He's heading back to the Southern League to work on his secondary pitches. ... Jake Bauers hit .272 with 11 homers and 74 RBIs as a 19-year-old in the Florida State and Southern leagues, where he was five years younger than the average player. ... The Rays possess two of the Minor Leagues' more unusual pitches in the screwball thrown by No. 2 prospect Brent Honeywell's and the palmball thrown by No. 13 prospect Chih-Wei Hu. Both helped Charlotte win the FSL Championship last year, the latter after he was acquired from the Twins for reliever Kevin Jepsen.
Alex Kraft is a contributor to MiLB.com. Follow and chat with him on Twitter @Alex_Kraft21. This story was not subject to the approval of the National Association of Professional Baseball Leagues or its clubs.
View More