Rehabbing Harper cranks three homers
In possible final tuneup, Nats' All-Star plates five runs for Senators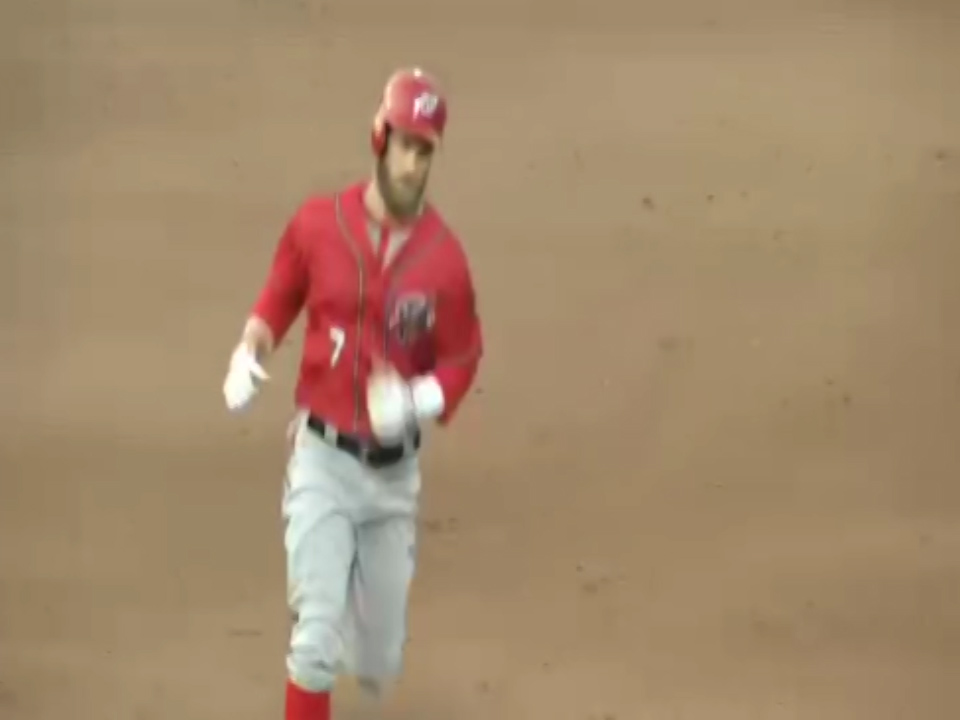 By Kelsie Heneghan / MiLB.com | June 29, 2014 1:13 AM ET
Bryce Harper likes to go out with a bang.
In his final game with the Nationals in April before heading to the disabled list with a torn thumb ligament, he tripled and drove in four runs. In his second and final rehab game with Class A Advanced Potomac, he crushed a homer and plated four runs.
And in what could be the final game of his rehab stint with Double-A Harrisburg on Saturday night, Harper blasted three homers and drove in five runs in the Senators' 10-4 victory at Akron.
"The first home run was on a 2-0 pitch and I knew he got it good," Harrisburg manager Brian Daubach told the Akron Beacon Journal. "But the next at-bat, he saw a lot of pitches and you could see him getting locked in.
"The last at-bat, the same thing -- he fought off a few to get to a 3-2 count and [Akron pitcher Toru Murata] threw a fastball up and away. That's the kind of power Bryce has -- he can do a lot of damage."
The first overall pick in the 2010 Draft collected two hits and two RBIs in his first two games with Harrisburg before going 4-for-5 on Saturday. Harper belted solo shots in the third and fifth innings, singled in the seventh, then capped his big night with a three-run blast in the eighth.
It was the second time this season a member of the Senators recorded a three-homer game. Nationals fourth-ranked prospect Michael Taylor accomplished the feat on April 27 against Bowie.
"Not surprised, we know what he's capable of," Senators outfielder Caleb Ramsey said of Harper's explosive game. "He's been a good lift in our lineup. Anytime you have a guy like that in your lineup, it's great. Hopefully, we can build off it."
Nationals manager Matt Williams told the Washington Post that Harper is expected to return to the lineup on Monday in Washington, meaning the 21-year-old outfielder could get Sunday off.
Ramsey, Taylor and the rest of the Senators have had a front-row seat to the two-time All-Star's rehab this weekend, with the former mentioning how fun it is to watch Harper take batting practice.
"He's a really nice guy, interacts with us. He played with a lot of guys before, so he hangs out in the locker room and clubhouse," Ramsey said. "It's just cool to interact with a guy like that ... just observing and watching the things he does and the approach he has."
Ramsey made his own history Saturday, going 5-for-5 while scoring four runs. It was the first five-hit game by a Senator since Brad Coon on Sept. 5, 2010.
"I told [Harper], 'Hey, you're raining on my parade,'" Ramsey said with a laugh. "I told him to share some of those homers."
The University of Houston product matched a career high for hits in a game; he also recorded five for Potomac last June 12 against Carolina.
"I've just been working a lot with the hitting coach, Mark Harris, trying to stay inside the ball and hit up the middle," the 25-year-old said. "We play [Akron] a lot, so we've gotten to see their pitchers a lot and get a feel for the way they work in different counts."
Reliever Paul Demny (1-0) picked up his first win of the season after working around a hit over three scoreless innings. The right-hander has a 3.46 ERA in six games since his promotion from Potomac.
Kelsie Heneghan is a contributor to MiLB.com. Follow her on Twitter @Kelsie_Heneghan. This story was not subject to the approval of the National Association of Professional Baseball Leagues or its clubs.
View More