Renfroe, Chihuahuas go boom-boom-boom
Padres prospect completes flurry by homering in fourth straight game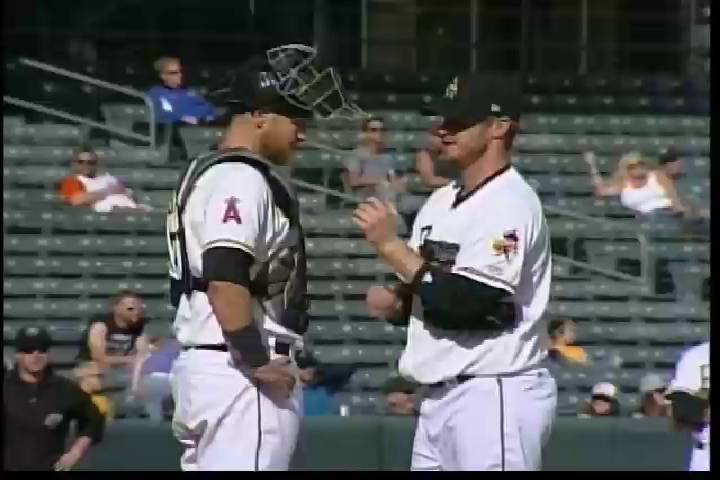 By Michael Avallone / MiLB.com | April 24, 2016 9:29 PM
Consecutive home runs are anything but rare. Three in a row is slightly more unique. But homers on three consecutive pitches?
"No, I don't think I've ever seen that before," said Triple-A El Paso manager Rod Barajas, a veteran of 1,114 Major League games. "I'm standing there coaching third and I tried to think of a time I might have seen that, but I couldn't think of one. We tell our guys to go up there, be ready to hit and attack it. They were ready and when the ball came into their zone, they didn't let it get by them."
Carlos Asuaje, Alex Dickerson and Padres No. 3 prospect Hunter Renfroe sent the equipment manager at Smith's Ballpark scrambling to find extra balls, homering on consecutive pitches against Kyle Kendrick in the second game of Sunday's doubleheader.
Despite the sixth-inning fireworks, El Paso could not complete a doubleheader sweep, dropping the nightcap to Salt Lake, 6-5, after winning the first game, 7-0.
Kendrick (1-0) was working on a three-hit shutout in his Bees debut and struck out Ricardo Valenzuela to start the sixth before issuing a five-pitch walk to Padres top prospect Manny Margot. Three pitches later, Asuaje began the homer barrage with a two-run blast to right-center field. Dickerson sent the next pitch over the right field wall before Renfroe -- who had homered in three consecutive games -- deposited Kendrick's next offering beyond the fence in left-center.
"No, I haven't seen that, but it was pretty cool," said Renfroe, MLB.com's No. 90 overall prospect. "[Valenzuela and Margot] had some great at-bats that inning to get us some better looks. Until then, [Kendrick] had done a great job of keeping the ball down and getting us out in front. Honestly, he just made three bad pitches and we made him pay. Three mistakes and three good swings."
Barajas said he thought the sixth could have been a turning point, but his club simply ran out of time.
"It was one of those games where we didn't have a whole lot going on early," he said. "And then we get a big two-run homer and back-to-back solo home runs, which changed the complexion of the game. But that's what three homers will do for you. They'll wake you up in a hurry."
While El Paso fell short, Renfroe continued his torrid start to the season. The 24-year-old outfielder has hit safely in eight of his last nine games, batting .457 with four homers and seven RBIs in that span to raise his average to .339.
"I'm really putting in hard work," he said. "I've been working on everything. Building off of last year and coming to Triple-A this season and knowing my role and knowing my swing has helped a lot. I spent the offseason and Spring Training trying to control my swing more and it's carried over. I was able to get my timing down and now it's just reaction for me. I'm going out there and doing my thing."
His skipper agreed, adding that Renfroe's approach at the plate also is making a huge difference for the 13th overall pick in the 2013 Draft.
"Hunter is calmer at the plate and not chasing pitches," Barajas said. "He's got tons of talent and needed to just get more consistency at the plate, which he has now. He's having better at-bats and is not missing his pitch when he gets it. He's learning how to hit and learning how to be a more complete offensive player, and it's showing."
Salt Lake jumped on El Paso starter Jeremy Guthrie (0-4) in the first, plating a pair of runs on a double by Angels No. 5 prospect Kaleb Cowart. The Bees extended the lead to 5-0 in the third on Jefry Marte's two-run double and an RBI single from No. 7 prospect Kyle Kubitza. Angels No. 23 prospect Jett Bandy's sacrifice fly in the fourth made it 6-0.
Renfroe doubled and homered in the opener, while first baseman Ryan Schimpf drove in three runs for the Chihuahuas. Carlos Pimentel (2-1) pitched a five-hitter for his fourth career complete game, striking out one and walking one.
Michael Avallone is a contributor to MiLB.com. Follow him on Twitter @MavalloneMiLB. This story was not subject to the approval of the National Association of Professional Baseball Leagues or its clubs.
View More