Rivera continues sweet stroke for 51s
Mets' No. 30 prospect scores four, plates three; Herrera homers again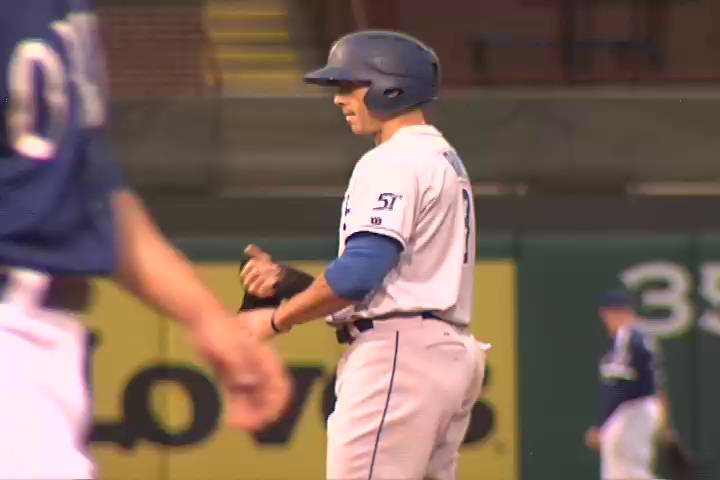 By Michael Leboff / MiLB.com | May 17, 2016 1:22 AM
For a pitcher, it is never a good thing to be all over the place. For T.J. Rivera, it's the mark of a game well played.
The Mets' No. 30 prospect went 3-for-4 with two doubles, four runs scored and three RBIs in Triple-A Las Vegas' 12-4 win over Oklahoma City at Chickasaw Bricktown Ballpark on Monday night. Rivera raised his average to .339, ninth-best in the Pacific Coast League.
"It's a great feeling to contribute to a win," he said. "We all had some good at-bats and when the team is going like that it puts some pressure on the pitcher. I just try to hit some balls hard and hope they fall. I'm glad I was able to get some hits."
After grounding out to third base in the first inning, the 51s' No. 3 hitter doubled to left field in his next two plate appearances, driving three runs in along the way.
"No matter where I am in the lineup, I'm ready to attack," Rivera said. "Hitting in the three- or four-hole, you may see some more breaking balls here or there, but I'm just trying to put together good at-bats and make the pitcher work."
The 27-year-old shortstop reached base in his last three at-bats as well. He singled to center in the sixth, was hit by a pitch in the seventh and worked a walk in the ninth. The Bronx native said he just wants to get on base anyway he can.
"My plan is to go up there and compete and compete and compete," Rivera said. "There are going to be times where you go up there and don't feel comfortable, but if I can be as consistent as I can, things will come from that."
The undrafted Troy University product signed with the Mets in 2011. Since then, Rivera has a.319 average over 552 Minor League games and said he's hoping if he continues to produce, he can become one a source of inspiration for other undrafted ballplayers.
"It's always going to be tough, especially when you're at this level and so close to the big leagues," Rivera said. "It's always going to be in the back of your mind that you're one step away but you just need to go out there and compete and be the best player you can be. If I go out there and give it my all, I could look myself in the mirror at the end of the day. Even if I was drafted, I would still play with that same tenacity."
Dilson Herrera led off the game with a homer to left for his fourth long ball in as many games. The 22-year-old second baseman is hitting .313 with eight homers and 22 RBIs.
"It's awesome hitting behind him. If he gets one in the gap, there's a good chance he's coming around to score if I get a hit," Rivera said. "I've hit behind him for a few years and he's always working the pitchers, so it helps me out when I get up there."
No. 4 Mets prospect Brandon Nimmo scored three times and Ty Kelly brought his average up to a league-leading.404 with a three-hit night for Las Vegas.
Duane Below (2-3) allowed three hits and a walk while fanning five over seven scoreless innings for the 51s.
Michael Leboff is a contributor to MiLB.com. This story was not subject to the approval of the National Association of Professional Baseball Leagues or its clubs.
View More