Rock Cats walk off in New Britain finale
Rockies No. 23 prospect Patterson hits two-run homer in 15th inning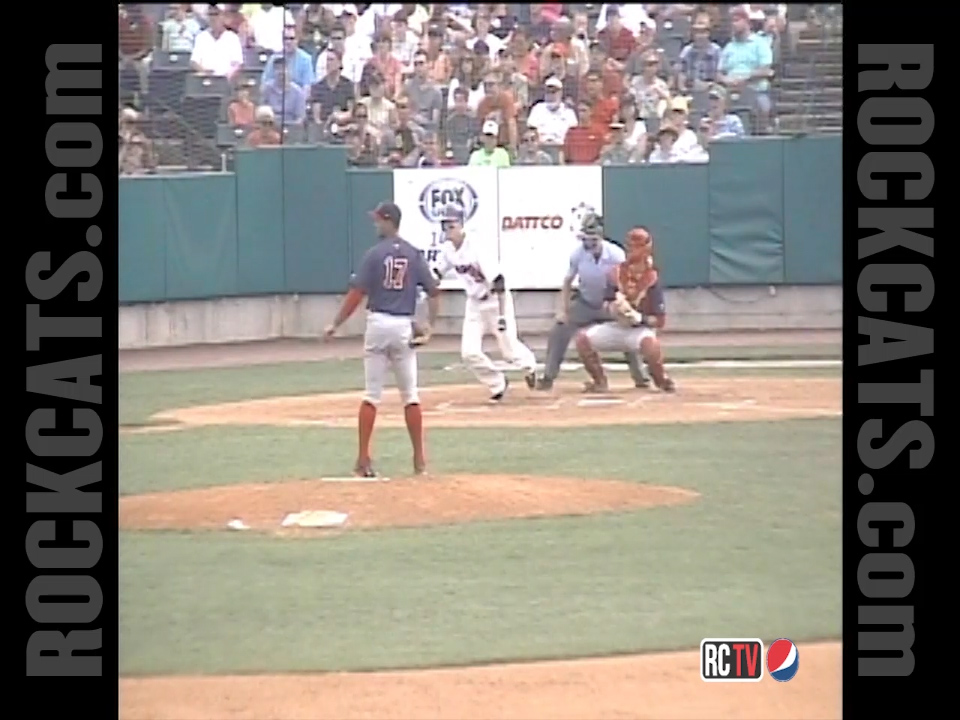 By Craig Forde / Special to MiLB.com | August 30, 2015 9:29 PM
Saying goodbye is never easy, but the New Britain Rock Cats gave their fans the fondest farewell they could on Sunday.
Not only did they provide free baseball for those who came to bid adieu to the club's tenure at New Britain Stadium, they beat Portland, 7-5, on Jordan Patterson's walk-off homer in the 15th inning.
"I hadn't been doing anything recently," said Patterson, the Rockies' 23rd-ranked prospect who'd been hitting .206 over his previous 16 games. "It was pretty cool hitting the home run."
"The crowd really showed up the last three nights. It was very good to see that," Rock Cats manager Darin Everson said. "We've played pretty well here at home all season, so it's been a good place for us to play. To have the crowd come out and finish the way we did, I guess we made it exciting for them."
With Will Swanner on first and one out in the 15th, Patterson got hold of a 1-0 pitch from infielder Oscar Tejeda (0-1) -- the Sea Dogs' fourth reliever -- and deposited it over the right-center field wall.
While the lead was traded over the first few innings, Portland went ahead, 4-3, in the seventh on a two-out single by Red Sox No. 12 prospect Sam Travis, who went 2-for-7 with a homer and three RBIs.
Down to their final six outs, the Rock Cats tied it in the eighth when Tyler Massey singled home Jan Vazquez. Massey stole second with two outs but was thrown out at the plate by right fielder Aneury Tavarez after Noel Cuevas singled.
Both teams scored in the 11th, with Keury De La Cruz homering for the Sea Dogs and Patterson answering with an RBI double. New Britain looked to send the faithful home happy in the 13th, putting two runners aboard for Swanner, who singled sharply to right. But Tavarez kept things going by nailing Pat Valaika at the plate.
"Both of them, they were definitely playing a little more shallow to handle the base hit," Everson said of Tavarez's assists. "Our guys did a great job of keeping the base hit in play instead of trying to drive the ball over the wall or off the wall. We are turning the corner on bases and we're always going to take an opportunity there, especially when you're getting late in the innings.
"It was an interesting game, it's how we like to play, but credit to their right fielder, he made two very accurate throws."
Tavarez was unable to scale the wall in the 15th as Patterson's shot ended the 32-year run of affiliated Minor League Baseball in New Britain.
"It was right away, on instant contact," Everson said on how quickly the team knew Patterson's ball would leave the yard. "It's always interesting and kind of different facing a position player, obviously. They throw it a little bit slower, and it's one of those things where if you can get the timing down on those type of pitchers, you have an opportunity to hit it pretty well. That's what [Patterson] did."
On his 24th birthday, Rock Cats starter Shane Carle allowed four runs on nine hits over seven innings. Austin House (1-4) pitched around two hits in two scoreless frames for his first win in exactly a year.
Former American League MVP Justin Morneau, who played parts of three seasons in New Britain while both were part of the Twins organization, went 2-for-4 with three RBIs in his final rehab appearance with the Rock Cats.
"I got to spend a lot of time here and this is where I gained the confidence to believe I could be a Major League player," Morneau told the New Britain Herald during his rehab stint. "This place became a big part of it. I spent more time here than I did anywhere else in the Minor Leagues. I didn't even realize this was the last series here until I saw the schedule. It's pretty cool the way things worked out."
New Britain first hosted affiliated baseball in 1983 when the Red Sox's Double-A affiliate played at Beehive Field, which is adjacent to New Britain Stadium. The new facility opened in 1995, the second year of the club's affiliation with the Twins.
The Twins moved on after last season, giving way to the Rockies. Next spring, the Rock Cats will become the Hartford Yard Goats and move into brand new Dunkin' Donuts Park.
Craig Forde is a contributor to MiLB.com. This story was not subject to the approval of the National Association of Professional Baseball Leagues or its clubs.
View More